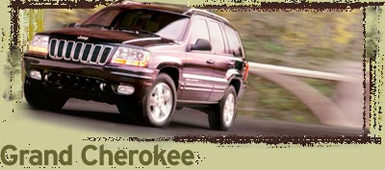 SAN FRANCISCO: When most people think of Jeeps, they think one of two things: Either the brutally simple World War II Jeep workhorse or today's aerodynamic and plush Jeep Grand Cherokees. After spending a week in the latter, it became clear to me that every Jeep, no matter how fully loaded with luxury amenities, is actually both vehicle types in spirit.
The 2001 Jeep Grand Cherokee Limited can certainly hold its own in the features category. Loaded with everything from "Royale" leather upholstery to a 10-disc CD changer, from a dual-zone automatic climate control system to "Next Generation" air bags, the top Jeep can go toe-to-toe with almost every luxury sport-utility.
At an as-tested price of $37,955, the Grand Cherokee Limited compares favorably with the $46,000 Lincoln Navigator and the $49,000 Cadillac Escalade. Of course such a comparison may seem unfair, as the Grand Cherokee is meant to do battle with smaller sport/utes like the Ford Explorer, the Mercedes-Benz M-Class and the Lexus RX300. But as I will explain, it is better to pit V8 powered, leather-lined, flagship SUVs against one another than against mid-grade, often V6 powered competition.
Speaking of V8s, Jeep's optional 4.7-liter overhead cam V8, as found in my test vehicle, produces 235 hp and 295 lb. ft. of torque. Though it pales in comparison with the Navigator's only engine, the 300hp and 355 lb. ft. of torque 5.4-liter DOHC V8 and the Escalade's 6-liter pushrod V8 that puts out a whopping 345 hp and a stump pulling 380 lb. ft. of torque, due to its smaller size and lower weight the Grand Cherokee's acceleration is admirably robust.
When it comes to putting all that power to the ground, the Navigator, as the luxury version of Ford's Expedition, uses the Ford's 4-speed automatic transmission and "Control Trac" 4WD system with low-range gearing. The Escalade also uses a 4-speed automatic but its full-time 4WD system has no low range.
The Jeep, however, features two 4WD systems, and when coupled to the optional larger displacement V8, a 5-speed automatic. Option one is the "Selec-Trac" full-time, 2-speed with shift-on-the-fly ability. The system includes a low-range mode and allows for 2- or 4-wheel-drive mode, full- or part-time 4WD. Option two is the "Quadra-Trac II" on-demand system that utilizes a gerotor coupling to automatically send torque to the front drive shaft when wheel slippage occurs. It also includes a low-range mode.
My test Grand Cherokee went one better and featured the Quadra-Trac II system coupled to "Vari-Lok" axles, the combination of which is known as Quadra Drive. In addition to the aforementioned abilities of the Quadra-Trac II system, the Vari-Lok front and rear progressive axles send torque to the front drive shaft and/or from side-to-side within each axle when wheel slippage occurs, allowing power to be transferred not just from back to front, but to individual wheels.
This allows the Grand Cherokee to shine against its more powerful foes when the pavement ends. Setting aside the fact that taking a Navigator or an Escalade into the wilderness to bash rocks is like wearing your Brooks Brothers suit while playing rugby, the ponderous size and mass of the Lincoln and Caddy make crawling over boulders and navigating narrow trails a heart-attack inducing experience.
Here is where the historic Jeep genes become apparent. While tackling many different types of off-road obstacles at the Hollister Hills Recreation Area in my hometown of Hollister, Calif., the Jeep scrambled over rocks, up mud-slick hills and down sandy slopes. The power of the big V8, working in conjunction with the sophisticated 4WD system, had no trouble at all tackling whatever challenges I had the courage to attempt.
Overall, I had no real problems with my test vehicle. I did experience a few small faults, however, that are intrinsic to the vehicle's design. When making sharp low speed turns, such as backing out of a parking space, there is a bit of axle binding. There is some wind and tire noise at freeway speeds, the Quadra Drive system produces gear whine in the cabin and the vehicle exhibits a fair amount of body lean in turns.
But these faults are minor in the grand scheme of things. When shopping for SUVs, if you are looking for the best combination of luxury, amenities and off-road ability, there are very few vehicles that can compare at all to the 2001 Jeep Grand Cherokee Limited. By Andrew W. Davis © AutoWire.Net - San Francisco

Byline: Syndicated content provided by Tony Leopardo © AutoWire.Net
Column Name: "Few vehicles can compare to the Jeep Grand Cherokee"
Topic: 2001 Jeep Grand Cherokee Limited
Word Count: 806
Photo Caption: 2001 Jeep Grand Cherokee Limited
Photo Credits: Jeep Internet Media
Series #: 2001 - 27
Download the Microsoft Word version here: 2001 Jeep Grand Cherokee
Download the original image file here: 2001 Jeep Grand Cherokee 21k