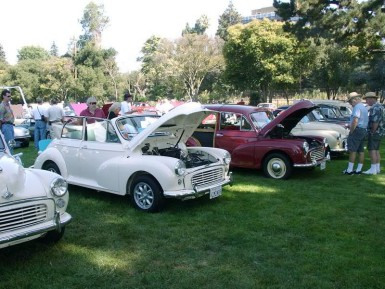 SAN FRANCISCO: The California British Car Meets have become a fall tradition among San Francisco Bay Area enthusiasts since 1978 and the Los Angeles British car fanatics since 1982. The Palo Alto event was one of the first in the United States and has been the prototype for hundreds of other similar shows that have sprouted up across the country.
These events are well laid out and organized, yet unstructured enough to have lots of fun. Participants can come and go from the field at all times and for sale signs are permitted without additional cost. While there is no swap meet, there are restoration parts sellers, literature and toy vendors and local restoration shops showing their wares and workmanship. In the end, these meets become mini car club conventions, where enthusiasts mingle, network and get to see what other builders and collectors are up to these days.
Here are the times and dates for both of the 2001 British Car Meets:
P A L O A L T O B R I T I S H C A R M E E T 2001
SATURDAY & SUNDAY, SEPTEMBER 8th & 9th, 2001
SATURDAY BRUNCH TOUR Call 650-949-9680 for Details
SUNDAY CAR SHOW at EL CAMINO PARK IN PALO ALTO
Sunday, September 9th - Be part of one of the biggest British car shows in the States! 750 cars are expected to fill El Camino Park in Palo Alto. Works-in-progress, daily drivers and modified cars are as welcome as Concours quality show cars. British food, live jazz, car clubs and parts vendors all add up to a British car convention of epic proportions. Field placement starts at 9:00AM and the cars are displayed by marque. Participants will receive a commemorative gift. Registration fee is $20 per car at the gate. Spectators park and attend the show FREE!
Directions - El Camino Park is on the El Camino Real, one block north of University Avenue, opposite the Stanford Shopping Center in Palo Alto. From hwy 101, take the University Avenue exit west, turn north onto the El Camino, then turn right, into the park. For Show, Meet and Vendor information: Call: 310-392-6605 or email: rfeibusch@loop.com
THE GREATER LOS ANGELES BRITISH CAR MEET
WOODLEY PARK IN VAN NUYS, SUNDAY, DECEMBER 2nd, 2001
Be part of the biggest all British automotive lawn event in Southern California. Over 400 classic, quirky and thoroughly lovable British cars are expected to fill the field at Woodley Park in Van Nuys, for the 20th Annual Greater Los Angeles British Car Meet.
Don't have a show car? Don't worry! Daily drivers, vintage racers, street rods & works- in-progress are as welcome as Concours quality show cars. Great British food, live jazz, parts vendors and more fun than you'll be able to shake a stick at! People's Choice awards will be given in six classes. There is no preregistration. Cars will be placed on the field starting at 9:00AM and the fun goes on all day long. The registration fee is $20 per car payable at the gate. All participants receive a commemorative gift. Spectators park and attend FREE.
Woodley Park is located in Van Nuys, just north of the Ventura Freeway (101), on Woodley Ave. between Burbank and Victory. From the San Diego Freeway (405), take the Burbank Blvd. exit west, drive to Woodley Ave. and turn right. Look for the entrance to the right. For information call:
310-392-6605 or email us at: rfeibusch@loop.com
If you're really into British cars plan to attend both events. Each one has displays for special British cars that only come out but once a year. The Palo Alto meet has a strong car club following, while the Greater Los Angeles meet always has a few celebrity car collectors, like Jay Leno and Jerry Seinfield, show up to enjoy the cars and sunshine too. In Northern & Southern California these are the best car shows in the state to enjoy the sights, sounds and people in the British car hobby. See you at the Meet! By Tony Leopardo © AutoWire.Net - San Francisco

Byline: Syndicated content provided by Tony Leopardo © AutoWire.Net
Column Name: "A fall tradition for British Car enthusiasts"
Topic: 2001 California British Car Meets
Word Count: 744
Photo Caption: The California British Car Meet
Photo Credits: The 2001 California British Car Meet
Series #: 2001 - 28
Download the Microsoft Word version here: 2001 British Meet
Download the original image file here: 2001 British Meet 125k