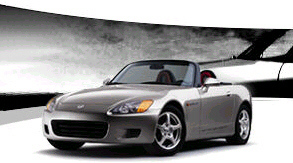 SAN FRANCISCO: This cannot be healthy. I've been driving cars long enough to know that when a car's engine is shrieking like a banshee, either something is desperately wrong with its innards or you are about to make it go blooey, 'cause you are revving it way past its redline. One glance at the digital dash, however, reveals that despite your gut instinct, you have not even begun to explore the upper reaches of this engine's rev range. Welcome to the 2002 Honda S2000.
A friend of mine who is as insane about motorcycles as I am about cars had no such qualms about getting near 10,000 revolutions per minute: "That's nothing. Bikes run about twelve or fifteen grand without even breathing hard. Superbikes' rev ranges are even higher than that. Talk about high-pitched screamers…"
If you keep the motorcycle reference in mind, Honda's choices regarding powerplant performance are not surprising. As one of the most famous producers of insanely fast motorcycles for both the street and the track, Honda certainly has the skills necessary to build high-revving, small displacement powerhouse engines.
Add to this Honda's success as an engine builder in top-shelf racing series, such as Formula 1 and CART (which also depend on bleeding-edge-technology laden superpower propulsion units), and Honda's reasoning regarding the design of the S2000 becomes obvious. As for the rest of the car, a look back through Honda's history makes the rest of the S2000's genesis clearly evolutionary despite its revolutionary features.
Back in its early days, Honda made a tiny ripple in the performance car-packed automotive pond during the early 1960s with its S500, S600 and S800 convertibles. Like the S2000, these tiny drop-tops were designed to wring the maximum performance out of a small-displacement engine by utilizing the latest in engine building technology.
For instance, the S500's 531cc engine featured double overhead camshafts, four carburetors and a needle roller bearing crankshaft. The car produced 44 horsepower at 8,000 rpm. Thanks to its svelte design (another hallmark of today's S2000) the S500 weighed only 1,500 pounds, allowing the small car with the tiny engine to achieve a top speed of 80 mph.
The 2002 S2000 has a 19997cc (2.0-liter) engine with double overhead cams featuring Honda's VTEC (variable valve timing and lift electronic control) system, multi-point programmed fuel injection and four-valves-per-cylinder. This modern technology masterpiece develops 240 hp, has a 9,000 rpm (!) redline and can propel the 2,809 lbs. S2000 to just under 140 mph. But as fun as these numbers can be, you still have to sit in the car and live with the thing day in and day out. And until the 2002 model year, that was a much more difficult proposition.
Taking to heart the biggest gripes of owners and journalists alike, Honda made some very important changes to its already popular S2000. These include replacing the cloudy, wavy plastic rear window with a proper defrosted glass unit, smoothing and quieting the operation of its 6-speed manual transmission, and upgrading its previously limp-wristed stereo with an improved unit with one you can actually hear with the top down.
What they didn't mess with—thankfully—is the car's unparalleled go-kart like reflexes and crisp yet non-punishing suspension. Thanks to its low weight and small size (yes, it is cramped inside and you had best forget bringing any luggage along) the S2000 is positively tenacious when it comes to holding the road. Trust me, you'll chicken out long before the S2000 will. That's another factor the hottest Honda shares with open-wheel racecars or high performance motorcycles.
You could drive the S2000 like you would a Miata, however, and you'd get about the same level of docile performance. If you just want to putter around down watching the gimmicky digital dashboard do its thing, the tight-fitting S2000 will happily cruise along without complaining despite your use of less than half its rev potential.
But in order to properly appreciate the S2000 you need to get yourself into a race driver's mindset. Get behind the wheel, twist the key, and then poke the "Start Engine" button. As the high-revving engine spins to life, notch the transmission into first, make sure the runway is clear, and then spend the rest of the day winding that aluminum engine out for all it's worth. It may not be healthy for the engine in the long run, but it sure does wonders for the driver. By Andrew W. Davis © AutoWire.Net - San Francisco

Byline: Syndicated content provided by Tony Leopardo © AutoWire.Net
Column Name: A Formula 1 Style Screamer for the Street
Topic: 2002 Honda S2000
Word Count: 806
Photo Caption: 2002 Honda S2000
Photo Credits: Honda Internet Media
Series #: 2001 - 36
Download the Microsoft Word version here: 2002 Honda S2000
Download the original image file here: 2002 Honda S2000 16k