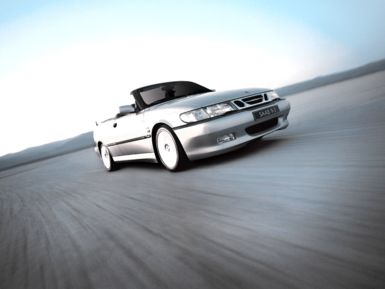 SAN FRANCISCO: Sweden's Saab got its start building airplanes just prior to World War II. The name stands for "Svenka Aeroplan AB." Saab's first car, the Saab 99, didn't appear until late 1949. Its aviation heritage was clearly seen early on, including a drag coefficient of only 0.35, impressive even today. The same aviation heritage shows up in the latest Saab 9-3 Viggens, whose namesake, the Viggen JA37, is Saab's high-performance jet fighter plane. Incidentally, the drag coefficient of the Viggen sedans today is only 0.31! Like all Saabs since day one, the Viggen's styling is unique. so you don't have look at the Delta-wing badges to know that this is a Saab, and a special one at that.
Viggens come in three models, a 3-door coupe, a 5-door sedan and a convertible. Based on the regular 9-3 series, the Viggen is fitted with an aggressive front spoiler, rocker panel extensions, rear bumper cover and rear wing, all of which are added with the purpose of improving the Viggen's aerodynamics and thus increase stability, reduce wind noise and improve fuel economy. Having tested both the Viggen 5-door sedan and a convertible, I can attest that these features do their job. These are among the best handling, fun-to-drive cars I have driven in a very long time.
Under the hood is an intercooled, turbocharged, 2.3 liter, 4-cylinder engine with chain-driven double overhead camshafts (DOHC). This modified engine features an upgraded turbocharger and pumps out an impressive 230-horsepower at 5,500 rpm and 258 lb-ft of torque between 2,500 and 4,500 rpm. While most automakers dropped turbochargers long ago, Saab has refined them to near perfection.
For example, there is none of the turbo lag found as in turbocharged engines of the past. The engine, as well as the chassis, has been beefed up to handle the additional power. Acceleration is breathtaking, like 0 to 60 mph in under 7-seconds! Top speed is an electronically limited 155 mph. In keeping with the Viggen's sports car character, it comes only with a five-speed manual transmission. Because the stock gearbox cannot handle full
torque in the lower gears, and to reduce massive torque steer, the engine output is limited to only 184 lb. ft. of torque in first gear, and 243 lb. ft. in second. And full torque is available in third gear and up. For this level of performance, the EPA numbers are rather impressive - 20-mpg city and 31-mpg highway. The fuel tank holds 17 gallons of gas for greater long distance cruising, and the Viggen also comes with a traction control system and has anti-lock brakes.
Of course there are other features, some may call them quirks, which are found in all Saabs. Like the ignition key on the console behind the gearshift, the typically somewhat rubbery shifting, and the need to put the car in reverse to remove the key. The cockpit layout is excellent with all the instruments and controls in the right place. Rather than the faux wood often used in most upscale cars, Saab has used marble-like inserts that give a modern, aerospace look.
Saabs are amongst the safest cars on the road. Features include a body with deformation zones, a rigid safety cage and outstanding side impact protection. Interior safety enhancements include Saab Active Head Restraints on front seats, head and torso protecting side airbags and anti-submarining protection. However, the Saab Viggen's greatest safety feature is probably its available power, great handling and good brakes that help you avoid an accident in the first place.
While the rear seats in the two sedans are comfortable for two adults, those in the convertible are only really suitable for short trips. The front seats, which are fitted with side bolsters and extended thigh support, provide great support during aggressive driving.
Like all Saabs convertibles I have driven, this one had some cowl shake. While much less than in the previous models, it was more than found in some competitor's ragtops. On a more positive point, the convertible top moves up and down with ease and folds away quite nicely.
Aimed at the "drivers car" market, Viggen buyers can attend the Viggen Flight Academy free of charge. It is held at the world class Road Atlanta raceway near Saab Cars USA's headquarters in Norcross, Georgia. Staffed by a team of racing professionals, Viggen owners can get two days of intensive driver training and instruction. Graduates of the Viggen Flight Academy will come away with all the techniques needed to get the maximum of fun and safety from these special high performance cars.
Prices for the Viggens start at $37,995 for the 3-door and 5-door Vigens. The topless Viggen goes for $44,995. Viggens come very well equipped with premium standard features like front and rear fog lights, cornering lights, cabin air filters, black leather upholstery, power windows and locks, powered driver's seat with memory, tinted glass, sunroofs on sedans, and premium sound systems. And now all Saabs come with the exclusive GM OnStar communication system at no additional charge. By Bill Siuru & Shawn Stewart © AutoWire.Net - San Francisco

Byline: By Bill Siuru & Shawn Stewart © AutoWire.Net - San Francisco
Column Name: "Like all Saabs, the Viggen's styling is Unique"
Topic: 2001 Saab Viggen Convertible and Sedans
Word Count: 919
Photo Caption: 2001 Saab Viggen
Photo Credits: 2001 Saab Internet Media
Series #: 2001 - 4
Download the Microsoft Word version here: 2001 Saab Viggen
Download the original image file here: 2001 Saab Viggen 70k