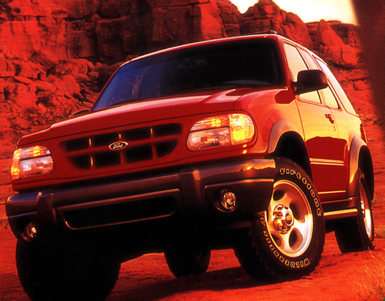 SAN FRANCISCO: This week, we test drive Fords popular two-door Explorer Sport, one of the nicer looking sport utility vehicles on the road today.
The Sport version of the 2001 Explorer features rugged good looks and a powerful 4.0-liter V-6 as standard equipment. Our Explorer came finished in a beautiful Toreador red clearcoat metallic and contrasting Gray leather interior. The final look is pleasing, yet still retains the look that Ford wants in its two-door "fun weekend" version.
We applaud Ford for upping the power availability in its Explorer line, as our Explorer featured the peppy 210-horsepower Single Overhead Cam 4.0 liter V-6 engine. This design produces 40-horses more than the standard version and ups compression ratio from 9.0 to 9.7. With either power plant, the Explorer Sport will get you there in security and comfort. We averaged 16 mpg along the way on regular 87-octane fuel.
Prior year Explorer owners will be happy that the 2001 model receives just a few styling tweaks here and there, most notably the grille backgrounds. The aspect of Explorer design we like most over the years is Ford's consistency in presenting a distinctive model without offending the legion of older model Explorer owners. We call this "on the road longevity," which is one reason why Ford has not yet done a massive re-design. Unlike the new generation Town Car, which is way different than the previous generation,
Explorer has grown in progressive movements that help keep it at the top of many buyers' lists. Still, a major re-design is in the works, but we feel Ford will not go too far "forward" with its new Explorer presentation.
On the road, Explorer Sport is comfortable for driver and passengers. This is not saying that the rugged off-road suspension dishes up a marshmallow ride, because it does not. However, the Sport is very tame on the highways, and then transforms itself into a pretty rugged off-road participant if the family decides to trail through the high country and set up camp under the stars. Important dimensions include a wheelbase of 101.7-inches, 180.8-inch length, a height of 67.1-inches and cargo volume is 35.6 cu. ft. The weight of the vehicle is 4,325 lbs.
Access to the rear seat area is cumbersome, but the Sport is built for the young and young at heart. We wouldn't recommend this model for transporting senior citizens, because it would be difficult at best. However, in Sport's defense, the two-door Sport Utility buyer isn't too concerned with rear seat "easy access," and four-door models are readily available for those who need them. This is a fun truck, not a taxicab. As for the cabin's layout, roominess and design, it receives an "A" from AutoWire.Net.
Explorer's 4x4 unit is driver controllable with the flip of a dashboard switch with 4x2, 4x4 High and 4x4 Low range settings available. The 4x4 Sport includes the convenience of Control-Trac, (also controlled by the driver) which automatically varies the wheel torque on the 4x4 system depending on driving conditions.
The Premium Sport option our Explorer came equipped with features machined aluminum deep dish wheels, a front tow hook, 16-inch off-road design tires, wheel lip moldings, side step bars, fog lamps, and platinum front and rear bumpers. A Comfort Group and a Convenience Group were included on our 2001 model, adding numerous amenities from keyless entry to a hi-series floor console. Both are recommended if the ultimate in Explorer driving pleasure is desired.
Pricing for the 2001 Explorer Sport starts at 20,545 for the 4x2 model, and then climbs substantially when you add the optional packages. Our Explorer Sport bottom lined at $29,765, and included just about every option available. Explorer can be built to fit most consumer budgets, so price accordingly. Overall, the Explorer is a fine example of Ford's ingenuity and a fine choice in the mid-sized Sport Utility class. By Greg Zyla © AutoWire.Net - San Francisco

Byline: By Greg Zyla © AutoWire.Net - San Francisco
Column Name: Fords two-door "fun weekend" SUV
Topic: 2001 Ford Explorer Sport 4x4
Word Count: 711
Photo Caption: 2001 Ford Explorer Sport 4x4
Photo Credits: Ford Internet Media
Series #: 2001 - 7
Download the Microsoft Word version here: 2001 Ford Explorer Sport 4x4
Download the original image file here: 2001 Ford Explorer Sport 4x4 180k