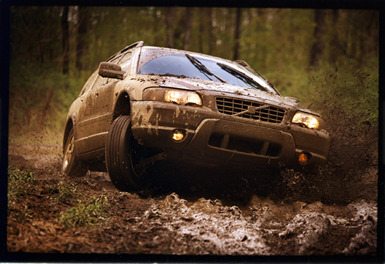 SAN FRANCISCO: When AutoWire.Net asks people about luxury cars, most will name off the typical nameplates. Mercedes-Benz, Audi, or maybe Infiniti and Acura. Some people might go on and on about Cadillac, or even Lincoln. But few people we know talk about Volvo. And that is truly unfortunate.
Not only does Volvo have the safest vehicles on the road, they also are affordable and full of luxury amenities. Take the Volvo V70 XC AWD wagon. That means the Cross Country all-wheel drive version of Volvo's hot little station wagon series. It was added to the Volvo wagon lineup in 1998, and in the middle of 2000, the XC received a complete makeover. It reminds us of the Subaru Outback – only more rugged and more expensive.
But if you look at the Cross Country for what it is – a tough station wagon that acts like an SUV, but with plenty of luxury – then you see that comparing the XC to a Subaru probably is an under statement. With the back seat down, cargo capacity expands to a whopping 71 cubic feet. It also has 8.2 inches of ground clearance, which is more than some sport utility vehicles that call themselves off-road trucks. Traction control plus a specially tuned suspension supplies even more off-road capabilities for this wagon.
The Cross Country also looks different on the outside, and is outfitted with unique body-side cladding, fog lamps, roof rails and a distinct grille and bumpers. Inside, this XC test wagon was equipped with Volvo's navigation system. On sunny days, it's a little hard to see the screen, which pops up from the middle of the top part of the dash. But still is very useful when you need help in locating a destination in an area your not familiar with.
Of course, I was way impressed with the safety features inside the Cross Country – the whiplash protection seats, inflatable curtain, front and side airbags. It even has an Iso-Fix child safety seat. I guess I was just a bit surprised by the price.
The test XC topped off at nearly $43,000. Now, I know there are plenty of luxury wagons out there in the same price range, but this is a Volvo. The S40 and S60 – quality sports sedans with plenty of amenities – are both reasonably priced. What's up with Cross Country?
I guess when you tap into a market that cries for something different than the same old SUV, but provides the same utility and capabilities, you can charge a premium price. And if Volvo continues to roll out good-looking sedans like the S models and rugged wagons like the Cross Country, Volvo might be one of the first names mentioned when AutoWire.Net asks about luxury car lineups. And, as they say, at $43 Grand, you get what you pay for. A super luxury Volvo XC AWD Station Wagon with all the goodies. By J. Eric Eckard © AutoWire.Net - San Francisco

Byline: By J. Eric Eckard © AutoWire.Net - San Francisco
Column Name: A Super Luxury AWD Station Wagon
Topic: 2001 Volvo V70 XC AWD Wagon
Word Count: 555
Photo Caption: 2001 Volvo V70 XC AWD Wagon
Photo Credits: Volvo Internet Media
Series #: 2001 - 8
Download the Microsoft Word version here: 2001 Volvo V70 XC AWD Wagon
Download the original image file here: 2001 Volvo V70 XC AWD Wagon 158k