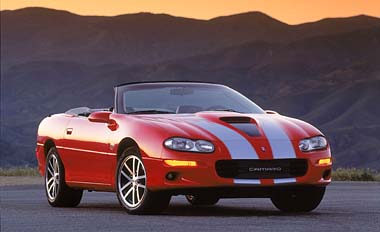 SAN FRANCISCO: It's kind of a shame, celebrating thirty-five years and the end both at the same time. Maybe that's why Chevy isn't heralding the end of the Camaro (and it's corporate stable mate the Pontiac Firebird). But that's the reality. After 35 years of slugging it out with Mustang (and Barracuda, Challenger, and sometimes Javelin) GM is giving up, throwing in the towel, calling it quits for the Camaro and Firebird.
Which is way too bad 'cuz the limited addition 35th Anniversary Camaro SS is one wicked package. With a 325 hp, 5.7-liter, LS1 V8 and a 6-speed manual transmission, one of the most raucous exhaust systems you've ever heard from Detroit, and bright Rallye Red paint with dual fading silver stripes running the length of the Camaro from the front fascia, over the hood and onto the rear decklid and spoiler, the Camaro SS is a confirmed extrovert. There's absolutely no way you won't be recognized in a Camaro SS. Which could be very bad news for your driver's license.
The SS package is available on either the convertible or coupe. The coupes include removable T-tops. There's plenty of special SS badging both inside and out – commemorative front fender emblems, 35th Anniversary emblems embroidered into the front headrests, and a badge on the dash. You'll never forget what you're driving.
Regardless of all the attention the SS Camaro will draw, or perhaps because of it, it is made for driving. Being a Ford guy it pains me to say this but the LS1 is a truly great engine. Bags of torque and it revs like crazy. It makes its peak horsepower at 5,200 rpm and it loves getting there. I've driven a Mustang with the 4.6-liter, SOHC V8 which admittedly makes less hp but unless you open the hood on either you'd be hard pressed to say which was the hi-tech, overhead cam engine.
The LS1 is the "new" Small Block Chevy. It is an all aluminum, overhead valve engine. When Chevy announced the LS1 a couple years ago everyone thought they were crazy for not making it an overhead cam engine. Pushrods are passť they said, like back in the Stone Age, man. Well GM proved them wrong again.
Not quite so great is the 6-speed manual transmission. Oh it does wonders for the EPA fuel economy ratings of 18-mpg city, 26 highway, and 22 combined. And I have no doubt that the actual highway mileage will be close to the rating but the city mileage? No way unless you never put your foot in it. The main problem with the transmission is GM's insistence on using the "skip shift" feature. Basically if you try to drive nice and easy the onboard computer forces you to skip from first gear to third gear, all to beat the dreaded "gas guzzler" tax. Pay the darn tax! Most everyone I know avoids the skip shift by applying generous amounts of throttle or they go out and buy a simple little device to defeat the computer.
According to the car mags this is one fast Camaro. Expect 0-60 mph times around 5 seconds and a top speed up near 160 mph. I banged it through the gears a couple times and I'd say the acceleration numbers are pretty close. I did not test top end. I like my license and my insurance rates too much.
I was actually impressed with the ride and handling of the SS Camaro. Let's face it, this is a heavy car (almost 3,600 lbs.), it is stiffly sprung, and it rides on pretty big meats – P275/40ZR-17s to be exact. This is not a recipe for comfort. Add in the loss of rigidity that normally comes with a convertible and you'd expect a whole lot of rock 'n' roll with some banging for rhythm. Make no mistake, the SS Camaro was stiff but it was not harsh and there wasn't all that much body flex either.
The power steering was nicely weighted, feeling hefty at speed yet perfect for parking. The big tires did tend to follow road grooves a little but at speed the SS just hunkered down and cruised.
There is a down side to the Camaro, all Camaros and Firebirds. Their age, which is reflected in the packaging. This generation Camaro was first introduced in 1982. Yes it's had some freshening since but essentially it's the same package. There's the same hump on the front passenger floor to accommodate the catalytic converter underneath. There's the same deep, narrow trunk and the same long, heavy doors. These date the Camaro. If it was introduced in '82 it was first planned in '78 or '79 making it a '70s car. Maybe this has something to do with its demise – it's just too old to upgrade anymore and an all new, rear-wheel-drive package just isn't economically feasible. And a front-wheel-drive Camaro would be, well it just wouldn't be a Camaro. To be fair to Chevy it's main competitor, Mustang, is even older. The Fox platform that the Mustang is based on was introduced in 1979.
Another down side is price. The 35th Anniversary SS Camaro Convertible is expensive. The sticker on the car I drove was just over $33,000. Is it worth it? Who knows. It may become collectable and it is quick and fast. But at that price a buyer might just consider moving up to a 'Vette. It would be a hard choice, but a fun one to make either way. By Bruce Hotchkiss © AutoWire.Net - San Francisco

Chevy Home Page
Byline: Syndicated content provided by Tony Leopardo © AutoWire.Net
Column Name: This Limited Edition Camaro SS is One Wicked Package
Topic: 2002 Chevrolet 35th Anniversary Camaro SS Convertible
Word Count: 998
Photo Caption: 2002 Chevrolet 35th Anniversary Camaro SS Convertible
Photo Credits: Chevrolet Internet Media
Series #: 2002 - 2
Download the Microsoft Word version here: 2002 35th Anniversery Camaro SS
Download the original image file here: 2002 35th Anniverser Camaro SS 25k