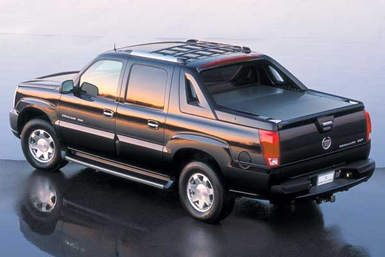 SAN FRANCISCO: Cadillac, one of America's oldest car brands, has always built big cars, despite forays into small cars, including the recent Catera and the unfortunate Cimarron two decades ago. Now, in order to bring in fresh buyers, Cadillac retains the bigness but also goes tall, in offering the first Cadillac pickup truck in a century - the Escalade EXT.
Despite sharing its name with the Escalade sport utility introduced a few years ago, the Escalade EXT is actually more like the 2002 Chevy Avalanche in its configuration. Both vehicles share the innovative and ingenious midgate, which lets you switch between the five-person seating of a sport utility vehicle (with a small truck bed) and a truck with only front seats but a bed capable of carrying a 4 by 8 sheet of plywood with the tailgate closed.
The 2002 Escalade EXT may look like a pickup, but it is different in at least two important ways. First of all, it is built on a version of Chevy's sport utility vehicle chassis, not the pickup chassis, so the ride is more comfortable. Also, this is one luxurious vehicle, not to be confused with any farmer's hauler or plumber's workhorse.
The Escalade EXT smells like a Cadillac when you open the door. The nuance leather is soft and fragrant. The seats offer ten-way adjustment, heated upper and lower cushions, and power lumbar and side bolsters. Real Zebrano wood trim adds luxury, too, although some of the wood paneling looked a little artificial to me.
The Cadillac dashboard features a full set of attractive, chrome-ringed gauges behind the half-wood/half-leather steering wheel. A message center in the dash conveys emergency information. A trip computer displays fuel mileage, distance to empty, and other handy information. And, another button allows you to customize numerous preferences for two different drivers, including seat and mirror settings, language, radio stations, and other settings. The only design glitch for me was an analog clock mounted too low for easy viewing.
The Escalade EXT boasts a 6.0-liter, 345 horsepower V8 engine. GM reworked the Hydra-Matic automatic transmission to handle the 380 lb.-ft. of torque the V8 cranks out. This gives the Cadillac truck a 45-horsepower and 20 lb.-ft. advantage over its only competitor, the Lincoln Blackwood. Fuel mileage for this 5,752-pound vehicle is 12 city, 15 highway. I averaged in between, at 13.6 mpg.
On the road, the engine and transmission combo provides potent, effortless motoring. You can hear and sense a hearty rumble, but it's not enough to prevent enjoyment of the Bose Premium music system. The system's 6-CD changer right in the dash is the latest way to play.
For safety, the Escalade EXT's full-time, all-wheel-drive system uses a viscous coupling to automatically send torque to where it is needed. Cadillac's Stabilitrak system employs an array of sensors to compare where the car is going to driver control input. If the system senses any variation, it instantly adjusts brake pressure or engine torque to compensate and bring the car back to where the driver wants it to go.
Cadillac's Road Sensing Suspension System uses electronically controlled shock absorbers, electronic wheel position sensors, a steering angle sensor and a computer control module to monitor each wheel 1,000 times per second and compute the exact shock demand for it. This system keeps the Escalade EXT completely stable regardless of road conditions.
Cadillac's of yore boasted enormous trunks, but the utility of the Escalade EXT beats any Cadillac of the past. It starts with the aforementioned midgate, which can be removed and stored in the vehicle to expand the bed length. Also, the rear window can be taken out and stored as well, independently of the midgate, for extra ventilation. In addition, a three-piece removable cargo cover allows you to securely store material inside the fully lined truck bed with a lock and key. The tailgate key is separate from the truck's electronic locking system however, and must be engaged manually.
That truck bed itself is made of a durable composite material called Pro-Tec, so it should remain attractive even after you haul things around back there. And, to top the whole thing off, Top-Box storage compartments are built into the side of the cargo box. These lighted, lockable containers are great for smaller items, including tools or a handy six-pack of beer.
A couple of other noteworthy features include GM's OnStar system, which uses cellular phone and satellite navigation technology to provide a range of information, security, and roadside assistance features. Also, Ultrasonic Rear Parking Assist uses audio and visual cues to sense items behind the truck during backup maneuvers. A series of beeps warns the driver of impending contact, preventing damage and tragedy.
List price for the EXT is $49,235. My Silver Sand tester had an optional power glass sunroof ($1,550), so with destination charge the total came to $51,540.
Who is buying this most unusual of Cadillacs? General Motors expects to sell most of them to college-educated professional men in their mid thirties to mid fifties with a household income of $125,000. If Cadillac is successful with the Escalade and the new CTS sedan, it will bring in a much younger buyer, which is the venerable brand's aim.
By Steve Schaefer © AutoWire.Net - San Francisco

Cadillac Luxury SUV
Byline: Syndicated content provided by Tony Leopardo © AutoWire.Net
Column Name: This is one Luxurious Vehicle
Topic: 2002 Cadillac Escalade EXT
Word Count: 933
Photo Caption: The 2002 Cadillac Escalade EXT
Photo Credits: Cadillac Internet Media
Series #: 2002 - 18
Download the Microsoft Word version here: 2002 Cadillac Escalade EXT
Download the original image file here: 2002 Cadillac Escalade EXT