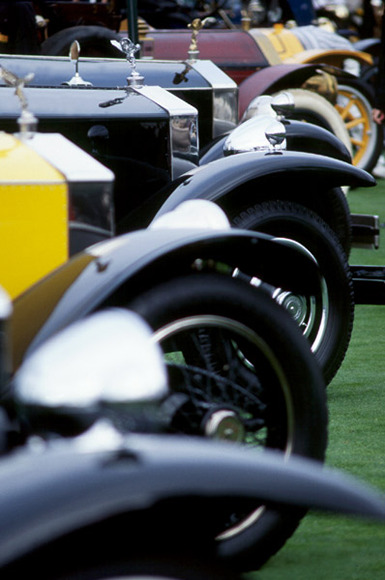 SAN FRANCISCO: What's become known as Monterey Weekend, or simply "The Weekend" to classic car fanatics, will be held on August 16, 17, and 18, 2002 in the Monterey, California area. The Weekend is full of classic car shows, sports & muscle car auctions and automotive events.
The Pebble Beach Concours D'Elegance celebrates its 52nd Anniversary this year with a special exhibition of Jaguar race cars and a wonderful display of classic motorcar chassis exhibited along the water's edge. Pebble Beach is a Classic in itself and if you love old cars you have to go at least once in your life. The Concours will be held on Sunday, August 18, at The Lodge at Pebble Beach. Admission is $100 per person, with children under 12 admitted free of charge. Each ticket includes an event program plus free parking and a shuttle ride to the show field. To order tickets call the Pebble Beach Concours d'Elegance ticket line toll free at 877-693-0009 or visit their web site at www.pebblebeachconcours.net
The Blackhawk Collection Exposition of Classic Cars will again be displayed at the Peter Hays Golf Course across from the Pebble Beach Lodge. Car Collector Don Williams will offer for sale some of the finest Classic Cars available thru out the Monterey Weekend from Wednesday August 14 through Sunday August 18. Admission to the Exposition is free and the cars are always fabulous! Call 925-736-3444 for catalogs and information or visit them at www.blackhawkcollection.com
If you're an Italian car aficionado then you must attend the Concorso Italiano at the Quail Lodge Resort in Carmel on Friday, August 16. Just about every single Lamborghini Countach ever built is usually on display and the really interesting cars are the more obscure Italian makes and models. Throw in an extra 100 or so Red Ferraris, an opera, and some really gorgeous women in an Italian Leather fashion show, and the day is perfectly rounded out. Tickets are $60.00 per person at the door and include close-in reserved parking and an event program. Call 425-688-1903 for ticket and event information or visit them on the web at www.concorso.com
Straddling the entire weekend are classic, sports and muscle car auctions. This is the best time and place to buy a collector car and join this elite group of car lovers who migrate to Monterey every year. And the cars - you name it, from Alfa Romeo & Bugatti, plus Cobras & Cords, to Duesenberg & Delahaye, plus hundreds more. This is where they all come to buy, see and sell the best Collector Cars in the World.
If you want to walk around the parking lots and just look and enjoy the sights and sounds of all the cars, that's fine. But if you want to buy a collector car you should register to bid and attend one of the auctions. There are four events to choose from this year and each one sells to a different clientele. But whatever you do, go to at least one sale this weekend and enjoy the excitement up close and personal. You never know, you might even be bidding with Jay Leno, Nicolas Cage or Jerry Sienfeld!
Returning again this year, celebrating their 2nd anniversary at the Monterey Weekend are Drew & Josephine Alcazar of Russo and Steele. They are hosting a very special European Sports and American Muscle Car auction at the Marriott Hotel in Downtown Monterey on Saturday, August 17. Think Cuda, Mustang & Camaro, then add Big Blocks, Six Packs and 4-Speeds. These are the American Muscle Cars that Detroit built to sound bad and go fast! The auction starts at 6 PM Saturday and you can see all the cars at the preview party all day long on Friday and Saturday before the sale begins. A new feature added this year is free shipping and insurance with any R & S Auction purchase. This is a Russo and Steele Excusive Offer and can save a buyer real big bucks. Ask Drew for the details at 602-252-2697 or visit them at www.russoandsteele.com
The RM Auction Company holds the Monterey Sports Car Auction at the DoubleTree Hotel near the Monterey Wharf on Friday night, August 16 & Saturday night August 17. This is the original and oldest Sports Car auction for the Monterey Weekend. Started by Rick Cole in the mid 1980's this auction is the leader in offering the best of the breed in sports cars. From Shelby Cobra's to Harley Davidson's, RM Auctions always has the most vehicles for sale this weekend. All of the cars are on display in the hotel courtyard for preview both days. All it takes is a generous line of credit and that dream car can be yours in an instant. You can reach them toll free at 866-762-8284 or on the web at www.rmauctions.com
Still have some money left? Unbelievable, but then by all means attend Christie's International Motor Cars auction on Sunday August 18. This is Christie's 13th annual auction of Exceptional Motor Cars in Monterey.
Held after the Concours, at the The Pebble Beach Equestrian Center at 6 PM, it is the most prestigious of all the Classic Car Auctions this weekend. Expect the best Rolls Royce has to offer plus several Vintage Indy Race Cars. Over 80 rare and important motorcars will be available. Christie's is the cream of the crop when it comes to offering the Worlds Best Motor Cars for sale, and this event will again break several world price records for automobiles. Admission is by catalogue and can be purchased for $50.00 at the door. For more information call them at 310-285-2699 and you can view these special motorcars at www.christies.com
Now your broke, the weekends over, and you still want to look at more Classic Cars? Well if you have at least some gas money left, then motor on up to the Blackhawk Museum in Danville, California for their 14th
Annual Post Pebble Beach Open House on Monday, 10 AM to 5 PM August 19, They are offering live music, snacks and beverages, docent-led museum tours and an opportunity to gradually re-enter the "real world" following all the fabulous automotive events in Monterey. Admission is free during the Museum's Open House and there is plenty of free parking for cars, trucks and trailers. Two automotive galleries display more than 100 historically significant and artistically inspired automobiles, mostly one-of-a-kind, dating from 1884 through 1971. The Blackhawk Museum is now in association with the Smithsonian Institution and is the final "must see" car show for the "Weekend". Call 925-736-2280 for directions or visit the Museum's website at www.blackhawkmuseum.org.
Since all of the car auctions start in the early evening, that leaves you all day, every day, to view and check out all the cars that will be up for sale that night. Some of these events are by invitation only, but you can usually still buy a catalogue and a ticket at the door. And keep your arms and hands firmly at your sides, as the prices are not for the faint of heart. Expect to see many cars going for well into the millions of dollars, and the really expensive cars roll out at around 8 PM, after the high rollers have had plenty of Hors d'oeuvres, and a few drinks to loosen up their wallets.
A minor word of caution - if you are planning to go, do not expect to find a hotel room easily. Most hotels were booked up at least six months ago and the rates are still outrageous. Also expect some bumper-to-bumper traffic. But in that traffic will probably be some of the most interesting bumpers you've ever seen in your life. So take a break and drive on down to Monterey, even for a day, and enjoy the cars, the people and the weather. It's going to be another fabulous "Monterey Weekend".
By Tony Leopardo © AutoWire.Net - San Francisco

Byline: Syndicated content provided by Tony Leopardo © AutoWire.Net
Column Name: The Worlds Best Classic Car Show
Topic: 2002 Monterey Weekend
Word Count: 1378
Photo Caption: The 2002 Monterey Weekend
Photo Credits: The Pebble Beach Concours
Series #: 2002 - 24
Download the Microsoft Word version here: 2002 Monterey Weekend
Download the original image file here: 2002 Monterey Weekend