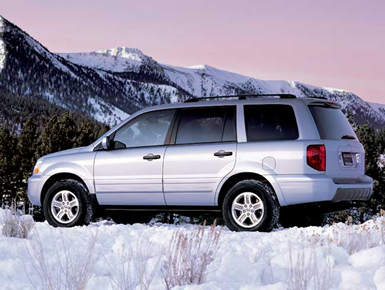 SAN FRANCISCO: Hot on the heels of the revamped CR-V small sport utility vehicle comes Honda's new Pilot. Designed in Ohio and California to meet the needs of Americans, this new midsize SUV chases the Ford Explorer in a way the Isuzu-sourced Passport never could.
Honda developed a fresh design based on its light truck platform. Staffers took field trips to observe how families used their sport utility vehicles. From their research they decided that a full four-foot wide cargo area was a must, to fit the traditional sheet of plywood without angling it. Also, there had to be three rows of seats for eight-passenger hauling capacity. And, both the second and third rows needed to fold flat into the floor. The result is a class-leading 90.3 cubic feet of space.
Honda's other SUV, the compact CR-V, is about two thirds of the Pilot in many categories. See the table below.
| | | |
| --- | --- | --- |
| Feature | Pilot | CRV |
| Engine: | 3.5-liter V6 | 2.4-liter Inline 4 |
| Power: | 240 horsepower | 160 horsepower |
| Wheelbase: | 106.3 inches | 103.1 inches |
| Length: | 188 inches | 178.6 inches |
| Width: | 77.3 inches | 70.2 inches |
| Total Int.Volume: | 176.9 cu. ft. | 139.5 cu. ft. |
| Curb weight: | 4,416 lb. | 3,201 lb. |
| Max Passengers: | 8 | 5 |
Dimensions are a bit closer than a 2/3 ratio, with the Pilot's wheelbase just 3.2 inches greater and the length 9.4 inches longer. The Pilot's extra 7.1 inches of width should make a great difference to passengers (5 in the CR-V, 8 in the Pilot). Price? The CR-V runs $18,000 to $22,500 while the Pilot soars to a range of $27,000 to $32,500.
The Pilot resembles the CR-V but also looks like a typical SUV. Current Honda design demands enormous headlamp pods, but the rest of the car is clean and restrained.
Some SUVs are true offroad climbers, like the Land Rover Discovery. Those vehicles have a low four-wheel drive setting and are built extra tough to stand the rigors of offroading. Some vehicles, such as the Subaru's, are meant mainly for town, and their all-wheel-drive is there mainly to improve stability and traction on slippery roads. The Pilot takes a middle path with its Variable Torque Management (VTM) system, which offers the lightweight, automatic convenience of an all-wheel-drive system, but also offers a feature that locks the rear differential in case you get seriously stuck. A full eight inches of ground clearance goes a long way in the rough. Despite its protective height, the Pilot isn't a chore to climb into.
Motivating this largest of Hondas is a 240-horsepower V-6, with 242 lb.-ft. of torque. A five-speed automatic with grade control is the only gearbox choice. The car boasts class-leading acceleration, despite weighing about 4,400 pounds. The engine offers a reasonable 17 city, 22 highway fuel mileage on regular gas while earning a Low Emissions Vehicle (LEV) rating and an Ultra Low Emissions Vehicle rating in California.
Driving the Pilot is a pleasure. Underpinning the car is a MacPherson strut front suspension and rear multi-link setup, with stabilizer bars at both ends. So, the Pilot drives like a station wagon, not a yacht.
Inside, the car feels expansive and open thanks to theater-style seating that places the second and third rows slightly higher than the row in front of them. The modern interior is typical Honda--precise and clean. The silvery accents on the steering wheel spokes and metallic rings around the gauges add sparkle to the matte plastic presentation.
The clever and commodious center console provides a sunken center section with sides that approximate open-weave baskets in plastic. Numerous storage areas make it easy to carry the necessities of life. In uplevel models, the second row seat features a tray that holds crayons, toys, and even fast food dipping sauce containers. The only nit-pick was a rough edge on the inside door handles.
Typical for a Honda, Pilots come in two ascending levels, LX and EX. The LX model has most of the necessary goodies, such as air conditioning, power windows, power locks, power mirrors, AM/FM/CD with 4 speakers, a theft-deterrent system, cruise control, and more. The EX adds remote keyless entry, alloy wheels, auto-off headlamps, power driver's seat with lumbar support, steering-wheel-mounted audio controls, and a cassette player and three speakers to the stereo.
The EX model also offers a leather option and two super upgrades: the Leather and Rear Entertainment System model and the Leather and Navigation System model. My test vehicle had the leather and rear entertainment center. On it your passengers can watch their favorite DVD movies on a small flip-down screen as you cruise down the freeway. The sound pours out of the car speakers as in a theater. Unlike add-on aftermarket systems, this one lets you feed the DVD right into the dash-mounted sound system.
The Pilot is safe for your loved ones, with high crash ratings from the government and the Insurance Institute for Highway Safety. It is also environmentally sensitive, with its Ultra Low Emission Vehicle rating and 90 percent of its components parts recyclable. Its long life coolant and water-borne paint, among other things, help minimize environmental disturbances.
Prices start with the standard Pilot LX at $26,900 and run all the way up to the EX with Navigation system at $32,520, with several stops in between. My tester, with the entertainment center, came to $32,480 with destination charges applied. It looks like another winner in Honda's parade of successes. By Steve Schaefer © AutoWire.Net - San Francisco

Honda Home Page
Byline: Syndicated content provided by Tony Leopardo © AutoWire.Net
Column Name: Another Winner for Honda
Topic: The 2003 Honda Pilot
Word Count: 957
Photo Caption: The 2003 Honda Pilot
Photo Credits: Honda Internet Media
Series #: 2002 - 41
Download the Microsoft Word version here: 2003 Honda Pilot
Download the original image file here: 2003 Honda Pilot