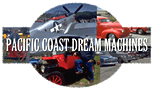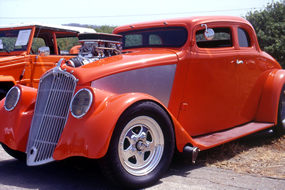 HALF MOON BAY, CALIFORNIA - A massive and whimsical showcase of 2,000 driving, flying, and working machines headlined by an exact replica of the original Wright Flyer (celebrating its 100th anniversary this year), "In The Mood", a beautifully restored World War II B-25 Mitchell Bomber, a P-47 Thunderbolt, one of the leading fighters from World War II, and a stunning exhibit of automobiles of every style and era highlight the Pacific Coast Dream Machines Show, Sunday, April 27, 2003 from 10 a.m. to 4 p.m. at Half Moon Bay Airport.
The giant 13th annual show, spread out over hundreds of acres at the airport, celebrates one hundred years of mechanical ingenuity, power, and style with a remarkable showcase of whirring, hissing, and roaring machines running the gamut from classic cars, U.S. Army tanks, and antique motorcycles to restored military aircraft, model-T fire engines, massive steam tractors, and tons more.
Automobile enthusiasts will get an up-close look at rare motor vehicles from every era since their invention. Antique, vintage and classic cars will include horseless carriages alongside fanciful touring, luxury, and sports cars. Custom street rods and muscle cars will flaunt their machismo and fabulous details. And an awesome collection of racecars will be displayed with a bone-chilling assortment of dragsters, funny cars, gassers, and jet cars firing up their engines throughout the day.
Collector extraordinaire Dick DeLuna will be showing his 1929 Franklin convertible coupe, arguably the first American-made luxury car, which was once owned by casino tycoon and car buff Bill Harrah. Honoring Charles Lindbergh's ground-breaking solo flight across the Atlantic in 1927, DeLuna's Franklin sports a hood ornament that replicates the "Spirit of St. Louis", Lindbergh's famous plane.
Michael Leeds combined his skill as an artist with his love of automobiles in creating the unique roadster he calls "Big Bertha". Built on a 1941 Seagraves hook-and-ladder tractor, the car has a ten ton semi truck chassis, 1000 cubic inch V-12 gasoline motor and runs entirely on propane, making Bertha a clean air vehicle. "I call it a vehicle of the past, the present and the future," says Leeds.
Car buffs enjoy the free-form nature of the show. It's common to see an impeccable Bentley right next to a well-worn Dodge Charger or a spotless custom Chevy coupe alongside a T-Bucket. "There's nothing quite like the Dream Machines when it comes to variety," said show organizer Bob Senz.
The famous "Wright Flyer" will be appearing courtesy of the Wings of History Air Museum, currently showcasing its plane at fly-ins and air shows in celebration of the 100-year anniversary of the historic flight at Kitty Hawk NC. The December 17, 1903 flight lasted a mere 59 seconds, went only 852 feet, but forever changed the world. Weighing in at 605 pounds, with a wingspan of 40.3 feet and a range roughly the equivalent of two and a half football fields, the Wright Flyer is vastly different from the aircraft of today.
Among the crowd-pleasing flying machines will be "In The Mood", a beautifully restored World War II B-25 Mitchell Bomber similar to the B-25 chosen by the U.S. military for the famous Doolittle Raid of Japan that turned the tide in World War II. The bomber, owned by Bill Klaers of Rialto, will be open for inspection during the show, and its crew will be on hand giving tours.
Also flying in will be a spectacular array of showplanes including stylish homebuilts, classics from the 40's and 50's, and a special display of meticulously restored warbirds. Among the warbirds scheduled to appear are a Yak-9 Russian fighter, British Hawker Seafury carrier-based fighter, several U.S. P-51 Mustangs, TBM World War II torpedo bombers, T-28 Korean War trainers, and a U.S. Coast Guard rescue helicopter. Helicopter and bi-plane rides will also be available.
New attractions this year include an old-fashioned Firemen's Muster with fire departments from throughout Northern California competing in a hose cart relay, bucket brigade, and ladder relay, and a bicycle trials demonstration featuring nationally-ranked rider Casey Holm of Pescadero.
Rounding out the show will be a tractor-pull competition, a fascinating array of small and large gas engines and steam tractors, amusements for kids, food, and live music. Show registration fee is $20 ($25 after April 15), and includes a dash plaque and entitles the driver and one passenger admission to the event. Spectator admission is $15 for adults, $5 for age 5-14 and 65+, and free for kids age 4 and under.
Tickets are available at the gate only. Half Moon Bay Airport is located on Highway 1, about 20 miles south of San Francisco and 5 miles north of Highway 92. For information, call 650-726-2328 or check out http://www.miramarevents.com/
By Tim Beeman © AutoWire.Net - San Francisco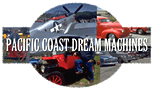 Byline: Syndicated content provided by Tony Leopardo © AutoWire.Net
Column Name: MAGNIFICENT MACHINES AT HALF MOON BAY
Topic: 2003 Pacific Coast Dream Machines Show
Word Count: 852
Photo Caption: 2003 Ultra cool customs like this modified Buick
Photo Credits: Miramar Events
Series #: 2003 - 13
Download the Microsoft Word version here: 2003 Pacific Coast Dream Machines Show
Download the original image file here: Custom Buick 207k