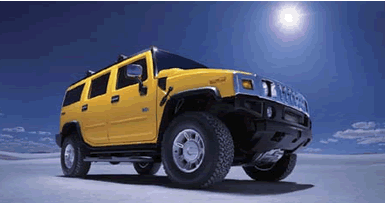 San Francisco: Finally…we had some time in the all-new Hummer 2, or H2, affectionately referred to by those who drive one, or aspire to drive one. It is every bit as fun as one would guess. For those who are not "believers" it may be difficult to fathom what is so appealing about the H2. Drive one and you'll be hooked like the rest of us.

Several years ago we drove the H1 for a week and fell in love with it. However, our loyalties have now been switched to its younger brother, H2. We can only hope that General Motors will fulfill their promise to build the H3 and maybe, just maybe, we can all own one.

Perhaps it's obvious, but the H2 is a far more civilized vehicle than the H1. Meant to be driven on the battlefield, the H1 is much like driving a tank: Everyone gets out of your way. The H2 though gives one the feel of being in a luxury sport-ute. We drove the H2 back-to-back with the Cadillac Escalade EXT, a luxury SUV that seems a tad superfluous to us. And although the same could easily be said about the H2, we found it very hard not to like.

With a total vehicle price of $55,725, our test vehicle H2 came equipped with close to $7,000 worth of options, including the 1SB Adventure Series Package (air suspension package, air compressor, air springs, brush guard, floor mats front & rear, AM/FM/6-disc in-dash CD changer, first aid / super tool / flashlight, crossbar roof rack, $2,440), leather seating surfaces and heated seats ($1,400), power sliding sunroof ($1,395), off-road brush headlamps ($450), a Chrome Appearance Package (brushed aluminum crossbar rack, chromed exterior door handles, mirror caps, $450). Also included were a tubular lamp protection, $250 and wrap around brush guard, $150.

The engine that powers this 3-piece ladder-type frame vehicle is GM's Vortec 6.0-liter V8, delivering 316 horsepower. It's a very quiet, superb performing engine that makes this baby seem as though it's floating along. Also standard is a new powertrain-integrated Borg-Warner two-speed electronically controlled full-time 4WD system. This system further reduces the vehicle's gear ratios by 2.64:1 to climb extreme obstacles. A 40/60 percent front-to-rear power split is provided by the system when the transfer case differential is locked. We did not take the H2 off-road so were not able to test out this new system. But we'll take the bet that it works very well off road too.

Standard treads on the H2 are 35-inch tires, the largest on any GM passenger vehicle. The H2's sunroof is also the largest on any GM vehicle. Its "on-pavement" manners are remarkably impeccable. We were pleasantly surprised at how quiet, smooth and comfortable this vehicle is. Riding in a vehicle that is capable of fording 20 inches of water and climbing 16-inch rocks, one would not expect it to perform so effortlessly when navigating highway driving.

Perhaps the only drawback (come on now…fuel, parking, maintenance….) the H2 conjures up is one's lack of opportunity to take it over streams and through rock quarries when living the suburban life. We imagine that most owners do get the opportunity to test out the H2's off-road capability. If at no other time, at least once a year in South Bend, Indiana at Hummer Camp. If you are so motivated, the H2 is capable of fording 20-inch deep streams, 16-inch steps and rocks, and paddling through deep sand. GM claims the H2 is first in its class at high-speed desert runs too.

The H2 offers far more—or so it seems—interior room than the H1. In the H1, the drivetrain is so wide you have to reach way over to touch the front passenger. In the H2, the distance between driver and passenger is akin to that in other luxury sport-utility vehicles. The H2 seats five passengers, with an optional third-row seat for a sixth passenger.

The controls can be reached without much effort, as well. However, with all there are, it does take a considerable amount of time to become proficient at working them. GM offers a choice of audio systems, but all provide next generation audio configurations and include Radio Data Systems (RDS) technology. There is a Driver's Information Center with 28 settings for specific vehicle functions. The system allows for two separate drivers to personalize them and plug in which functions they want to be informed about.

The instrument panel is attractive, sporty and easy to read. We especially liked the handsome, chrome & leather gearshift lever. The OnStar communication system is standard faire on H2 and is mounted high above the windshield. This we liked. We've been in other vehicles where the system could easily be tripped because of its location.

Standard features are plentiful on the H2, including OnStar, an 8-way power adjustment for the front seat cushion and back, memory function for the driver seat with availability for two drivers to select positions. Key fob-type controls are located on the door panel. Our test vehicle provided this feature for the passenger seat as well.

Cloth seating is standard, leather optional. With leather seating comes heated seats, both backs and cushions. Dual zone temperature controls for passenger & driver and allow for as much as a 25 F degree difference. Other features include side window defoggers, large power-tilt glass / power folding heated outside rearview mirrors with curb assist. This is an especially helpful feature. When backing in reverse, the mirrors tile downward, assisting the driver.

Safety features on the H2 include dual front airbags, four-way adjustable head-and-armrests, seat-mounted lap-shoulder belts for front passenger, lap and B-pillar mounted shoulder belts for second row passengers, and a lap belt for the center passenger. In the third row, there are seat-mounted lap-shoulder belt and adjustable headrest.

For those who want to add accessories GM makes them available through the GM parts department at Hummer dealerships. Some of those extras include four six-inch 55-watt lights mounted to the roof rack with adjustable sliding mounting brackets, including lamp covers, shields, crossbow assembly package and necessary electrical components. Also available is a wrap around brush grille guard, removable "U" steps for ease of exit & entry, and a lockable plastic cargo cover.

The H2's military design is unmistakable, but we find it less militaristic than the H1. We must admit, when first driving the H2, we were a little self-conscious. Primarily because of all the hype of late about SUV's, and the war in the Middle East. We had visions of people ramming us and sneering. It didn't happen. And around the San Francisco Bay Area H2's are just about as common as VW's. Hummers are now the new Status Symbol SUV for the Jet Set, Rock Stars and New Age Yuppies, and remember they look just fantastic in Chrome Yellow. By Susan Frissell © AutoWire.Net - San Francisco

2003 Hummer H2 SPECS

Base MSRP: $48,455 + destination: $735
Total Vehicle Price as tested: $55,725
Body style: 4-door, Hard Top, 4-wheel-drive
EPA Class: Full-size Sporty Utility Vehicle
Engine: Vortec 6000 (6.0-liter) V8
Hydra-Matic 4L65-E 4-speed automatic overdrive transmission
Wheelbase: 122.8 in.
Length: 189.8 in.
Width: 81.2 in.
Weight: 6400 lbs.
Height: 77.8 in. without roof rack; 82 in. with roof rack
EPA Fuel Economy: N/A
Fuel Tank: 32 gal.
Tires: LT315/70R17 All-Terrain
Wheels: 17-inch cast aluminum
Trailer capacity: up to 7,000 lbs.

Hummer Home Page
Byline: Syndicated content provided by Tony Leopardo © AutoWire.Net
Column Name: This is no "Baby" Hummer!
Topic: 2003 Hummer H2
Word Count: 1285
Photo Caption: 2003 Hummer H2
Photo Credits: Hummer Internet Media
Series #: 2003 - 17
Download the Microsoft Word version here: 2003 Hummer H2
Download the original image file here: 2003 Hummer H2 35k