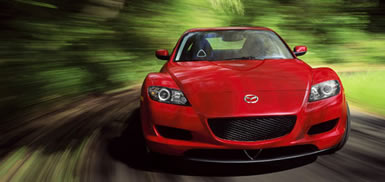 San Francisco: The history of Mazda is forever linked to the Rotary Engine they refined for passenger car use since Mazda's first RE powered mass production model, the Cosmo Sport, was introduced in 1967. Mazda has built several different car models over the past 40 years using this unique engine. Now Mazda has a new Rotary Engine called RENESIS, and that RE is what powers their new Mazda RX-8 sports car today.

Anyone can build a sports car. It took Mazda to build a sports car that's completely unlike any that has come before - or since. From the new revolutionary RENESIS rotary engine to the unheard-of, in a sports car, four-passenger interior to the unique freestyle doors, the Mazda RX-8 provides innovation as few other sports cars can. You know something is different when you turn the key and activate this throaty-sounding rotary motor.

Actually you can see the Rotary Engines influence of the styling of the RX-8 in the design cues all over the car. The tri-rotor engine design starts at the rear of the hood, flows through the car from the triangular 6-speed shifter knob, through the seat back headrests and right down to the dual exhaust tips. From any angle you know there is something different about this car.

The next indication of uniqueness comes just after you open either front door. The car has rear doors that open the quarter panel up for access to the back seats. A sports car with ample seating for four? What kind of a sports car is this? This is the one that starts with innovation in the driveline, continues right thru the body, front to back, and touches everything in between.

The most popular rotary powered car Mazda ever made was the RX-7, but that car only had 2 front seats and offered limited practical use. The Mazda RX-8 takes a different approach to making a sports car fun, fast and family useable. When the engineers at Mazda were designing the new RX-8 they knew that that there was a loyal mass of buyers that wanted that sports car feel but with the ability to take their family or friends along for the ride.

Mazda wisely decided to add a nice back seating area with a decent sized trunk and it still has the look and feel of a 2-door sports car. They managed to design a car with both features while keeping the lines and looks of speed and sport. The new Mazda RX-8 does both, and very well too.

Now that the body engineers did that great job of sports car appearance it was the power train people who got the car to perform and handle like a sports car. The RX-8 is available in three performance and price levels, one that fits every one's driving needs. The Base RX-8 starts at $25,935 and comes with an automatic transmission and the 197 horsepower Rotary Engine. Next up is the RX-8 6-speed manual trans version with the 238 HP rotary motor plus 18" 5-spoke alloy wheels, a limited slip differential with a sport- tuned suspension and a carbon fiber drive shaft. Basically you get more power and handling for a few more bucks at $27,435.

The last model in the Mazda RX-8 lineup is the Shinka edition starting at $32,260. Shinka means Evolution in Japanese, and that's what this special edition RX-8 model represents. You get all the previous listed options plus polished 18" alloy wheels, suspension and leather interior upgrades and this car is available with either the 6-speed stick or a sport tuned 4-speed automatic transmission. This car offers a sport package that fits just about everybody's performance needs and budget limits.

My press car tester came in a nice Velocity Red Metallic Clear coat paint job with black leather interior and the 6-speed trans. Add in the Grand Touring package that includes a Bose Audio stereo system, a power glass moonroof and Xenon headlamps for $4,250, plus the destination charge of $560, and the MSPR listed for $31,685. Not a lot of money in the sports car world for a very special car that stands out in a sea of pretenders. The Mazda RX-8 is A Sports Car Like No Other and it really does go Zoom Zoom. By Tony Leopardo © AutoWire.Net - San Francisco

To see the Mazda RX-8 sports car click on www.mazda.com or call them at 1.800.222.5500 for more information.

"Tony the Car Guy" is a freelance automotive writer, editor and publisher in the San Francisco Bay Area. If you have a question or comment for Tony send it to AutoWire@pacbell.net and he will answer your automotive questions in the order received.

Mazda Home Page

Byline: Syndicated content provided by Tony Leopardo © AutoWire.Net
Column Name:

A Sports Car Like No Other
Topic: The 2005 Mazda RX-8
Word Count: 836
Photo Caption: The 2005 Mazda RX-8
Photo Credits: Mazda Internet Media
Series #: 2005 - 23 Download the Microsoft Word version here: 2005 Mazda RX-8

Download the Original Image File here: 2005 Mazda RX-8