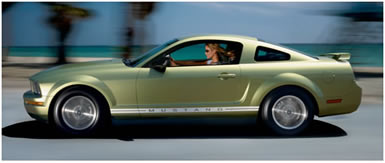 San Francisco: A long, long time ago, back in 1964, Ford Motor Company decided that America needed a small, sporty car to have some fun in. They developed a car called the Mustang and found out that they were right. The car was a huge success and consumers bought over one million of them in less than 36 months. Now fast forward 40 years and Ford is going to do it again. Take a look at the all new for 2005 Ford Mustang, the best thing on wheels you can buy today.

The 2005 Ford Mustang is new from the ground up. The old Ford Fox platform has finally been retired after about 20 years, and an all-new Mustang platform was developed. This is a modern bodied car with the looks and appeal of the original 1967 Mustang fastback coupe.

The car has that retro look of the 1960's with the handling, power and technology of the 21 St. Century. The front end looks great and the side quarter glass reminds us of the Shelby performance cars of that era. This was not by accident. The new Mustang has all the styling cues from the beginning that made it the cult car it is today. This is what retro nostalgia is all about, great past memories with today's modern mechanicals.

Does this formula work? Big time. Ford is overwhelmed with orders for the new 2005 Mustang. The production run has been bumped up three times since the introduction and now close to 200,000 cars will be build this model year alone. Ford has a run away hit with the Mustang and is working hard with suppliers and the engine plants to build and sell even more Mustangs next year.

Why so popular? Simple. The new 2005 Mustang is the first real incarnation of a true, real, muscle car from the past. The Mustang is the Number One collector car in the world with several million cars sold over the past 40+ years. It's the best used "muscle car" you can buy, the easiest car to hop up, the car with the most after-market parts available and its just plain fun to drive, work on and modify.

Ford wisely took all this into account when they were ready to update the Mustang and decided that several million people, collectors and restoration shops alike could not be wrong. America still has a love affair with cars and the Mustang is their number one pick. And while this was the basic premise of the new Mustang, to look like a new, cool, retro 1967 fastback, the powertrain engineers had a say in the matter too. Enter the GT model.

The 2005 Mustang comes in two basic models, a base Mustang with a nice V/6 motor that puts out 210 horsepower and then there is the Mustang GT that is powered by a V/8 mill then sends 300 horsepower back to the rear wheels. Smokin' the tires in a GT 5-speed stick GT is no problem and that's the way it was in the 60's too. Maybe it's not politically correct for today's news, but sometimes Guys & Dolls just want to have some fun. Gee, maybe that's why the new Mustang is a run away hit, you think?

While the base car costs just $19,770 at list price, the loaded GT cars go for around $28 grand. With base, deluxe, and premium models plus a nice option list in between, you can find a Mustang priced to fit everybody's budget. In California the Ford dealers are offering the base cars at a discount as low as $16,888 plus tax and plates, and that can get you out the door and down the road in a new 2005 Mustang for under $19K total. Now bad for a car that can revive your sense of well being, make you look good and put a smile on your face everyday.

The pipeline will soon be filled with other great Mustangs too. Look for a Mustang Mach 1 with a shaker hood, the Steve McQueen Bullit car, a Carroll Shelby GT 500 model and maybe a Boss 302 Fastback or a 429 Cammer. I'm sure the SVT team has an entire skunk works building just filled with Mustangs built on past performance models from the 60's.

My test car was a bright Torch Red GT coupe with a 5-speed stick, 17" torque thrust wheels and posi-traction that was just a blast to drive. The interior had the optional Crimson red leather seats, the twin color door trim package, chromed rimmed GT gages and the adjustable color dashlights. This car is just plain cool, inside and out.

Equipped with side airbags, wheel locks and an anti-theft system the MSRP came to $27,630 including the mandatory $625 destination and delivery charges from the factory. Not a bad price for a car that looks good, sounds great and lets you feel young again. That is what makes people keep coming back and buying the Mustang for over 4 decades now, and still counting.

OK, the new 2005 Mustang is a reality and doing quite well, so what do they do next? Build a convertible of course. That model is available now and we'll cover the new Mustang convertible in detail just as soon as Bill Ford sends me one to test drive. Make it a red GT model, please, and I'll keep you posted. By Tony Leopardo © AutoWire.Net - San Francisco

To see the new Ford Mustang click on www.ford.com or call them at 1-800-392-FORD (1.800.392.3673) for more information.

"Tony the Car Guy" is a freelance automotive writer, editor and publisher in the San Francisco Bay Area. If you have a question or comment for Tony send it to AutoWire@pacbell.net and he will answer your automotive questions in the order received.

Ford Home Page

Byline: Syndicated content provided by Tony Leopardo © AutoWire.Net
Column Name:

The best thing on wheels you can buy today
Topic: The 2005 Ford Mustang Coupe
Word Count: 1035
Photo Caption: The 2005 Ford Mustang Coupe
Photo Credits: Ford Internet Media
Series #: 2005 - 25 Download the Microsoft Word version here: 2005 Ford Mustang

Download the Original Image File here: 2005 Ford Mustang