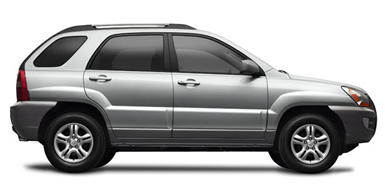 San Francisco: Back in 1995, I tested drove my first Kia, the Sportage mini-SUV. While cute, Kia was still a work in progress. Fast forward to the all-new 2005 Kia Sportage and you can see how far the Korean automotive industry has come in a few short years.

While the new Sportage shares its platform, size and running gear with the equally new Hyundai Tucson, it has completely different styling cues giving the Kia Sportage its own "character". The previous Sportage was truck-based, but the new version is car-based and much more refined.

The five-door Sportage comes in LX and EX trim levels plus four-cylinder and V6 engines are available. With models offering 2WD and 4WD, as well as manual and automatic transmissions, there are a lot of ways to personalize your Sportage. It also means a wide price range, from a basic model listing under $16,000 to a loaded model nearing the $23,000 mark.

The 2.0-liter, DOHC, 16-valve, 4-cylinder engine is rated at 140-horsepower at 6000 rpm and has 136 lb-ft of torque at 4500 rpm. The 2.7-liter, DOHC, 24-valve V6 makes 173-horsepower at 6000 rpm and 178 lb-ft at 4000 rpm. Either the 5-speed manual or 4-speed Sportmatic automatic transmission is available with the four-cylinder, but only the automatic is offered with the V6. The fuel tank on 4-cylinder model holds 15.3 gallons and 17.2 gallons in the V6. All Sportages can tow up to 1500 pounds when properly equipped.

The 4WD system is really an electronically controlled, on-demand, all-wheel-drive system. On dry pavement up to 99-percent of the power is delivered to the front wheels. On slippery surfaces power is automatically directed to the wheels with the best traction. If very slippery conditions exist the center differential can be locked for a 50/50 split between the front and rear wheels.

While air conditioning is an $800 option on the entry-level Sportage LX, it is standard on all other models. But even the LX model has nice features such as power door locks, power windows and mirrors, an AM/FM/CD sound system, a height-adjustable steering column and several front & rear 12-volt power points.

At the other end, the EX model has an upgraded stereo system with cassette and MP3 players, power sunroof, power heated mirrors, front fog lights, remote keyless entry, trip computer, rear cargo cover and net, leather wrapped steering wheel and upgraded trim. Externally it gets body color side cladding and fender flares. Leather seats are available for the EX models for $800.

All Sportages have many safety features, some not usually found on vehicles in this price range, and definitely not as standard equipment. This includes dual advanced front airbags, dual front-seat side-impact airbags and front and rear curtain airbags. All five seats have three-point seatbelts and the front ones have pretensioners with force limiters. Active safety features include four-wheel anti-lock disc brakes with electronic brake-force, distribution, electronic stability control system and traction control system.

The instrument panel is well laid-out with the gages - speedometer, tachometer, fuel gauge and temperature - being easy to read. The sound system and climate control have large knobs located on a center stack, rather than the tiny buttons found on some Asian-built vehicles, and are easy to use by both driver and front seat passenger. The quality as well as fit-and-finish is very good - nothing cheap looking here.

For a rather small vehicle, the Sportage offers a comfortable ride for all four, five in a pinch, occupants plus lots of carrying capacity. Entry and exit for front and rear riders is easy as you slide into the chair high seats. While quite short, which is great for urban driving and parking, the Sportage has a rather long wheelbase so getting into and out of the rear is not hindered by the rear wheel arches. Also it allows for wider rear doors for better access.

The back of the front passenger seat folds down into a tabletop and to carry long items the "Drop & Fold", 60/40 split rear seat folds down almost flat without having to remove the headrests. There is also a rear cargo storage compartment under the floor

The Sportage is filled with nice touches not normally found in a budget minded vehicle. For instance, the tailgate window can be opened independently and rear seats can be reclined up to 18 degrees for increased comfort. A hook in the front passenger area keeps shopping bags upright and accessible. Plus there are plenty of cup holders and storage places.

The V6-powered Sportage I drove had plenty of power; I was even able to squeal the tires. I suspect that the four-cylinder might be a bit underpowered especially when loaded with people and their stuff. Even when ordered with the V6 engine that adds about $2,600, the Sportage is still less expensive than many competitors that have only four-cylinder engines.

The Sportage's ride is quite good, a tribute to the fully independent suspension system coupled with the nice, compact 103-inch wheelbase. Steering is on the taut side and braking is very competent. Handling is very good for a low priced SUV. All 2005 Kia's carry a 5-year, 60,000-mile basic warranty and a 10-year, 100,000-mile powertrain warranty. All in all, a great, low priced, compact SUV. By Bill Siuru © AutoWire.Net - San Francisco

To see the new Kia Sportage click on www.kia.com or call them at 1.800.333.4542 for more information.

Kia Home Page

Byline: Syndicated content provided by Tony Leopardo © AutoWire.Net
Column Name:

A great low priced compact SUV
Topic: The 2005 Kia Sportage
Word Count: 957
Photo Caption: The 2005 Kia Sportage
Photo Credits: Kia Internet Media
Series #: 2005 - 28 Download the Microsoft Word version here: 2005 Kia Sportage

Download the Original Image File here: 2005 Kia Sportage