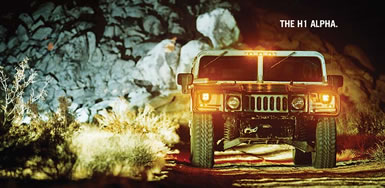 San Francisco:
Monsters come in all shapes and sizes. There are the imaginary ones under the bed (they aren't really there, right?). Then you have the cute ones recently featured in myriad animated movies. Then there are the monsters of the road, the tractor-trailers traveling the highways of America, and now the land yachts of this generation, the mighty SUV.
It was that last bit that got us going on this tangent, we got to spend a week with a more-powerful 2006 Hummer H1 Alpha wagon. And for anyone even remotely familiar with the HUMMER brand, you know that these vehicles were first conceived as a civilian-use military truck. And we can honestly say that it's still not far off the military family tree.
"Alpha represents HUMMER performance taken to its ultimate extension," according to HUMMER general manager Susan Docherty. "That means improving Hummer's already-unmatched off-road capability, along with enhancements to fuel efficiency and driving comfort on the road. As the original HUMMER, the H1 is the perfect vehicle to mark the start of the Alpha series." Here, here!
And let us tell you that the big dog Alpha lives up to its name in every way, shape and form. It is the king of whatever road it travels, or the road it makes, as the case may be, and it commands all in its vicinity to come closer an ogle its righteousness … or maybe that was just our perception. It seemed that everyone out in the world could do nothing but stare at the H1. A few brave souls came by and asked questions or made comments, but no one commented on the gas guzzling nature of the Beast, as we eventually referred to it.
It's just as well they didn't, since the H1 we drove came equipped with the new-to-HUMMER-for-2006 V/8 6.6-liter Duramax turbo diesel that makes a chest-thumping 300 horsepower and foundation-rocking 520 lb.-ft. of torque, about 95 HP and 94 TQ more than the previous 6.5-liter turbo diesel, respectively. We're talking about enough power to tow almost anything this side of a fifth-wheel or to pull that stubborn old stump on your back 40 out of its resting place and drag it into the pond for the fishies to enjoy.
The only drawback to the gobs of power is the fuel mileage … let's just say that if you need to ask then maybe you shouldn't. Or, to put it another way, the H1 doesn't list its mileage numbers on the vehicle sticker, like any other heavy-duty truck. What we can say about the mileage is the we got about 500 miles between both tanks … and with about 50 total gallons used, you could say the Beast got around 10 miles per gallon of diesel fuel. But that is mere conjecture and not necessarily based on any real events (names will be changed to protect the innocent!).
Inside, the H1 was decked out in fashionable (for taking over third world dictatorships) leather in a stylish two-tone treatment. We liked the feel and comfort of the driver's seat as well, once we figured out how to get it adjusted to our dimensions. And once we got used to our left arm rubbing the door, it is that close in there.
To give you a better idea how tight the driving quarters are in an H1, there are no airbags, and if there were, they might take your head off because you practically sit on top of the steering wheel. Don't get us wrong, though. The driving position was comfy and all controls were well at hand, especially the radio controls, which weren't even in the same hemisphere as the front passenger compartment.
But then, between the seats, there is a great expanse, not unlike Siberia in its vastness. This great space in the passenger area has a lot to do with the running gear and other vehicle systems tucked high into the frame for Mt. Everest like ground clearance. For even better protection out on the trail, our test truck was fitted with an off-road package that included a tubular-steel ladder to protect the already hidden running gear … talk about some serious off-road attributes! And, so as not to let you forget you're driving a Beast of a machine, setting the parking brake was akin to curling 15 pounds, too bad it worked on just one arm.
Another fine feature that came with the H1 was the Central Tire Inflation System. The CTIS allows the driver (since no one else can really reach the controls) to adjust, front or rear, the air pressure in the tires to maximize traction, no matter what situation you might find yourself in.
And now, about that price … and if you really need to ask, then maybe the H1 is not for you. Our black diamond tester started at $139,771, which includes the Duramax diesel, Allison automatic, Goodyear GSAs, dual fuel tanks, CTIS, heated front seats, Monsoon sound with six-disc changer, trailer towing package, heated windshield and mirrors, power locks & windows, keyless entry, two-speed lockable transfer case and a rearview mirror with compass, temp readout and map light.
Add to that our vehicles off road package (12,000-pound winch, front and rear electronically locking axels and 17-inch two-piece aluminum wheels) at $5,726, a tire upgrade for $100 and a $1,025 destination charge and you get a total as-tested price of $146,622. Or, something no mere mortal can hope to afford without winning the lottery, or being the Governor of California.
The bottom line is, is you want people to stare at you, and have that macho, he-man feeling, or need to haul a lot of stuff, or like to fell trees, the H1 Alpha is your ride. By James E Bryson © AutoWire.Net - San Francisco
To see the new Hummer H1 Alpha click on www.hummer.com or call your local Hummer dealer for more information.

Byline: Syndicated content provided by Tony Leopardo © AutoWire.Net
Column Name:

Alpha Indeed ……
Topic: The 2006 Hummer H1 Alpha Wagon
Word Count: 1042
Photo Caption: The 2006 Hummer H1 Alpha Wagon
Photo Credits: Hummer Internet Media
Series #: 2005 - 31 Download the Microsoft Word version here: 2006 Hummer H1 Alpha

Download the Original Image File here: 2006 Hummer H1 Alpha