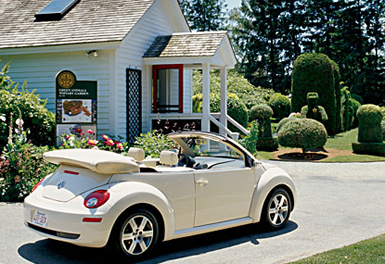 San Francisco:
Volkswagen's precious New Beetle is now available as a convertible starting at $18,770. Ever since Volkswagen introduced the New Beetle, it's been the cutest car on the road.
Sure, there are other worthy contenders for the cuteness title today, but there's still nothing quite as lovable, sweet, darling, precious and adorable as this spunky little Volkswagen. It just makes you want to give it a big bear hug.
There's a problem with this extreme cuteness, though, and it's not the fact that people with even the tiniest speck of macho-man tendencies will refuse to buy it. The problem? It's a novelty. A toy. Volkswagen knows this, and that's why the company has rolled out gimmicks each year to keep interest in a car that relies almost exclusively on styling to sell. People can buy a VW Golf if they want a better interior, bigger cargo space and more practical design, but they can only get the oh-so-cute look from a Beetle.
After its introduction in 1998, a time when Volkswagen could hardly make enough Beetles to meet intense demand, VW has steadily churned out new features to keep public interest after the novelty wore off. In 2000, it was the 1.8T turbo model, followed by the Turbo S in 2002 and the convertible in 2003. For 2005, the biggest news is a new, high-tech diesel engine designed to get good gas mileage, accelerate quickly and be quieter than other diesels.
With a cumbersome name even for a German car, the $20,010 New Beetle GLS TDI-PD coupe comes with a 100-horsepower, four-cylinder turbodiesel engine that is rated at 46 miles per gallon on the highway. Those are all figures Volkswagen should be proud of, especially at a time of uncertainty in the oil market and the probability of higher prices at the pump.
VW didn't deliver a diesel model for me to test, so I can't vouch for it. Instead I got to drive a version that I like even more - the 1.8T turbo convertible - which suited me just fine. It's a fun car to drive, generating 150 horsepower from a turbocharged engine that still gets decent gas mileage.
It's quiet with the top up, handles well, accelerates fast enough to get you in trouble, and has a solid, high quality interior that's matched by very few cars at its price. Volkswagen and Audi - VW's parent company - are known for making the most well built interiors in the industry, and while the Beetle doesn't quite match some of VW's recently redesigned cars, it certainly beats other vehicles in its price range.
Assuming you're fond of its styling, there are few reasons to dislike this car. Its back seat is a tad small and there's very little trunk space, but it's a strong offering in virtually all other respects. Why buy it? It's still the cutest car on the road, with great style and good performance with a turbocharged engine. And the current Beetle is still the cutest car anywhere. By Derek Price © AutoWire.Net - San Francisco

Byline: Syndicated content provided by Tony Leopardo © AutoWire.Net
Column Name:

The Beetle is adorable as always


Topic:

The 2005 Volkswagen Beetle Convertible


Word Count: 570
Photo Caption: The 2005 Volkswagen Beetle Convertible
Photo Credits:

Volkswagen Internet Media


Series #: 2005 - 40 Download the Microsoft Word version here: 2005 Beetle Convertible

Download the Original Image File here: 2005 Beetle Convertible