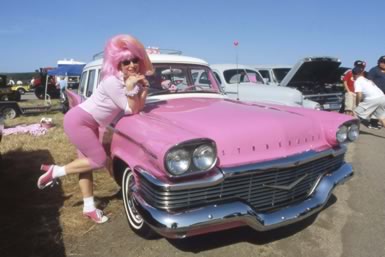 HALF MOON BAY, CALIFORNIA - Autos with attitude. Mega-modified machines. Cars with character. Rolling sculptures. Kinetic art. Ladies and gentlemen, start your engines. It's time to get fired up, full throttle, for everybody's favorite springtime event - the Pacific Coast Dream Machines Show coming up on Sunday, April 30 from 10 a.m. to 4 p.m. at Half Moon Bay Airport to benefit the Coastside Adult Day Health Center.
Get ready for a world of amazement and wonder at this year's 16th annual show. You'll be mesmerized by 2,000 of the world's coolest driving, flying, and working machines. Visitors will see everything from classic cars, Army tanks, and custom motorcycles to magnificent military aircraft, model-T fire engines, and one-of-a-kind steam tractors at this awe-inspiring celebration of man's mechanical ingenuity, power and style.
Proud owners show up in cars that come in all shapes, colors and sizes. You name it: antique, vintage, classic, custom and exotic. Hot rods, street machines, muscle cars, dragsters, imports, low riders, luxury, touring and sports cars. Did we miss anything? At the Dream Machines Show, you won't either.
Antique, vintage and classic cars will represent the early days with horseless carriages and Ford Model T's, among others, alongside the more fanciful touring and luxury cars like the Bentley, Packard, and Rolls Royce. Flash and speed will be symbolized by an array of fabulous sports cars like the T-Bird, Jaguar, Cobra, Triumph, and Model-T roadster. As always, a strong field of custom street rods will showcase their gaudiness and amazing detail work, while muscle cars like the 'Cuda, Mustang, GTO, and Camaro will flaunt their machismo and power. Don't miss the awesome collection of racecars, with a spine-tingling assortment of dragsters, funny cars, gassers, and jet cars firing-up throughout the day.
Warbird fans will want to check out a stunning display of World War II stalwarts like Jerry Gabe's P-51A Mustang fighter, Tom Camp's F-4 Wildcat, Ellsworth Getchell's British Hawker Seafury fighter, Tony Banta's P-40 "Flying Tiger", and Harold Kindsvater's Messerschmidtt-109 German fighter. Rides in a helicopter, Stearman bi-plane, Beechcraft warbird, and a P-51 Mustang will be available. Rides range from $35 (for a helicopter) to $750 (for a P-51).
The most curious and fascinating displays are the large and small engines collected and refurbished by members of the Early Days Gas Engine & Tractor Association. Their amazing array of flywheel engines are enough to power antique washing machines, lawn mowers, and an entire a Lilliputian factory. On the larger side are several pieces from Roots of Motive Power's collection of restored logging equipment like spool donkeys and Buffalo Springfield steamrollers.
Rounding out the show will be a tractor-pull competition, amusements for kids, food, and live music. Spectator admission is $15 for adults, $5 for age 5-14 and 65+, and free for kids age 4 and under. Tickets are available at the gate only. Half Moon Bay Airport is located on Highway 1, about 20 miles south of San Francisco and 5 miles north of Highway 92. For information, call 650-726-2328 or check out - http://www.miramarevents.com
By Tony Leopardo © AutoWire.Net - San Francisco

Byline: Syndicated content provided by Tony Leopardo © AutoWire.Net
Column Name:

A SHOWCASE OF INGENUITY, POWER AND STYLE
Topic: The 2006 Pacific Coast Dream Machine Show
Word Count: 586
Photo Caption: The Pacific Coast Dream Machine Show
Photo Credits: Miramar Events Internet Media
Series #: 2006 - 13 Download the Microsoft Word version here: 2006 Pacific Coast Dream Machines

Download the Original Image File here: 1950's Studebaker