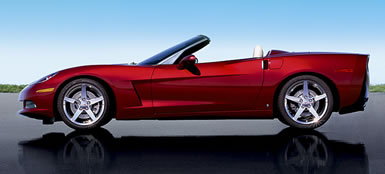 San Francisco:
That late, great, lamented San Francisco band The Tubes satirically asked, "What Do You Want From Life?" One of my straight-faced answers would be "A Corvette Convertible!"
I am not normally a convertible guy, heck I am not even a Chevrolet guy but I challenge anyone to come up with a better, more fun sports car. Let's start with the price, something that usually is at the end of a review. The 2006 Corvette Convertible lists for $53,070, which compared to Corvettes of old sounds like a ton of money, except when you factor in inflation and then compare a new 'Vette to other vehicles of similar performance - $53,070 is one heck of a deal. Basically it's the best sports car you can buy for the money today.
The current Corvette is one of the best looking 'Vettes in some time to my eye. The nose of the car reminds me of a smile, while the rear kind of turns up as if ignoring those behind. I like that attitude. There are some who do not like the large, flat tail. I am not one of them. I like the little lip spoiler highlighted by the center high mounted stop light, the big, bold, and round stop lamps, and the four aluminum exhaust tips.
Inside the Corvette is a fine, no, just about perfect, two-place grand tourer. I am not sure why Chevrolet insists on calling the Corvette a sports car. The latest 'Vette is without a doubt one of the world's finest grand touring automobiles. It is not a Spartan sports car.
The "base" Convertible has six-way power adjustable leather seats; power everything, a great climate control system, sound system, etc. Trust me, you will be comfortable on the longest drives. Then when the drives are a little shorter, and much twistier, you will still feel right at home, snug and in control behind the wheel.
The standard convertible top is a manually operated version. I drove a 'Vette with the power operated top. If you want maximum ease of operation opt for the power, otherwise stay with the manual and save a little weight. I could not find a listing for the difference but the convertible, at 3,199 lbs. is only twenty pounds more than the coupe.
Under the hood is the awesome, 6.0-liter V8, LS2 engine. What is so amazing about this engine? How about 400 hp and 400 lb-ft of torque from the all aluminum, 16-valve, over-head-valve engine? Mark my words, and I am not going out on a limb here, the LS series of engines will be remembered as one of the world's greats.
Two transmissions are available; a manual 6-speed is standard, and an automatic 6-speed with "paddle" shifters on the steering wheel. I drove the automatic and I was very impressed, even though I am not a fan of paddle shifters (probably more me than the shifters; old dogs and new tricks type of problem).
Other than my right foot there were two things controlling all that power and torque. The Goodyear Eagle F1 tires do their best but even the massive P285/35ZR-19s in the rear will turn to expensive smoke if you turn off the traction control. Unless you are a very experienced driver leave the traction control on. The front P245/40ZR-18 Goodyears are there to get you around the corners with confidence. You can upgrade the same size tires to Eagle F1 Supercars if you think you need even more grip.
The Corvette will generate more cornering force than many of its purchasers are used to and to help protect those who may get in over their head the 'Vette has Active Handling. This helps to keep you from doing something stupid, like turning your beautiful Corvette into fiberglass splinters.
Braking, something domestic cars have lagged behind the Europeans on until fairly recently, is phenomenal. I think the brakes, even the base brake package, exceed the power of the engine. It is because of this over-engineering that the Corvette is so good.
Being a working stiff I tend to look at cars a little differently than some others. I ask myself, "Could I live with this as my only means of transportation?" Not that I could afford a Corvette Convertible or the insurance, but the answer would be, "YES!" The performance is astronomical, both straight line and cornering. It is also a very acceptable commuter, and long distance tourer. The Corvette is a comfortable means of transportation for two, although storage is limited in the convertible (11 cu. ft with the top up and 7.5 with the top down).
The LS2 engine will run on regular fuel although premium is recommended. It is capable of almost 30 mpg on the highway with either transmission (18-city/28-highway with the manual, 17-city/27-highway with the auto). Not bad for a car that is capable of 0 - 60 mph times around 4.3 seconds, and a top speed well in excess of 2.5 times most Interstate limits.
You can get your 2006 Corvette Convertible in its standard luxury trim for $53,070 or fully optioned out for $66,150. For that you get things like a heads up display with G-force read out, a navigational system, power top, super-duper sound system, Magnetic Selective Ride, On-Star, and more. The really good stuff is there in the base package; all the rest is subjective icing.
One thing you cannot get, at least not at this time, is the LS7, 7.0-liter, Z06 engine. Other than bragging rights, 99.9% of Corvette buyers really do not need 505 hp. I do not know why Chevrolet does not offer the LS7 in the convertible, but I am sure they have their reasons. The Convertible is a fine car as it sits. Buy one and enjoy it for what it is, one of the world's great sports cars, a true Grand Touring car. By Bruce Hotchkiss Price © AutoWire.Net - San Francisco

Byline: Syndicated content provided by Tony Leopardo © AutoWire.Net
Column Name: The best sports car you can buy for the money
Topic: The 2006 Chevrolet Corvette Convertible
Word Count: 1,056
Photo Caption: The 2006 Chevrolet Corvette Convertible
Photo Credits: Chevrolet Internet Media
Series #: 2006 - 59

Download the Microsoft Word version here: 2006 Corvette
Download the Original Image File here: 2006 Corvette