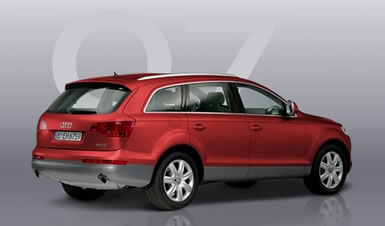 San Francisco:
Not content to be left out of the luxury SUV market, Audi introduced its Q7 for 2007 with everything short of the proverbial kitchen sink. There is certainly room for one; itís just not on the order sheet. At nearly 17 feet long and about 5,400 pounds, this Audi takes up plenty of driveway.

Until recently, Audi has exercised restraint on extra lines, bulges, and extremes of all kinds, creating a soothing and just-right kind of styling. Todayís cars have grown more evocative and interesting, although that serene beauty is no longer there.

My Q7 tester, in a lovely Sycamore Green Metallic, had the same giant mouth that all Audis wear proudly. The body is in the style of todayís crossover vehicles, which look more like a car on steroids than an old-fashioned, utilitarian box. The bold lower body and bulging wheelwells evoke rugged trucks, while the carefully radiused curves and dropping roofline is all car like. Itís pretty, for a fortress.

A fortress it is, too. The Q7 just passed the governmentís battery of crash tests with a top-level five-star rating. You get airbags galore, including the Sideguard inflatable curtain, which helps in side impacts and rollovers.

One thoughtful new safety feature is the Side Assist system, which warns you if somebody is in your blind spot on either side. Whenever a car enters the zone, a little glimmer of yellow light flickers on the massive outside mirror. Once, I put on my left blinker, planning to look and then move over a lane, but this time the light flashed at me like the beacons atop a CHP car.

The Advanced Parking System provides a rearview camera for the center-mounted navigation screen. It switches on automatically when you move the transmission lever into reverse. Itís so good, that I found myself looking at it first, and then out the windows to see what was going on behind me.

The inside looks like an A6 sedan, oversized. The controls surround the driver like an airplaneís cockpit, with the gauges tucked in under a rising hood that follows the curve of the steering wheel. The center of that wheel bears a chrome miniature of the grille surround. My tester featured a warm Cardamom Beige that toned in nicely with the green exterior. Trendy metallic accents join glorious samples of patterned genuine wood for a truly upscale feel.

Of course, what could be more luxurious than a great big 4.2-liter V8 engine? This one packs 350 horsepower and mates to a six-speed automatic transmission that you can shift manually. Itís strong enough to get you from zero to 60 in 7.0 seconds. Thatís fast for any seven seater.

I actually did pack seven people into it. My sonís cross-country team needed transportation to an event, so I shuttled six lucky teenagers in regal comfort. The third row seats are useful, but the two girls who rode back there found it a little tight. The seats fold flat for useful hauling space.

The 4.2-liter engine gets mileage ratings of 14 City, 19 Highway, but my real world driving, yielded just 13.3 mpg. If that upsets you, and youíd like to save $10,000, you can opt for the 3.6-liter V6-equipped model. You still get 280 horsepower, but itíll cost you 1.2 seconds in the 0-60 dash, while improving mileage figures by a couple of mpg.

My tester came with a load of wonderful options. Notable were the air suspension, which not only filters out uncomfortable bumps in the road, but adjusts for height and firmness. At freeway speeds the suspension automatically drops for better mileage.

The enormous Panorama Sunroof gives the open feeling of the observation deck on the Santa Fe Super Chief train. And if the sun is bearing down on you can close an electric shade. At the bottom of the car my tester wore 20-inch cast alloy wheels, the largest available. The Technology Package includes keyless entry and start, which lets you enter the car and start it while leaving the key in your pocket.

German cars have been offering various forms of center console devices. Audiís Multi-Media Interface (MMI) uses a selector knob with four buttons, in the corners of the MMIís platform. Working with the display screen, with practice you can pick different features, such as setting the tone of radio broadcasts or setting the climate control, much in the same way as using a mouse with your computer to point and click.

These are true luxury vehicles. My Q7 came to $64,520, including a $720 destination charge. The base price is $49,900. The V6-powered 3.6 model starts at $39,900.

Made in Bratislava , Slovakia , the Q7 gives you an alternative to the other luxury SUVs. Iím guessing that most Q7s will go to Audi enthusiasts who were just waiting for a way to take their big family out in the style they love. But it could entice a few BMW, Mercedes, and Lexus shoppers too, as it offers everything that makes Audis desirable, and plenty of it.

By Steve Schaefer © AutoWire.Net - San Francisco

Byline: Syndicated content provided by Tony Leopardo ©AutoWire.Net
Column Name: The Q7 offers everything that makes Audiís desirable
Topic: The 2007Audi Q7 4.2
Word Count: 909
Photo Caption: The 2007Audi Q7 4.2
Photo Credits: Audi Internet Media
Series #: 2006 - 67

Download the Microsoft Word version here: 2007 Audi Q7 4.2
Download the Original Image File here: 2007 Audi Q7 4.2