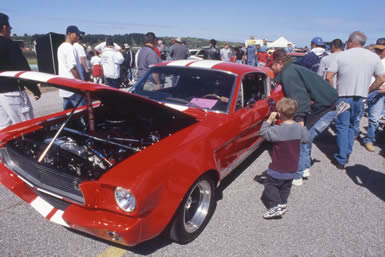 HALF MOON BAY, CALIFORNIA - Coming back strong from last year's rain-forced cancellation, a spectacular showcase of 2,000 magnificent machines running the gamut from super cool cars, custom motorcycles and one-of-a-kind woodie busses, to tricked out trucks, antique engines and tractors, and historic military aircraft will be among the mesmerizing displays at the 17th Annual Pacific Coast Dream Machines Show, Sunday, April 29, 2007 from 10 a.m. to 4 p.m. at Half Moon Bay Airport. The show benefits the Coastside Adult Day Health Center in Half Moon Bay, CA.
"We're pulling out all the stops this year," said show founder Bob Senz. "We were all touched by the outpouring of support after last year's cancellation and we've gone all out to bring in lots of fantastic, new attractions along with the old beloved standbys. We plan to make a strong statement that we're back and better than ever."
ADMISSION: $20 for adults, $10 for age 11-17 and 65+ seniors, and free for kids age 10 and under.
WHEN: Sunday, April 29, 2007. Show hours are 10 a.m. to 4 p.m.
WHERE: At Half Moon Bay Airport ( 9850 N. Cabrillo Hwy ) on Highway 1, about 5 miles north of Highway 92 and 20 miles south of San Francisco.
Info-Line: 650-726-2328 or www.miramarevents.com
Headline attractions include the show's first-ever Monster Truck freestyle exhibition starring Dan Rodoni's burly beast "The Patriot" crushing cars, doing jumps, catching big air and making noise; plus military aviation wonders like the Japanese "Zero" (Japan's top World War II fighter) and B-25 Bombers to P-51 Mustangs (America's premier World War II fighter) and the most famous aircraft ever made - a B-17 "Flying Fortress" from the
Commemorative Air Force; next up is Max Loffgren's POW/MIA '55 Chevy dragster, built as a tribute to the 3,500+ American servicemen and women listed of prisoners of war or missing in action from the Vietnam War; and a special display by Arlen Ness Motorcycles aka "King of the Custom Bike"; in addition to the Blastolene Brothers extreme, mega-modified machines Big Bertha, Sneaky Pete and Road Kill; AAA's NASCAR exhibit featuring a #6 Mark Martin show car and racing simulator; and "World Record Wonderland" headed by Mike Akatiff's super sleek "Ack Attack" motorcycle streamliner, a one time Bonneville world record holder.
Proud owners show up in cars that come in all shapes, colors and sizes. Spectators will get a rare up-close look at antique horseless carriages and Ford Model T's, fanciful touring and luxury cars, powerful sports cars, custom cars and street rods, muscle cars, vintage and modern era high-performance race cars, quirky art and pedal cars, modified street machines with cutting edge styles, exotic high-performance cars, stylish European cars, ultra cool low-riders, sporty compacts, modified imports with flashy graphics, fashionable hip-hop urban show cars, homebuilt kit cars, super-charged turbo cars and trucks, "green" technology & alternative fuel vehicles, streamliners, dragsters, funny cars, gassers, and jet cars.
Hundreds of aviation wonders are expected to be on display - stylish homebuilts, classics from the 40's and 50's, exceptional vintage warbirds, and sport and ultralight aircraft. See a spectacular display including the B-17, a Japanese Zero fighter, a B-25 Bomber, P-51 Mustangs, an F-4 Wildcat frontline Navy fighter, a P-40 "Flying Tiger", YAK Russian fighters, a Hawker Seafury British fighter, a Coast Guard C-130 and rescue helicopter, a rare 1949 Piper Clipper seaplane, T-6 and T-28 military trainers. Rides in a helicopter, bi-plane and the B-17 will be available for $50 to $425
The most curious and fascinating displays are the large and small engines collected and refurbished by members of the Early Days Gas Engine & Tractor Association. Their amazing array of flywheel engines are enough to power antique washing machines, lawn mowers, and an entire Lilliputian factory. On the larger side are several pieces from Roots of Motive Power's collection of restored logging equipment like spool donkeys and Buffalo Springfield steamrollers.
New to the show this year, spectators will be treated to a Motorcycles Trials Demonstration given by the #2 nationally-ranked trials performer, Cody Webb. Rounding out the activities will be the thrilling Unicycle Dirt Drag Racing, plus amusements for the kids, lots of great food and live music featuring the legendary "Titan of the Telecaster" Bill Kirchen and Celtic folk band Claddagh.
Spectator admission is $20 for adults, $10 for age 11-17 and 65+, and free for kids age 10 and under. Tickets are available at the gate only. Half Moon Bay Airport is located on Highway 1, about 20 miles south of San Francisco and 5 miles north of Highway 92. For information, call 650-726-2328 or check out www.miramarevents.com

Byline: Syndicated content provided by Tony Leopardo © AutoWire.Net
Column Name: HALF MOON BAY'S WORLD OF WONDER
Topic: The 2007 Pacific Coast Dream Machines Show
Word Count: 834
Photo Caption: The Pacific Coast Dream Machines Show
Photo Credits: Miramar Events Internet Media
Series #: 2007 - 19

Download the Microsoft Word version here: 2007 Pacific Coast Dream Machines Show
Download the Original Image File here: 2007 Pacific Coast Dream Machines Show