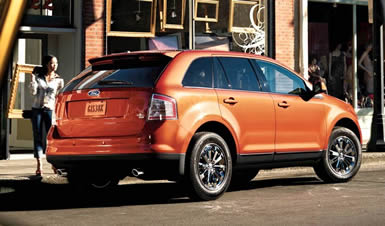 San Francisco:
If you read the business pages things are looking kind of bleak for the "big three" automakers. But if you head on over to your local Ford dealer you may be surprised. There are some exciting new models with aggressive pricing. I recently drove one of the new Edge models from Ford that may change your mind about your next purchase.
The Edge (no, not U2's guitarist) is Ford's entry into the hot crossover market. What is a crossover vehicle? A crossover is a cross between a SUV and a mini-van. No one wants to say station wagon anymore, but if you think modern station wagon you will not be far off.
The Edge is a boxy vehicle, which maximizes its interior room. It is not all that large, especially in comparison to an SUV. It is 185.7 inches long (15 ½ feet), 75.8 inches wide, and 67.2 inches tall. There is an incredible amount of space inside the Edge; 69.6 cubic feet with the rear seats folded out of the way, and 32.1 behind the rear seats. This should be more than enough to satisfy a young family, a major target of crossovers.
The first time I drove an Edge I was a bit worried about the quick drop off of the short nose; I could not see the forward edge of the fenders and I worried about parking. After spending a week with the Edge I found that I quickly accustomed myself to its new size and shape.
The driving position of the Edge is akin to a mini-van or SUV. You sit up high relative to the overall height of the vehicle, yet not so high that you have to climb up into the seat. All four doors swing out giving good access provided the guy next to you did not park too close. Sliding rear doors would be nice, but they add weight and complexity, which in the end drives up the price.
The tailgate opens up wide providing very good access. While Ford does not provide lift-over height in their specifications list, and I did not measure it, but it seemed reasonable to my dog and me as she scampered into the rear area unassisted.
Under the hood there is only one engine and transmission available, Ford's new 3.5-liter DOHC, 24-valve, V6, and 6-speed automatic transmission. Ford is justifiably proud of the engine and transmission but let's not get carried away. The competition has great engines and transmissions too; and this combo does not push the competition, it only meets them.
The engine produces 265 horses in the Edge and is certified as an ULEV II engine for California. It is rated at 18-mpg city and 25-highway. I got very close to the highway rating during my mainly highway driving commute.
I was impressed with the Edge's poise on the road. This in part comes from the wheelbase versus the track (width of the wheels). With a wheelbase of only 111.2 inches and a track of just about 65 inches, the Edge is very stable. Stability is very important to the families that purchase this kind of vehicle, and with the Edge they will find a vehicle that is more inherently stable than the SUV they currently drive.
Ford is doing its best to make sure even the base Edge SE is well equipped. It is full of comfort, convenience, and safety items. The SEL model adds even more. But like so many domestic cars the list of options is long so tread carefully as the more you buy, the higher the sticker price goes.
I went to www.ford.com and "built" my own Edge SEL Plus. Adding in all the options available and the destination charges the Edge SEL Plus went to $35,200. That doesn't include AWD, which in my opinion a vast majority of buyers do not need anyway. Realistically a very well equipped Edge will be priced under $30,000, which in today's market is not that much (man, I never thought I would hear myself say that $30-grand wasn't much).
The new Ford Edge is a reasonable alternative to those fuel-guzzling behemoths that seem to clog our highways today. The fuel economy is very good for a 5-person vehicle with enough storage space for their luggage & stuff. The base Edge lists at $25,995, with a SEL Plus going for $29,745. And if you want all-wheel-drive just add $1,650 to any model.
The new 2007 Ford Edge has all the safety items you want, it is available with AWD for those who travel in wet areas, and it combines great handling with nice comfort at a good price. Test drive one at your local Ford store today and you just might be living "on the Edge" in a new crossover tomorrow. By Bruce Hotchkiss © AutoWire.Net - San Francisco

Byline: Syndicated content provided by Tony Leopardo © AutoWire.Net
Column Name: Ford's new Crossover Vehicle
Topic: The 2007 Ford Edge
Word Count: 861
Photo Caption: The 2007 Ford Edge
Photo Credits: Ford Edge Internet Media
Series #: 2007 - 31

Download the Microsoft Word version here: 2007 Ford Edge
Download the Original Image File here: 2007 Ford Edge