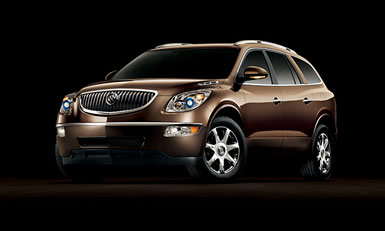 SUV Review: While it shares a platform with the GMC Acadia and Saturn Outlook, the Buick Enclave looks more seductive than both its siblings.
Soft, muted colors give the Buick Enclave an inviting style in the cabin. Though it's built like a car, the Enclave is actually closer in size to a full-size SUV like the Chevy Suburban.
Poor Buick. More than any of the other General Motors brands, it doesn't seem to have itís own identity. Chevrolet is affordable, Cadillac is luxurious, Pontiac is sporty, GMC is hard working, Saturn is friendly, and Hummer is homicidal.
But Buick seems to be the neglected stepchild. A Buick is nicer than a Chevy and not as nice as a Cadillac, but beyond that, does it inspire any emotional response other than "I want to be like Tiger Woods?"
I didn't think so.
Still, Buick exists and - probably after having taken a backpacking trip in Europe to "find itself" - has come up with a clearer answer about what it means to be Buick: affordable luxury.
That answer is embodied in the Enclave, a big, roomy SUV that's built like a car and outfitted almost like a Cadillac. It's the latest vehicle to join the Buick lineup, and it shows a refreshing emphasis on style that the copycat Buickís have lacked for years.
For example, the Enclave is built on the same platform as the GMC Acadia and Saturn Outlook. If the Enclave were built in the old days, you could have parked the Buick, GMC and Saturn side by side and seen that they were pretty much identical except for the badges.
Not so today, though. The Enclave actually looks dramatically different - and I think better - than its GMC and Saturn siblings. Buick's designers took the time to create something completely different, inside and out, rather than just slapping on some new stickers and calling it done.
Outside, the Enclave has a feline appearance that's daring on such a big vehicle. It's bold. It doesn't reek of bland, design-by-committee styling that I think has ruined some otherwise great Buickís in the past.
The interior isn't quite as distinctive, but it definitely has a unique style. The gauges are lit with light blue highlights, and the soft, neutral colors give it a more inviting feel than the Acadia and Outlook.
When you see the Enclave in pictures, you'll notice it has the same swoopy lines of the small car-based SUVs that are becoming more popular each year. But when you see it in person, you realize the Enclave is on a completely different scale.
It's a full-size SUV with a roomy third-row seat, not one of those medieval torture devices squeezed into the hind end of many of today's mid-size SUVs. It's tall, wide and looks a little bigger than most minivans.
It doesn't drive like a big vehicle at all, though, until you step on the gas and realize it's a 2.5-ton beast. The steering and braking don't require much effort, and the suspension sops up imperfections nicely. On the downside, the 275-horsepower V6 seems to strain under acceleration as it gets you from zero to 60 mph in 8.4 seconds, which is quite a bit slower than the Mazda CX-9 and Acura MDX.
Yes, that's right. I just compared a Buick to an Acura. That's no longer an unfair fight because Buick is now trying to lift itself into a premium market position, with pricing and equipment designed to attract luxury buyers rather than bargain hunters.
In some ways, the Buick compares well with not only the MDX, but also the Lexus RX 350, BMW X5 and Mercedes-Benz M Class. Some of its cabin materials seem to be cut-rate quality, but in terms of overall refinement and luxury equipment, the Enclave can compete directly with those pricey brands.
That's not to say the Enclave is cheap. It starts at $33,000 and quickly climbs with each check mark on the options list. Nonetheless, that's thousands cheaper than any of the luxury SUVs it competes with. It's definitely a good start for remaking Buick. I'm just not sure it's going to be enough to rescue an entire brand from mediocrity.
What was tested? The 2008 Buick Enclave CXL AWD with a base price of $37,040. Options: DVD entertainment package ($4,320), dual skyscape sunroof ($1,300), luxury package ($975). Price as tested including a $735 destination charge: $44,370
Why avoid it? Some of its interior materials aren't up to true luxury standards.
Why buy it? It's a fine near-luxury SUV with lots of space and a comfortable ride. By Derek Price © AutoWire.Net - San Francisco

Byline: SUV Review provided by Tony Leopardo © AutoWire.Net
Column Name: Enclave shows Buick's new face
Topic: The 2008 Buick Enclave CXL
Word Count: 834
Photo Caption: The 2008 Buick Enclave CXL
Photo Credits: Buick Enclave Internet Media
Series #: 2008 - 18
Download the Microsoft Word version here: 2008 Buick Enclave
Download the Original Image File here: 2008 Buick Enclave