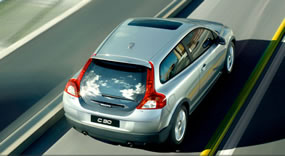 CAR REVIEW: For years now, Volvo has been distancing itself further and further from its original boxy image. Now, the C30 brings a smaller, sportier model into the line that hasn't been seen since the 1800es wagon in the early 1970s.
Like the 1800es, the C30 sports a glass hatchback and broad shoulders, and although the proportions are quite different, the effect is still cool, sporty and definitely not middle-aged. It's enough to get a middle-aged guy to want one.
Volvo has no interest in competing with Kia Spectra's or Honda Civics, so it has sent the C30 to America with a 2.5-liter, turbocharged five-cylinder engine exclusively under the sleek hood. Thanks to 227 horsepower on tap, you can move from zero to 60 mph in just 6.2 seconds with the standard six-speed manual. The front-wheel-drive C30 also claims a top speed of 149 mph, which I must admit I did not see during my weeklong test.
The 3,200-pound C30 gets EPA fuel economy ratings of 19 City, 28 Highway. The Green Vehicle numbers are good - 7 for both Air Pollution and Greenhouse Gases ratings. That makes it a Smartway-rated car - better than most.
But the real fun is driving the car. I took my Brilliant Blue Metallic ($475) test car on my daily route with a sense of adventure. The car is big enough to feel solid on the freeway, but is light and agile compared to bigger sedans and certainly much more zippy than an SUV. Compared to, say, a MINI Cooper S, it is not as frisky, but that's part of the Volvo heritage. You can't go too wild.
For a small car, the back seat in the C30 is capacious for real adults. The front seats slide forward willingly, to aid entry and exit. If you want a more conservative form of the C30, you can always buy the S40 sedan. However, the C30 is 8.5 inches shorter and 320 pounds lighter than the S40. That's got to help tossability on the back roads, wouldn't you think?
The front half of the C30 is pure Volvo, with rectangular grille with medallion on diagonal chrome strip, narrowed hood with rectangular headlamp clusters tucked into pulled back front fenders. From the doors back, it's C30 exclusive. The shapes are artfully carved and produce an ambiance of solidity, a very appropriate trait in a Volvo of any size.
The interior is just like other Volvos, which means you get Danish modern sensibility, tastefully muted colors, matte-finish surfaces, and an ultra-slim center dash section that waterfalls down onto the center console. If you're excited by bling, this is not the car for you. During an hour-long commute, the restfulness of the panels and simplicity of the controls is welcome.
I was expecting a little bit more in the way of features. There is only a single-slot CD, for example, and no trip computer, automatic air conditioning, or cruise control. The carpeting looks cheap, although the footwell mats were of high quality. You do get a leather-wrapped steering wheel and shift knob, illuminated vanity mirrors, the normal power features, and a 160-watt, 8-speaker audio system.
Safety has been Volvo's specialty forever, and you're not short-changed here. The body uses four different kinds of steel to make sure that it protects the passenger compartment during a crash. There's a rollover protection system, loads of airbags, Volvo's Side Impact Protection System, and the appropriately acronymed Whiplash Protection System (WHIPS). Of course, agility and plentiful power help you to avoid accidents in the first place.
The little Volvo accommodates a string bass - my now standard test of usefulness. The hatch is narrower than some, so blockier items, such as TV sets in boxes, may pose a greater loading problem. Cargo space jumps from 12.9 cubic feet to 20.2 when you drop both rear seats. Or, you can drop one and keep one upright if you want to carry a third person plus some extra goods.
Pricing is simple. There are two levels, simply named 1.0 and 2.0. The latter adds a list of enjoyable items, such as side skirts, fender flares and a spoiler on the outside. You also get 18-inch alloys in place of the 1.0's 17s. Inside, the 2.0 steps up to the blasting 650-watt premium audio system with SIRIUS satellite radio. The 1.0, like my tester, retails for $22,700 plus a $745 destination charge. For the 2.0, add an even $3,000.
Volvo offers the Custom Build ordering process. After paying a one-time charge of $300, you can select special interior and exterior colors and a range of accessories from the factory. With 17 exterior and 12 interior shades to choose from, you can help make your car very unique in your own town.
One last word. My tester, presumably to compete with MINI, wore a huge graphic of the Swedish flag on the roof. Then along each side, a spectacular graphic had the paint "peeling away" to expose other Swedish flags. Quite an eye-catching idea on such a modest package car I think.
If you have not put Volvo on your sporty, small car, shopping list, you may want to do so now.
By Steve Schaefer © AutoWire.Net - San Francisco

Byline: Car Review provided by Tony Leopardo © AutoWire.Net
Column Name: The C30 is Volvo's new small sporty car
Topic: The 2008 Volvo C30
Word Count: 934
Photo Caption: The 2008 Volvo C30
Photo Credits: Volvo C30 Internet Media
Series #: 2008 - 28
Download the Microsoft Word version here: 2008 Volvo C30
Download the Original Image File here: 2008 Volvo C30