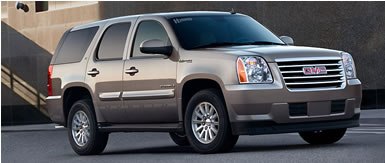 SUV REVIEW: Is this thing a hybrid? The Yukon Hybrid leaves no doubts about its gas-electric drive train thanks to the Hybrid stickers and logos peppered all over this new hybrid SUV.
GMC wants everyone to know this beast is a hybrid. Judging by all the logos on the new Yukon Hybrid, General Motors would be perfectly happy if the automotive press wrote reviews like this:
"Hybrid! Hybrid hybrid hybrid! Hybrid! Did we say Hybrid?"
Inside, there are fewer clues to the Yukon Hybrid's more fuel-efficient nature. Other than a Prius-like LCD screen and a single green logo, the cabin is just like the regular, gas-only Yukon. So the driving feel is the same.
This huge vehicle has no fewer than NINE exterior logos to proclaim to the world that it has batteries and electric motors that help it get better gas mileage. There are big "hybrid" stickers in the front and rear windows. There are two "Hybrid" logos on each side, another logo on the back, and giant, 3-foot-long stickers on the sides that say, guess what? "Hybrid."
So it looks like General Motors is upset that Toyota has gotten all the attention at the environmental prom, and thus needs to cover itself in sequins and start shimmying seductively in the green spotlight.
This SUV shouts, as it wiggles its steel hips, "I can be Earth-friendly, too!"
Can it? Really?
This is the world's first full-size hybrid SUV, but calling it Earth-friendly is a bit like ordering a banana split without the whipped cream and calling it healthy. It only gets 21 mpg in the city and 22 on the highway, so at least to the skeptics, it's still a rolling billboard that says, "Death to the polar bears."
On the other hand, 21 mpg is an amazing figure for such a huge and powerful SUV. Consider this: the normal Yukon, which is less powerful than the Yukon Hybrid, only gets 14 mpg in town. Or, put another way, if you do 15,000 miles of in-town driving this year, the hybrid Yukon will use 357 gallons LESS fuel than the regular Yukon which, converted into dollars at today's gas prices, is roughly $1 Billion.
To do this, GMC hired a wizard named Merlin to wave his magic wand and make the giant Yukon use less gas. The Yukon Hybrid was given a more aerodynamic face, nice low-rolling-resistance tires, some aluminum body panels to save weight, and a massive, 6.0-liter V8 engine with special technology to make it more efficient. Merlin did a very good job.
Better still, the Yukon Hybrid isn't a compromise. It's not like driving around in a slow-poke golf cart, like some of the other hybridís out there. It feels exactly like driving the normal Yukon, complete with brawny acceleration, and a 6,000-pound towing capacity.
There are a couple of downsides, though. For one, the third-row seat is designed for gnomes.
And two, it's priced like it's part of the federal budget, starting around $51,000. That's about $17,000 more than the base Yukon. Granted, the Yukon Hybrid comes loaded with all kinds of luxuries, including leather, but it's still hard to justify such an enormous difference on the sticker price.
That's actually my biggest gripe with most hybrid vehicles. They're designed to save gas, but the people who need to save the most money at the pump, people living on tight budgets, simply can't afford them. They're tethered to expensive, high-end luxury packages, which is a shame.
Overall, though, I like the Yukon Hybrid. It's a good example of how hybrid technology can be applied to every day vehicles other than itty-bitty commuter cars.
What was tested? The 2008 GMC Yukon Hybrid with a base price of $50,945. Options on test vehicle: None. Total MSRP Price as tested: $50,945.
Why avoid it? It's expensive and has a small back seat considering its enormous size.
Why buy it? It's a rolling advertisement that says, "I want to drive a big SUV, but I also care about the planet." And it's just as capable as the regular, gas-only, Yukon.
But please, GM, can we lose the "hybrid" stickers? One form of sticker shock is enough.
By Derek Price © AutoWire.Net - San Francisco
Byline: SUV Review provided by Tony Leopardo © AutoWire.Net

Column Name: Hybrid Sticker Shock in more ways than one
Topic: The 2008 GMC Yukon Hybrid SUV
Word Count: 771
Photo Caption: The 2008 GMC Yukon Hybrid SUV
Photo Credits: GMC Hybrid Internet Media
Series #: 2008 - 31
Download the Microsoft Word version here: 2008 GMC Yukon Hybrid
Download the Original Image File here: 2008 GMC Yukon Hybrid