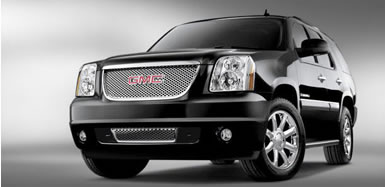 SUV REVIEW: The GMC Yukon XL Denali has a body that seems to go on for miles. It's more than 18 feet long, or bigger than many bedrooms.
With three rows of roomy seats, including chairs that feel like recliners in the middle row, one thing you'll never lack for in this GMC is space to relax.
Very rarely do I drive a $53,000 vehicle and think it's a bargain. But there I was, Tuesday morning with two cars in front of me. One was the subject of last week's review, a $60,000 mid-size BMW that didn't even have satellite radio, a navigation system or a DVD player.
Right next to it was the subject of this week's review, a $53,000 GMC Yukon XL Denali. Not only did it have all those gizmos, the nav screen, XM radio and a DVD player, that make it a dream car for family road trips, but it was 50,000 times bigger than the Bimmer.
Granted, I still hated to swap the smaller car for a luxury bus, but for that one Twilight Zone moment I thought, "Gee, maybe $53,000 isn't all that expensive." And aside from the amount of all that plastic, steel and leather you get for the money, the Yukon XL Denali offers a nice surprise: impressive engineering.
A few years ago, these mountain-size SUVs were outfitted basically like heavy-duty work trucks. General Motors had an especially bad reputation for poor-fitting interiors that looked, smelled, and felt cheap.
But when you get inside the latest generation of GM's SUVs, you'll see that's taken a dramatic turn for the better. It's still not as perfect as some of the smaller car-based SUVs, but the fit and finish inside seems amazingly car-like for a vehicle that's big enough to join the Greyhound Bus lines.
It's also apparent that engineers spent time refining the Yukon XL's ride. By necessity, big, heavy SUVs need tough suspension systems to support all the weight. But this one seems surprisingly smooth and quiet without any of the rough, bouncy, U-Haul feeling I'd normally expect. It's just pleasant.
Even the turning radius is car-like. Parking garages, which would normally be intimidating to navigate in something this huge, are easy work thanks to the tight turning radius and rear-view camera that helps when you're backing up. Have I mentioned that this thing is big? It's more than 18 feet long and close to 7 feet wide.
Inside, it feels like sitting in a domed stadium with a high roof angle and virtually unlimited shoulder, leg and hip space. The front and middle row bucket seats feel like La-Z-Boy recliners. And in back, there's a cargo space thatís as big as the Grand Canyon.
Not surprisingly, all this room comes with a price. It gets a scream-inducing 12 miles per gallon in the city and slightly more reasonable 18 MPG on the highway with its 6.2-liter, 380-horsepower V8. But is it fast?
The simplest answer is the same one I gave my 4-year-old kid: "No, it's just big." While I suppose it's plenty fast for its size, including lots of low-end grunt from the V8, it still feels like a dump truck when the light turns green.
What was tested? The 2008 GMC Yukon XL Denali 2WD model with a base price of $48,130. Options on the test vehicle: The Sun and Entertainment package for $3,190 and a set of 20-inch deluxe chrome wheels for $1,995. Total MSRP price as tested: $53,315
Why avoid it? It gets freakisly awful gas mileage at only 12 mpg in town.
Why buy it? It's huge, super comfortable and refined. Few vehicles can match its space, power and luxury.
And finally, would I buy one of these if I had the money? If I wanted something for those long road trips with the kids, the dogs and a boat, I'd trade in a couple of limbs to drive this giant, luxurious, Yukon Denali.
By Derek Price © AutoWire.Net - San Francisco
Byline: SUV Review provided by Tony Leopardo © AutoWire.Net

Column Name: A big thing from GM
Topic: The 2008 GMC Yukon XL Denali
Word Count: 727
Photo Caption: The 2008 GMC Yukon XL Denali
Photo Credits: GMC Yukon Internet Media
Series #: 2008 - 32
Download the Microsoft Word version here: 2008 GMC Yukon
Download the Original Image File here: 2008 GMC Yukon