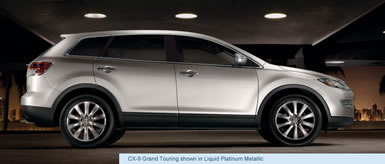 SUV REVIEW: Mazda's seven-passenger SUV, the CX-9, got rave reviews and racked up more awards than any other SUV last year. It was named the North American Truck of the Year, Motor Trend's SUV of the Year, Kelly Blue Book's Best New Family Vehicle, Cars.com's Family Car of the Year, and probably a thousand other "of the years" that I can't remember.
But some people just can't leave a good thing alone. By most accounts, it's one of the best family vehicles to hit the market in a long time, but that isn't stopping Mazda from making the CX-9 noticeably better for 2008.
For starters, a major change to the engine adds 10 horsepower and 21 pound-feet of torque for its second year of production. The original engine was no slouch, it's a big reason the CX-9 was so popular, but the extra dollop of power brings it up to 273 horses, an astonishing number for a family car.
Lots of power, with relatively light weight and good handling, make this a thrilling vehicle to drive. It's by far the most exciting seven-passenger SUV I've driven, and it's nearly as rewarding as the five-passenger BMW X5 and Porsche Cayenne, both of which are priced with zeros that stretch halfway around the globe.
Last week I said the Tribute didn't live up to Mazda's "zoom-zoom" hype. Well, the CX-9 does. It really has the soul of a sports car, as cheesy as that may sound.
Another pleasant surprise for 2008 is a cool new option that I hope all manufacturers will add soon: a blind-spot warning system. If you're driving down the highway and a car enters your blind spot in the next lane, an icon lights up on the side mirror to let you know there's a car you may not be able to see.
And if you're an idiot who doesn't look in the mirror before you change lanes, the CX-9 still beeps to warn you when you use the turn signal.
If you use neither a turn signal nor a mirror when you change lanes, well ... Mazda can't help you. You'll just become another example of Darwinism at work.
Innovative features like this blind-spot beeper usually start with expensive car brands like Mercedes-Benz, then trickle down to the plebeians. It's not uncommon to drive a hyperexpensive luxury car and think, "I bet all cars will have a such-and-such feature in 10 years," but a Mazda? That's a shocker.
Inside, the CX-9 is good looking, slightly luxurious and logical. There are storage compartments hidden all over the cabin, and all the controls are intuitive.
The seats aren't as comfortable as they could be, though. It's configured with two seats up front, three in the middle and two small ones in back that are best for kids. The center middle-row seat drew complaints from my passengers, none of them wanted to ride there because it had no back support, so it's basically a car that's comfortable for four adults, two kids and one person who really likes seeing their chiropractor.
One thing that won't need adjustment is the price. It starts under $30,000, which is fantastic any way you look at it. As luxury sports-SUV, akin to the Cayenne and X5, it's dirt cheap. And it's still a bargain compared to mundane seven-passenger family SUVs, which often start in the low-$40,000 range for comparable performance and features.
One downside to consider: the front-wheel-drive CX-9 only gets 22 mpg on the highway and 16 mpg in town. The all-wheel-drive version is a little worse still, which is the price you pay for all that horsepower and seating capacity.
What was tested? The 2008 Mazda CX-9 FWD Grand Touring with a base price of $33,355. Options on the test car were: Special paint at $200, blind spot monitoring system for $200, and a moonroof and Bose audio package for $1,760. Total MSRP price as tested including a $635 destination charge: $36,150.
Why avoid it? It doesn't get good gas mileage and some of the seats aren't as comfortable as they could be.
Why buy it? It drives almost like a sports sedan but has room for seven people. It has lots of power, great handling, a quiet highway ride and nice interior. There's a reason it's winning all the awards.
Even with the Guantanamo seats and less-than-impressive gas mileage, Mazda made a remarkable SUV even better for 2008. It can add another accolade to its list: Derek Price's Favorite SUV in a Long, Long Time.
By Derek Price © AutoWire.Net - San Francisco
Byline: SUV Review provided by Tony Leopardo © AutoWire.Net

Column Name: Big Mazda CX-9 racks up another award
Topic: The 2008 Mazda CX-9
Word Count: 821
Photo Caption: The 2008 Mazda CX-9
Photo Credits: Mazda CX-9 Internet Media
Series #: 2008 - 34
Download the Microsoft Word version here: 2008 Mazda CX-9
Download the Original Image File here: 2008 Mazda CX-9