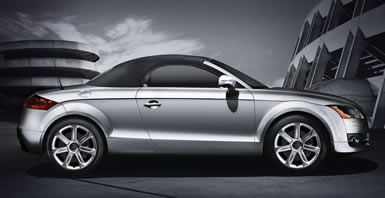 SPORTS CAR REVIEW: Audiís little two-seat sports car created a big impression when it arrived along with the 21st century. Strikingly clean and modern inside and out, it made the most of its modest Volkswagen platform and won a whole new set of fans for Audi. After years of minimal change, the TT has been redone.
Although it is still a diminutive two seater, the new TT now stretches 5.4 inches longer on a 1.8-inch longer wheelbase. Itís just over three inches wider too and a fraction of an inch taller. That means more comfort for driver and passenger, but still keeps the quick, tight handling that a compact car delivers.
Weight, at 3,131 pounds, is kept in check by clever use of Audi Space Frame technology. The carís body utilizes 58 percent aluminum and 42 percent steel. The steel parts are distributed for weight balance and also to provide rigidity in this open-roof vehicle.
Audiís engineers passed on a hard folding top and chose to stick with the old-fashioned cloth top for the TT. Although it permits more sound to enter the cabin, the cloth top is lighter and gives the car a low center of gravity. It drops in just 12 seconds. A hydraulically operated top is standard on upper level models and is available on the base 2.0-liter model, which uses a manual top with a central catch.
Regardless of how it drops, the top folds in a Z shape, with the topmost section taking the place of a tonneau cover. Itís quick, easy and lightweight. And if you feel at all enclosed by the top, once itís down the TTís interior is as big as the whole outdoors.
You can get a 2.0-liter turbocharged four-cylinder engine or a 3.2-liter V6. Horsepower ratings are 200 for the four and 250 for the six. The four-cylinder version, with the only transmission you can get on it, a six-speed automanual, gets from zero to 60 mph in just 6.3 seconds. The V6 will do it in 5.6 seconds.
I, however, have a problem. I want my TT Roadster with the 2.0-liter engine mated with a six-speed manual. Sorry, you canít have that in the U.S. If you want to shift for yourself you have to order up the 3.2-liter 6. Thatís hardly bad news, except for the higher price and lower fuel economy.
My Sahara Silver Metallic tester averaged 25.4 miles per gallon, excellent for a sports car. The EPA numbers are 22 City, 29 Highway, so it hit pretty much in the middle. The EPAís Green Vehicle ratings are 7 for Air Pollution and 7 for Greenhouse Gas, good enough to earn the Smartway classification.
Despite its close accommodations, the interior is welcoming, and, as an Audi, exquisitely rendered. Gleaming accents on door grips, latch, steering wheel, transmission housing and vents are set perfectly into the satiny plastic panels. The steering wheel features an unusual flat bottom, which increases thigh room but can feel a little odd as you turn it into a sharp curve. The seats are deeply bolstered, and in my tester, wore a rich Saddle Brown leather.
The first generation TT, particularly with its 1.8-liter turbo engine, was sometimes maligned as not being a serious sports car. I didnít buy that, considering how many modestly powered two-seaters have delivered more than satisfactory performance over the years. But todayís 2.0-liter engine has plenty of extra oomph, and with the 3.2-liter V6, thereís nothing to cry about.
My testerís optional Magnetic Ride Suspension gave me a choice of how I wanted the car to handle. This high-tech damping technology employs shock absorber struts with a special fluid in them that contains magnetic particles. With the touch of a button you can apply voltage to the fluid, altering its viscosity, thereby changing the suspension in a split second.
Options can help you build the perfect TT for you. My tester, with its four-cylinder engine and front wheel drive, started at $36,800 plus a $775 destination charge.
On top of that was $12,900 worth of options. The long list included the Premium Package, with the power top, leather steering wheel, and ten-way power seats with heat. There was fine leather on those seats, and a navigation system, including an iPod interface tucked away in the glove compartment.
The Bose premium sound system included a six-disc changer and Sirius satellite radio. The wheels were bumped up to 18-inchers. That beautiful silver paint cost $475 extra. All of this put the TTís price at just under $50,000. Suddenly, that seems like a lot for this car, as good as it is.
Audis are meant to be premium vehicles, and the new TT is that and more. Youíll need to drive one to see if it does the right thing for you.
By Steve Schaefer © AutoWire.Net
Byline: CAR Review provided by Tony Leopardo © AutoWire.Net

Column Name: Audis are meant to be premium vehicles
Topic: The 2008 Audi TT Roadster
Word Count: 867
Photo Caption: The 2008 Audi TT Roadster
Photo Credits: Audi TT Internet Media
Series #: 2008 - 37
Download the Microsoft Word version here: 2008 Audi TT Roadster
Download the Original Image File here: 2008 Audi TT Roadster