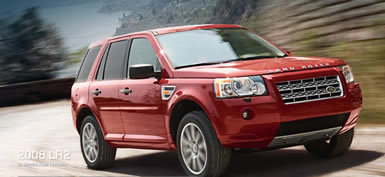 SUV REVIEW: On one hand, Land Rovers are legendary off-road performers. On the other, they are luxurious cruisers for the well-to-do. As the newest and smallest Land Rover, the LR2 attempts to blend the best qualities of a fine sedan with the rugged off-road ability of an SUV.
I parked my Rimini Red LR2 tester next to a Range Rover. It was obvious how compact my LR2 was. I also noted the LR2's much more laid-back windshield, softer body contours, and more stylish headlamp and taillight treatments. Land Rover designers are combining traditional brand design cues with a modern sensibility to attract new, younger buyers.
The LR2 definitely preserves the Land Rover high "command driving" position, but it's not a difficult climb into the comfortable interior. As they did with the exterior, Land Rover designers have worked to create a carlike ambiance that still draws upon the brand's legendary blocky, high-efficiency interior elements.
Interior surfaces boast a high luster and fit together beautifully. Tall glass evokes an SUV more than a car, and the standard double sunroof lets in abundant light. Taking advantage of the tall roof, Land Rover's planners ordered up stadium seating, so rear passengers sit a little higher than those in front and enjoy an open, panoramic view.
The metallic horn bars on the steering wheel are likely a Land Rover tradition. The gauges are readable and attractive, but are one of the areas where the difference between the high-priced Range Rover and the more affordable LR2 are obvious. Using "wood-effect finishes" rather than real wood trim is another cost-related decision. It certainly looked nice enough, though.
The LR2 features a new, Volvo-developed inline six-cylinder engine under its clamshell bonnet (hood). It is carefully engineered to be short enough to mount transversely (side to side). This creates greater space in the cabin and aids efficient layout of the safety systems.
The new engine generates 230 horsepower and 234 lb.-ft. of torque. Eighty percent of maximum torque is available across the entire rev range, so you won't find yourself wishing for more grunt when you need it. The 4,255-pound car accelerates from 0-60 miles per hour in 8.4 seconds.
The LR2 uses a new six-speed automatic that was specially developed for the brand. The electronic system offers settings for Auto, Sport, or CommandShift manual shift modes. Sport mode holds low gears longer and shifts down more readily.
Land Rover claims combined fuel economy of 25.2 miles per gallon, and the EPA rates it at 16 City, 23 Highway. I averaged 14.3 miles per gallon on premium fuel. The EPA score for Air Pollution of 7 is good; the Greenhouse Gases score of 5 is average.
Land Rover's intelligent permanent all-wheel-drive system sends nearly all of the torque to the front wheels until you run into a change in hazardous road conditions, at which time it instantly sends some or most of the torque to the rear wheels as required. A Haldex electronically controlled center coupling is employed for instant and effective transmission of torque, more sophisticated than that found in most other garden variety SUVs and crossovers.
Terrain Response connects the engine, gearbox, center coupling and chassis systems to respond to the varying driving conditions. Choose one of four settings using a rotary dial on the center console for General Driving, Grass, Gravel, Snow, Mud and Ruts, or Sand. In my urban, on-road driving, I stayed in the first setting.
Terrain Response works with other electronic systems for enhanced safety and off-road control. For example, Dynamic Stability Control normally removes torque to wheels that lose traction, but the Terrain Response system can leave a little torque there if the system senses that it's needed. Terrain Response also fine-tunes the traction control and anti-lock braking systems.
Hill Descent Control (HDC) automatically restricts downhill speeds, whether the ground is slippery or not. Gradient Release Control works in tandem with HDC to ensures that the brakes are released safely on extremely steep hills, where everything you do matters.
This new Land Rover is priced to compete with other entry-level luxury SUVs and crossovers such as the BMW X3 and Lexus RX. My tester carried a base price of $36,150, including shipping. It also featured a few options, such as the $1,050 Lighting Package and $3,500 Technology Package. These packages added niceties such as Bi-Xenon headlamps, memory driver seat and mirror settings, a navigation system, and other upscale features. The total tab was fairly priced at $41,400.
The LR2 offers a very enjoyable day-to-day driving experience, and has the brains and muscle to take you safely through poor road conditions or off road entirely if necessary. It is distinctive without being too flashy, maybe just like you.
By Steve Schaefer © AutoWire.Net
Byline: SUV Review provided by Tony Leopardo © AutoWire.Net

Column Name: The LR2 is distinctive without being too flashy
Topic: The 2008 Land Rover LR2
Word Count: 855
Photo Caption: The 2008 Land Rover LR2
Photo Credits: Land Rover LR2 Internet Media
Series #: 2008 - 41
Download the Microsoft Word version here: 2008 Land Rover LR2
Download the Original Image File here: 2008 Land Rover LR2