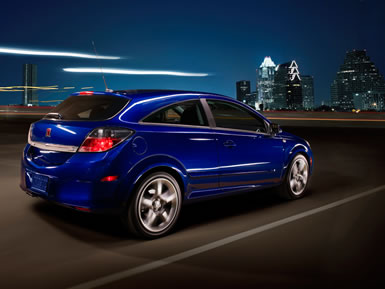 CAR REVIEW: Saturn was created by GM to take on the Japanese, Toyota and Honda especially, with a well made compact sedan and coupe. Saturnís were built in America in a brand new, state of the art factory, in the quaint little town of Spring Hill, Tennessee by dedicated workers. Models featured polymer side panels that bounced back after being hit by a shopping cart.
There were no model badges on the cars, and no grille either! Also missing, and notable in its absence, was identification with GM. Saturn, technically a subsidiary, debuted as a new manufacturer, not just a new brand.
The first cars were good, but not great, however sales went well. High resale values made used Saturnís virtually the same price as used ones. Some fit-and-finish issues popped up at first and the original foam-cast four-cylinder engines were surprisingly noisy.
People loved their Saturnís. In 1995 a five-year reunion at Spring Hill attracted thousands of the Saturn faithful for a rainy but happy party.
Sadly, after the big hoopla, GM increasingly neglected the brand while it turned its attention to building higher profit trucks and SUVs. By the early 21st century, Saturn really needed some help, and finally got it, but not from where youíd expect. Spring Hill and plastic body panels are no longer in the mix. Today, from the Sky roadster to the Aura sedan to the Vue compact SUV, Saturnís design and much of itís manufacturing, is European. Thatís different, and for driving enthusiasts, itís a good thing.
My Black Sapphire Astra three-door hatchback, with its standard 17-inch rims, chrome-barred grille, and clear taillamp lenses, felt and looked much cooler than the dowdy Ion it replaced. And it was far removed from its ďSLĒ series ancestors.
Saturn offers three and five door Astra hatchbacks. Hatchbacks are candy to European motorists, for whom SUVs are rare, and high gas prices have been a fact of life for decades, not months. Saturn Astras are built in Antwerpen, Belgium , alongside the nearly identical European Opel Astra.
The five-door Astra comes in two models, XE and the better-equipped XR. The three-door, the sportier of the two, comes only as an XR model. This is not a stripped, base model vehicle. It has four-wheel disc brakes with antilock, and the Stabilitrak traction control system is standard. Stabilitrak works with the brake system to keep the car moving in the right direction under bad road conditions and emergency situations.
You also get things such as remote keyless entry, tire pressure monitor, rain sensing windshield wipers, cruise control, steering wheel audio controls, and a driver information center. In fact, my tester had only one option, an upgraded audio system with seven speakers, a CD changer and a graphic equalizer.
Inside, the Astra feels European, as you might expect. Thereís plenty of good quality gray plastic, with a texture resembling a basketballís skin. The center information screen is small and deeply inset. I think a larger navigation system could fit there if ordered. Thereís a handsome chrome Saturn logo on the steering wheel. The firm, deeply bolstered seat features manual lumbar adjustment. I found no cupholders up front, a European design decision.
All Astras come with a 1.8-liter Ecotec 140-horsepower four-cylinder engine with dual overhead cams and variable valve timing. A five-speed manual transmission is standard with a four-speed automatic optional. The standard combination, combined with the XRís sport-tuned suspension, makes for a highly amusing motoring experience.
The Astra drives like Volkswagen Golf, and thatís not surprising, as the two cars are direct competitors in the European market. Thereís firmness to the ride and a directness to the controls thatís refreshing in a car in this segment. Cruising the freeway is quite quiet, with little road rumble, and no wind noise to speak of.
The Astra with manual earns fuel economy ratings from the EPA of 24 City, 32 Highway, I averaged 24.6 mpg. The EPAís Green Vehicle Guide handed out a 7 for Air Pollution and a Greenhouse Gas score of 8, putting the Astra on the desirable Smartway list.
Rear visibility is compromised by a slit like rear window, and the ďPassenger Airbag OffĒ light in the rearview mirror was distracting, but I found little else to complain about.
Astras start at just $16,495 for the five-door XE. My XR three-door, with the optional audio system and delivers, came in at $19,090. Thatís a pretty modest price in todayís car market. And a senior executive at my day job, who owns a Porsche 911, admired the Astra as I parked it.
Maybe Saturnís on to something here. But the brandís ad campaign, stressing ďrethinking,Ē may still be a bit ahead of the publicís awareness of Saturn. Now a full-fledged division of GM, Saturn has evolved into the corporationís European everyman brand. Anyone who actually drives the Saturn Astra will be grateful that GM is bringing over these cars.
By Steve Schaefer © AutoWire.Net
Byline: CAR Review provided by Tony Leopardo © AutoWire.Net

Column Name: Maybe Saturnís on to something here
Topic: The 2008 Saturn Astra
Word Count: 881
Photo Caption: The 2008 Saturn Astra
Photo Credits: Saturn Astra Internet Media
Series #: 2008 - 44
Download the Microsoft Word version here: 2008 Saturn Astra
Download the Original Image File here: 2008 Saturn Astra