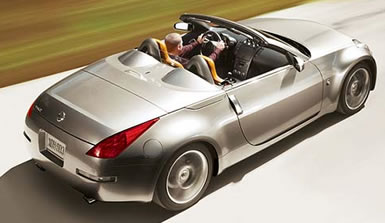 Sports Car Review: It's hard to believe the Nissan 350Z was introduced five years ago as a 2003 model, but it still looks fresh as ever. If only we could all age this gracefully. Consider me, for example. Compared to five years ago, today I have half as much hair and twice as much gut. I'm aging just like milk on a Houston sidewalk in July. But somehow the 350Z remains drop-dead gorgeous after five years on the market. Odd, isn't it?
Whether Nissan resorted to fender implants, wheel-well tucks and engine-bay Botox, I'm not sure. I do know this car somehow remains exciting and sexy even as it reaches its sports car retirement age.
Nissan decided not to make any meaningful changes to the 350Z in 2008, which is a shame because it needs a few. Among them:
The clutch pedal is far too heavy. This is a sports car, not a John Deere.
The dash feels like it was assembled from bits of Coke bottles.
The power seat controls are mounted where they're easily accessible from the driver's seat, so long as the driver weighs no more than 75 pounds and has seven elbows.
Other than that, this is an exceptional car that delivers outstanding performance for the money. And let's face it: when you rev the engine of a two-seat sports car, you just don't care about the John Deere clutch and the Coke-bottle dash. None of that stuff matters because you have a 306-horsepower demon shouting through your exhaust pipes.
The 3.5-liter V6 engine in this car is its best feature by far, even better than the supermodel body. It's not smooth like a normal engine, it feels like it's made from an alloy of aluminum and beach sand, but it pulls like it's powered by nuclear fusion. My goodness, what a rush.
This car's at-the-limit handling is just as thrilling. With all that power going to the rear wheels and careful attention to weight distribution, the 350Z drives exactly like a sports car should. It has a tendency to oversteer, meaning the back end loses traction before the front, but that makes it even more fun to steer with the throttle, letting you decide exactly how far you want the back tires to slide before they bite into the pavement.
Also, since the last time I drove a Z a couple of years ago, I'd forgotten how much I love the traction control in this car. There we go again. Another sign of aging.
In most cars, the traction control is like a strict schoolmarm. If the computer detects even the slightest hint of wheelspin, it takes over and stops all the fun. But in the 350Z, the computer lets you slide the back tires around a bit and only kicks in when you get really stupid. It's more like a cool chaperone than a schoolmarm.
Overall, even considering the dumb little problems, the 350Z is a great buy. If it looks this great after five years, think of the icon it will be in 20.
Yes, today's Z is destined to become tomorrow's Jackie O.
The Nissan 350Z, shown here in its convertible version, is aging well with a stylish body and excellent sports-car performance. The driver-oriented cabin in the 350Z only has two seats, but they both offer a decent amount of legroom.
What was tested? The 2008 Nissan 350Z Roadster Enthusiast model with a base price of $35,630. Options on the test car: Carpeted floor mats $95.
Total MSRP Price as tested including the $625 destination charge: $36,350.
Why avoid it? Its aging design shows in a few areas, like a cheap-feeling dash and poor placement of the power seat controls plus the clutch pedal is way too stiff.
Why buy it? With an envelope-pushing style that looks as good today as when it was introduced in 2003, the 350Z looks like it's on itís way to becoming a legend and it offers great performance for the money.
By Derek Price © AutoWire.Net - San Francisco
Byline: Sports Car Review provided by Tony Leopardo © AutoWire.Net

Column Name: The Nissan 350Z is a future icon
Topic: The 2008 Nissan 350Z
Word Count: 736
Photo Caption: The 2008 Nissan 350Z Roadster
Photo Credits: Nissan 350Z Internet Media
Series #: 2008 - 50
Download the Microsoft Word version here: 2008 Nissan 350Z
Download the Original Image File here: 2008 Nissan 350Z