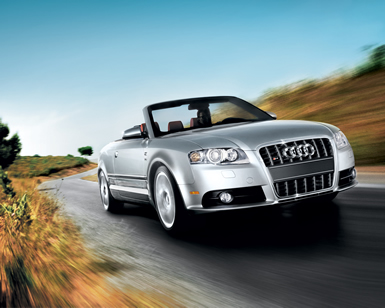 Convertible Review: Forgive me if I sound a little guilty. You see, I just spent a week with a very special car, and it was wonderful. The only thing is it was not very kind to the environment. For a week I didnít care though, and neither would you Iíll bet, if you had a chance to drive it around yourself.
The Audi S4 Cabriolet takes the very fine entry-luxury A4 and pumps it up. That ďSĒ on an Audi model means ďsportyĒ and this model delivers that. With a 4.2-liter, 340-horsepower V8 behind the tall single-frame grille with its special ďSĒ texture, this baby rockets along. Like the four-cylinder turbo and V6 engines in the A4 model, this V8 is on the Wardsí 10 Best Engines list, notable industry recognition.
Itís especially fun driving the S4 through its six-speed manual transmission. You rarely get the chance these days to individually select your own gears with all that power available on the other end of the shift linkage.
To make the experience all the more exciting, The S4 Cabriolet has a drop top. And itís not just any convertible, it is completely automatic and with the top up, itís almost as quiet inside as the four-door sedan version. I counted 21 seconds to get the top down or up. All you do is press a button. The soft top stows completely under the rear deck.
I impressed a couple of boys in front of a local Chinese restaurant when I dropped the top in front of them. Just be sure to drop the luggage protector in the trunk or the top will refuse to budge and a message will display in the gauge binnacle telling you what the problem is.
The 4,266-pound S4 Cabriolet, with all-wheel-drive Quattro, earns EPA mileage numbers of 13 City, 20 Highway, and I averaged just 16.3 mpg. Yes, I know. People who buy this car donít care, but itís sobering to pull up to the pump these days when it costs over $10 a day just to drive to work. Plus the S4 Cabriolet wears a $1,700 Gas Guzzler tax on its window sticker.
The EPA Green Vehicle Guide rates the S4 with a reasonable 6 for Air Pollution, but its Greenhouse Gas score is just a 3, about the lowest Iíve seen. Ah, such a guilty pleasure to motor blissfully along knowing that fact.
Now that weíve gotten that out of the way, back to the fun part. The Cabriolet has that certain something that Audis possess, perfect proportions, carefully wrought shape, quality materials, excellent fit and finish. That makes a big impression when you see it on the road or approach it in your driveway and press the flip-out key fob and step inside.
Once you sit down, you can enjoy the fine materials, design and assembly that are the standard of the industry. My wife commented, ďNow this is what a carís interior should smell like.Ē The red seats, with black piping, emit a rich aroma of carefully tanned and colored hides. The driverís seat offers programmable settings for four different drivers, the most Iíve seen in any car. The driverís side mirror is included in that preset as well.
Those memory settings are part of the $2,625 Convenience Package, which includes many other enjoyable benefits, such as beautiful 18-inch double-spoke alloy wheels, the Bose premium sound system and for the Bluetooth phone you need to be using in California after July 1, 2008, as itís the new hand free phone law.
My tester had carbon fiber trim inside, much more high tech looking than wood, but if you want a real tree you can order walnut or fine-grain birch. Driving along you tend to forget the carís a convertible when the topís up because the thermally insulated top keeps out sound and cold.
Even though itís a soft top convertible, the S4 is very safe. The windshield pillars are reinforced with steel tubes. The door sills are specially configured for crash safety. Thereís a carefully engineered rollover protection system. Sensor-activated roll bars pop out to protect rear passengers, and combined with the super strong windshield pillars, give you space to climb out. Drive safely and you have nothing to worry about.
My test car, in Ibis White, started out at $56,775, but options pushed it up a bit. Besides the Convenience Package, my car had Audiís navigation system, which included an iPod interface in place of the six-disk CD changer. When I plugged in my iPod, not only did the audio system list the songs and allow control but it actually charged the unit while it was doing it. On shuffle, it was like having my own radio station.
The $64,450 sticker price included rear heated seats, too, just the thing for cruising roofless on a cool evening. Ah, guilty pleasure for sure.
By Steve Schaefer © AutoWire.Net - San Francisco
Byline: Convertible Review provided by Tony Leopardo © AutoWire.Net

Column Name: Ah, guilty pleasure for sure
Topic: The 2008 Audi S4 Cabriolet
Word Count: 877
Photo Caption: The 2008 Audi S4 Cabriolet
Photo Credits: Audi S4 Internet Media
Series #: 2008 - 54
Download the Microsoft Word version here: 2008 Audi S4 Cabriolet
Download the Original Image File here: 2008 Audi S4 Cabriolet