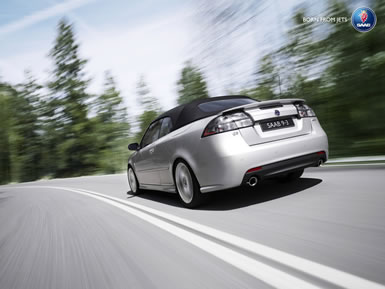 Convertible Review: Saab has long been a troubled child. First it was the offspring of a jet airplane company, quirky, but with a staunch following. Then it became part of the General Motors family, where it has been conspicuously out of step with its siblings.
No matter how the General has tried to tame its Scandinavian adoptee, Saab just does not seem like a part of the family. I am not sure how Saab does it, but despite adopting the same type of engines (inline 4-cylinder or V6), and the same orientation (transverse instead of north/south) as just about every other carmaker, their cars still seem somewhat quirky.
It is not just the funky ignition key between the seats, which confuses the heck out of everyone except a Saabophile. I really do not know what it is, but when you are in a Saab, you know itís just not quite normal.
I recently spent a week in a bright yellow, Saab 9-3 2.0T Convertible. The 2.0T stands for 2-liter turbocharged; I have no idea what the 9-3 means. It's a nice car, but convertibles aren't really my cup o' tea.
This is not to say there is anything wrong with a Saab. There are darn few cars that over their lifespan have maintained the uniqueness that makes them instantly recognized. A Saab is one of those cars. Part of it is the grille and another part is the overall proportions. You see it coming and you know itís a Saab.
The 9-3 Convertible is a four passenger car, losing one seat compared to its four-door sibling. As you would imagine the front doors are longer on the Convertible to allow easier access. Unfortunately this makes it more difficult to open the doors when youíre in a crowded parking lot, and a whole lot easier to ding the car next to you.
What would a convertible be without a soft top? I really like up market soft tops, they use real cloth that holds its shape much better than vinyl. The tops are usually padded too; and the Saab's is padded.
Say you are out driving in San Francisco and it is cool and foggy. Then you cross the Golden Gate into Marin and the sky opens up to a beautiful blue and the temperature warms to a pleasant 85 degrees F. In the Saab you can pull off to the side of the road, set the hand brake and hit that one button! The top neatly folds itself into its hidey-hole under the hard cover and you are back on the road in one cool convertible in seconds. You have to love technology.
Sometimes I shudder to think of the problems a one-touch top will encounter ten years down the road, all those pesky little micro switches, but they are a pure joy to use.
I did find one confusing feature on the Saab. It has an automatic climate control, I just love them because I just set it and forget it, but it seemed to stop working and I couldn't figure it out at first. Normally, once you've selected "Auto" it stayed that way, but all of a sudden on Saturday the a/c turned itself off every time I turned the engine off. It was driving me crazy.
Then I figured it out when the top is up, the auto feature works just fine, the a/c is always on. When you put the top down, the auto feature is deactivated. Why Saab? I like a blast of cool air on my face even when the top is down.
Under the hood sits an extremely nice 2.0-liter, DOHC, turbocharged four-cylinder engine that produces 210 hp and 221 lb-ft of torque. A 6-speed manual transmission is standard and a 5-speed automatic is optional. The 9-3 I drove had the automatic. Maybe I am getting old (I am) but I am starting to prefer automatic transmissions, at least on cars like the Saab that could be called a Grand Touring Convertible.
Not that you cannot have fun on the back roads in the 9-3 2.0T Convertible, you most definitely can. I just find that when I am driving an open top car I prefer a more leisurely pace so I can hear, see, and smell the countryside. If I am tearing up the countryside I like to have a hardtop over my head. So if I am going to relax, why not let the transmission shift itself?
Like many convertibles you lose trunk space when the top is down. The Saab's shrinks from 12.4 to 8.3 cubic feet, so do not plan on taking your wife and in-laws to the Grand Canyon in the 9-3 2.0T Convertible unless you all pack real light.
The Saab 9-3 2.0T Convertible is rated at 18-city and 24-highway mpg with the automatic, and 18-city, 27-highway with the manual transmission. Prices start at $40,700 and go up depending on your order. There is also a 9-3 Aero Convertible with a V6 that starts at $46,385.
By Bruce Hotchkiss © AutoWire.Net - San Francisco
Byline: Compact SUV Review provided by Tony Leopardo © AutoWire.Net

Column Name: The Saab 9-3 is like a Grand Touring Convertible
Topic: The 2008 Saab 9-3 Convertible
Word Count: 913
Photo Caption: The 2008 Saab 9-3 Convertible
Photo Credits: Saab 9-3 Internet Media
Series #: 2008 - 63
Download the Microsoft Word version here: 2008 Saab 9-3 Convertible
Download the Original Image File here: 2008 Saab 9-3 Convertible