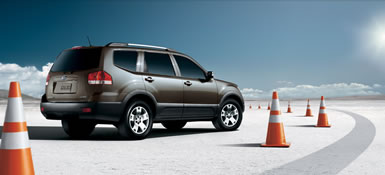 SUV Review: There's nothing particularly unusual about how the new 2009 Kia Borrego looks. It's a big, traditional SUV with a truck-style frame. The Kia Borrego can be summed up simply: It's a really good SUV at a really bad time.
This big, beefy, body-on-frame brute is among the best of its kind, especially considering how affordable it is. It starts just over $26,000, yet in many ways it's better than the Ford Explorer and Chevy Trailblazer.
What makes it so good? For starters, there's an optional 4.6-liter V8 engine that makes 337 horsepower. It's based on the same highly praised V8 in the Hyundai Genesis luxury car, so it's not just about raw, brawny power. It's also silky smooth and surprisingly silent.
The Borrego offers plenty of space, too. There's seating for seven, including a third-row seat that's roomier than most. It's slightly bigger than a Toyota 4Runner, Jeep Grand Cherokee and Chevy Trailblazer.
Kia interiors have become very nice in recent years, and the Borrego is no exception. It's far better than what you'd expect from Kia if you haven't seen their latest cars. While Kia's reputation is still somewhat tarnished by the awful economy cars it built in the '90s, the Korean company's latest vehicles closely match the quality and features you'll find in Japanese and American competitors.
Standard equipment includes air conditioning, a back-up warning system, keyless entry, and a good stereo that includes Sirius satellite radio and USB and auxiliary input jacks. It also offers several high-end options, like a navigation system, rear-seat video player and rear-view camera that helps when backing up.
Kia likes to use the word "luxury" when describing the Borrego, but that's overly ambitious. It's a very nice SUV, especially with the fancy options, but it's definitely not luxurious in the vein of a Cadillac Escalade, Lincoln Navigator or Lexus RX.
It is, however, more refined than most of its traditional SUV competitors. A creamy ride comes from an independent suspension, and it's quieter and feels more solid than most other SUVs with a truck frame. And that brings us to the elephant in the room.
Now that gasoline prices are hotter than plasma, automakers are having a tough time selling big, heavy, powerful SUVs like the Borrego. They're switching to more efficient crossover SUVs and compact cars instead.
Yet here Kia comes with a giant, old-style, truck-based SUV that gets 17 mpg in town with the V6 and 15 mpg with the V8. Yes, that's best-in-class fuel economy, but you've got to consider one thing: it's in the same class as walnut console TVs and vacuum-tube radios.
Of course, there will always be a market for SUVs like the Borrego. People will always need to tow heavy trailers, drive off road and carry big groups of people, so the Borrego will find a market. There just couldn't be a worse time to launch it.
What was tested? The 2009 Kia Borrego EX V8 with a base price of $30,995. Options on the test vehicle are: 4WD at $2,000, navigation system at $1,500, the luxury package at $1,500. Price as tested including the $750 destination charge: $36,745.
Why avoid it? Car-based SUVs have a smoother ride and better fuel economy.
Why buy it? It's a powerful and refined truck-based SUV. It offers more space and features than many of its competitors at a very affordable price, starting just over $26,000.
By Derek Price © AutoWire.Net - San Francisco
Byline: SUV Review provided by Tony Leopardo © AutoWire.Net

Column Name: The new Kia Borrego is an impressive SUV
Topic: The 2009 Kia Borrego EX V8
Word Count: 643
Photo Caption: The 2009 Kia Borrego EX V8
Photo Credits: Kia Borrego Internet Media
Series #: 2009 - 04
Download the Microsoft Word version here: 2009 Kia Borrego EX V8
Download the Original Image File here: 2009 Kia Borrego EX V8