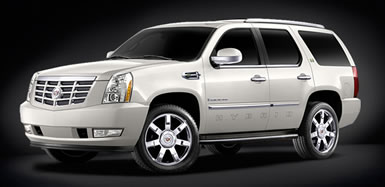 Hybrid Review: Cadillacís Escalade has been a big success for the brand. It takes the full-size SUV platform it shares with Chevrolet and GMC and loads in luxury features and then throws in some Cadillac styling and plenty of big chrome logos and presto! The King of Bling is now the Hybrid King of Bling!
The 2008 Chevy Tahoe was named Green Car of the Year by Green Car magazine at the 2008 Los Angeles Auto Show, so you could see this coming. Why not, they figured, put the hybrid platform under the Caddy too? So they have for 2009.
Itís a nice idea really. The carís two-mode hybrid system mates an electrically variable six-speed transmission and a 300-volt nickel-metal hydride Energy Storage System (ESS) to a big, six-liter V8 and two electric motors that drive the rear wheels. The V8 uses active fuel management (AFM), which shuts off half of the cylinders when less power is needed. You canít tell when it happens.
What really makes a difference is when the car uses only electric power at low speeds and the engine shuts down completely at stoplights. Then the gas engine starts up instantly when needed. You canít hear it start because itís not using the regular gear reduction starter and there is no time delay.
As in other hybrids, regenerative braking produces electricity for the motors in the car. The Escalade Hybrid uses fully blended braking, alternating between the regenerative system and the carís normal hydraulic system as needed. This tends to preserve the friction materials in the hydraulic brakes, a nice side benefit.
The engineers provide a new exhaust system and thereís a quieter air conditioning compressor, a new electric power steering motor which is not only quieter but improves fuel mileage slightly, and the batteryís cooling fan is specially tuned for noise reduction.
Yes, the Toyota Prius Hybrid boasts 48 City, 45 Highway miles per gallon. But itís not a Cadillac, and wonít carry eight people in luxury. Escalade Hybrid buyers want their large, comfy vehicle, but hope to do something to assuage their guilt and help the environment, perhaps.
It does make some difference. The gasoline-powered Escalade, with its 6.2-liter V8, earns 12 mpg in the city City and 19 mpg Highway. The Hybrid, on the other hand, is rated at 20 City and 21 Highway. This means that the Hybrid is more than 50 percent better in town, thanks to running part-time on pure electricity and the engine shutdowns at lights. Itís about 10 percent better on the highway than the standard Escalade.
I averaged 16.6 mpg during my test week, which beats the 12.2 mpg I got in the 2007 Escalade I last tested. In the EPAís Green Vehicle Guide, the Escalade Hybrid earns a reasonable 6 for Air Pollution and 5 for Greenhouse Gas score. The standard car gets a 7and a 2 with two-wheel drive.
Cadillacís master planners are smart and have loaded up the Hybrid with everything buyers might want. You also get numerous Hybrid badges, decals and window stickers that proclaim ďHybridĒ all over the car.
Loaded means you get things like 14-way power nuance leather seats that you can heat or cool, 22-inch chromed aluminum wheels, a great Bose 5.1 Stereo Surround audio system with XM satellite radio, a navigation system, and much, much more.
My Black Raven tester had only one option, power retractable assist steps at a cost of $1,095. These ďrunning boardsĒ slip under the car when you donít need them, like those on an airplane. Four-wheel drive is about the only other option.
The Escalade is powerful and smooth on the road, as it had better be for all it promises. Nuance leather is very soft and with my carís Ebony interior was rich looking with handsome metallic accents. GMís interiors have come a very long way.
I was surprised at a few things that donít match up with a Lexus, however. The steering wheel height adjustment was power, but there was no telescoping feature. I felt a sharp plastic edge next to the parking brake release. And, despite a fancy key fob for remote access, there was a separate old-fashioned ignition key.
Safety and security features include everything from a full complement of airbags, ultrasonic rear parking assist and the suddenly popular side blind zone alert. When a car is in your blind spot on either side, a sideways ďVĒ lights up on your exterior mirror. If you use your turn signal while a car is present, the system beeps, warning you to stay in your lane.
The Escalade Hybrid costs $72,595 plus a nearly $1,000 destination charge. The least expensive non-hybrid Escalade starts at $61,595. That $11,000 difference shrinks significantly when you add in the options that are standard on the Hybrid, but it does cost more for the improved mileage and bragging rights. If you want a Luxury Hybrid SUV then this Cadillac Escalade is it.
By Steve Schaefer © AutoWire.Net - San Francisco
Byline: Hybrid Review provided by Tony Leopardo © AutoWire.Net

Column Name: The King of Bling Luxury Cadillac Hybrid
Topic: The 2009 Cadillac Escalade Hybrid
Word Count: 896
Photo Caption: The 2009 Cadillac Escalade Hybrid
Photo Credits: Cadillac Escalade Hybrid Internet Media
Series #: 2009 - 16
Download the Microsoft Word version here: 2009 Cadillac Escalade Hybrid
Download the Original Image File here: 2009 Cadillac Escalade Hybrid