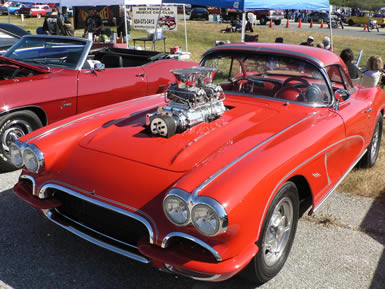 HALF MOON BAY, CALIFORNIA - This is the 19th Annual Pacific Coast Dream Machines Show, Half Moon Bay's spectacular showcase of motorized mechanical marvels from throughout the 20th and 21st centuries, with more than 2,000 ultra cool antique, vintage, classic, custom and exotic displays for public viewing.
Automobiles ranging from hot rods, dragsters, customs, low riders, imports, street machines and muscle cars to fanciful touring, luxury, and sports cars; also exceptional vintage warbirds, classics from the 40's and 50's and homebuilt aircraft, tricked out trucks and motorcycles, model-T fire engines, one-of-a-kind gas and steam-powered engines and tractors, rides on a helicopter, bi-plane, military jet and airship, kinetic art, rolling sculptures, extreme toys, mega-modified machines, a special display of advanced "green" technology and alternative fuel vehicles plus a super-gnarly Monster Truck freestyle demo. Rounding out the activities will be radical Unicycle Dirt Drag Racing, amusements for the kids, great food and live music headlined by the "King of Dieselbilly" Bill Kirchen.
The 19th annual show takes place on Sunday, April 26 from 10 a.m. to 4 p.m. at Half Moon Bay Airport, located in the picturesque seaside town of Half Moon Bay about 20 miles south of San Francisco. The show benefits the Coastside Adult Day Health Center.
And there's nothing quite like the Pacific Coast Dream Machines show. It's a whimsical, fascinating, amusing, curious and absolutely unique show and tell spectacle featuring 2,000 magnificent driving, and flying and working machines. The world's coolest cars of every era and style, model-T fire engines, vintage buses, custom motorcycles, tricked out trucks, sleek streamliners, one-of-a-kind antique engines and tractors and historic military aircraft will be among the mesmerizing displays.
Headline attractions include one-of-a-lifetime rides on the world's largest Zeppelin Airship "Eureka", a super-gnarly Monster Truck freestyle exhibition with Tony Canedo's "Play'n For Keeps" crushing cars, doing jumps, catching massive air and making big noise; military aviation wonders like the Japanese A6M Zero (Japan's top World War II fighter), Grumman
F6-F Hellcat (World War II Navy Fighter), P-51 Mustang (America's premier World War II fighter), Curtiss P-40 Kittyhawk, Hawker Seafury British Fighter and YAK Russian fighters; a special "Green Machines" display of advanced technology/alternative fuel vehicles; the Blastolene Brothers extreme, mega-modified machines; ace aerobatics pilot Eddie Andreini doing fly-overs in his YAK-9 Russian fighter jet; "World Record Wonderland" featuring current and former land speed record holders including the lightning fast, super sleek BuddFab motorcycle streamliner and the legendary Jack Costella's series of Nebulous Theorem Bonneville streamliners; and a special display celebrating the 50th Anniversary of the former Half Moon Bay Drag Strip featuring a replica of the late Jim McLennan's Champion Speed Shop world record slingshot dragster and rare photos with appearances by his son, Bob McLennan, and Andy "The Rodfather" Brizio, the original starter at the Drag Strip which started 50 years ago, in 1959, at Half Moon Bay Airport.
Proud owners show up in cars that come in all shapes, colors and sizes. Spectators will get a rare up-close look at antique horseless carriages and Ford Model T's, fanciful touring and luxury cars, powerful sports cars, custom cars and street rods, muscle cars, vintage and modern era high-performance race cars, quirky art and pedal cars, modified street machines with cutting edge styles, exotic high-performance cars, stylish European cars, ultra cool low-riders, sporty compacts, modified imports with flashy graphics, fashionable hip-hop urban show cars, homebuilt kit cars, super-charged turbo cars and trucks, streamliners, dragsters, funny cars, gassers, and jet cars.
Hundreds of aviation wonders are expected to be on display, stylish homebuilts, classics from the 40's and 50's, exceptional vintage warbirds, and sport and ultralight aircraft. See a spectacular display of meticulously restored military marvels including the Southern California Commemorative Air Force's Japanese A6M Zero fighter and Grumman F6-F Hellcat along with an impressive array of P-51 Mustangs, Curtiss P-40 Kittyhawk, Hawker Seafury British Fighter, T-33, T-6 and T-28 military trainers, and YAK-9 Russian fighters.
Many will be doing spine-tingling fly-overs during the show. Thrilling rides will be offered in everything from helicopters and vintage bi-planes to the Zeppelin Airship and a T-6 military training jet, and rides range from $40 to $300 per person.
The most curious and fascinating displays are the large and small engines collected and refurbished by members of the Early Days Gas Engine & Tractor Association. Their amazing array of flywheel engines are enough to power antique washing machines, lawn mowers, and an entire a Lilliputian factory. On the larger side are several pieces from Roots of Motive Power's collection of restored logging equipment like spool donkeys and Buffalo Springfield steamrollers.
Spectator admission is $20 for adults, $10 for age 11-17 and 65+, and free for kids age 10 and under. Tickets are available at the gate only. Half Moon Bay Airport (9850 N. Cabrillo Highway) is located on Highway 1, about 20 miles south of San Francisco and 5 miles north of Highway 92. For information, call 650-726-2328 or check out http://www.miramarevents.com/
By Tony Leopardo © AutoWire.Net - San Francisco
=====================================================
WHAT: The 19th Annual Pacific Coast Dream Machines Show
WHERE: At Half Moon Bay Airport (9850 N. Cabrillo Hwy) on Hwy. 1,
5 miles north of Hwy. 92.
WHEN: Sunday, April 26, 2009. Hours are 10 a.m. to 4 p.m.
ADMISSION: $20 for adults, $10 for age 11-17 and 65+, and free for kids age 10 and under.
INFO LINE: 650-726-2328 or click on http://www.miramarevents.com/

Byline: Event Review provided by Tony Leopardo © AutoWire.Net
Column Name: Half Moon Bay's Festival of Majestic Machines
Topic: The 2009 Pacific Coast Dream Machines Show
Word Count: 968
Photo Caption: The 2009 Pacific Coast Dream Machines Show
Photo Credits: Miramare Events Internet Media
Series #: 2009 - 25
Download the Microsoft Word version here: 2009 Pacific Coast Dream Machines Show
Download the Original Image File here: 2009 PCDM