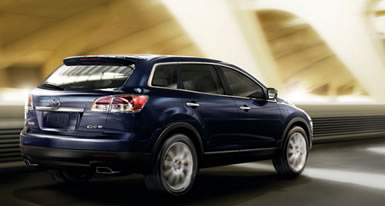 MAZDA CX-9 Review: Mazda seems intent on covering the whole spectrum of crossover vehicles. From the compact Mazda 3 5-door, it's not called a crossover, to the Mazda 5, it's called a Multi-Activity Vehicle, to the CX-7, and ending with the CX-9, the subject vehicle. Call them what you will, wagons, vans, crossovers, the intent is the same, maximum interior space in the minimal exterior space.
Mazda also is intent on keeping the sportyness of its halo cars, like the RX-7, Miata and MazdaSpeed, a part of its stable of family vehicles. There is no reason you have to sacrifice the "zoom-zoom" part, just because the tykes are strapped in the back seat, after all, they are strapped in.
There is a family resemblance to every Mazda, although the Ford sourced Mazda Tribute and Mazda B-Series trucks look more like distant cousins. This is good for brand identification, especially in this "we are all one" world. Personally I do not favor Mazda's current styling but my opinion must be in the minority as Mazda is doing okay, or at least no worse than many others, in these dismal times.
The CX-7 (here we go again with model designations that have no meaning to the average Joe or me) is the largest offering from Mazda. It is just shy of 17 feet in length, slightly over 6 feet in width, and a touch more than 5.5 feet in height. In days gone by this would not have been considered big but today it's ……
Inside there is seating for up to seven, and even with the second and third row of seats upright there is 17.2 cubic feet of storage behind the third row. Fold the third row and that increases to 48.4, and with both rows folded it ups to an astonishing 100.7 cubic feet of storage.
To distance itself from the dreaded mini-van, the CX-9 has four "normal" doors instead of the sliding doors found on mini-vans. Both types have their pluses and minuses; sliding doors are easier to use in tight quarters but they add weight and complexity. Normally opening doors are much lighter but they do restrict entry room if you park too close to something else.
There is only one engine available in the CX-9, a 3.7-liter, DOHC, 24-valve, 273 hp V6. The engine is lively but motivating 4,334 pounds (up to 4,550 if it is a 4WD) of weight takes its toll in both acceleration and fuel economy. I do not put a stopwatch to any of the vehicles I drive, so it is all seat of the pants observation. Thankfully the engine is not one of those full of "sound and fury signifying nothing motors", it may not be blindingly fast but it never sounded strained while trying. Fuel economy is only so-so at 16/22 for the front-wheel-drive and 15/21 with AWD.
The transmission is an excellent 6-speed automatic with Sport Shift. It is strange to think that not that many years ago a 4-speed automatic was out of the ordinary. Now there are cars with 7 or 8 speeds, and a 6 speed seems average. What is really amazing is how good, and how reliable these new transmissions are.
In keeping with Mazda's "zoom-zoom" heritage the three CX-9 trim levels are Sport, Touring, and Grand Touring. It is strange to think that the bottom trim level is Sport, which in days gone by would have been one of the top levels. Regardless, all three are well appointed. I would probably opt for the Sport with 2WD to shave weight. I am not one who thinks AWD is the end all to be all. There are some of us who are still alive after have driven in some of the most adverse weather conditions with nothing more than snow tires (if we could afford them) and we did just fine, thank you very much.
I was a little taken aback by the CX-9's heft while driving it. You cannot have all that weight without it being noticed; there is something called inertia. Inertia rears its ugly head when you accelerate, brake and turn corners, which you do a lot in daily driving. Do not get me wrong, the CX-9 was not unpleasant to drive; it is just that after driving a host of lighter vehicles the weight is noticeable.
Okay, I have to admit it, I do not have a family. I do not travel with a wife, two kids, a dog, and all their stuff. So I do not need a big vehicle. I do understand it though and if I did have a family, and we traveled, the CX-9, at least in the Sport version, would be something I would consider. I like vehicles that handle well, and the CX-9 is one that can handle corners, emergency maneuvers or just hauling down the highway.
Hauling is something that some families take into consideration when deciding what to purchase. The CX-9 can tow up to 3,500 pounds, not astounding, but an average ballpark weight of a good camping or utility trailer.
None of the trim levels are bargain basement. I think that over the past decade or so we became too used to $30,000 plus vehicles. We saw our houses skyrocket in value so who cared? Now thirty grand makes many people stop and think. The base CX-9 Sport is $29,820. All-Wheel-Drive adds $1,400. A CX-9 Grand Touring with AWD is $35,205.
Don't get me wrong, these are well appointed vehicles and in a pre-recession world they were priced to sell, but that was then, this is now. Only you can decide if the price is right for your budget.
By Bruce Hotchkiss © AutoWire.Net - San Francisco
Byline: Mazda Review provided by Tony Leopardo © AutoWire.Net

Column Name: The CX-9 is the largest offering from Mazda
Topic: The 2009 Mazda CX-9
Word Count: 1016
Photo Caption: The 2009 Mazda CX-9
Photo Credits: Mazda CX-9 Internet Media
Series #: 2009 - 26
Download the Microsoft Word version here: 2009 Mazda CX-9
Download the Original Image File here: 2009 Mazda CX-9