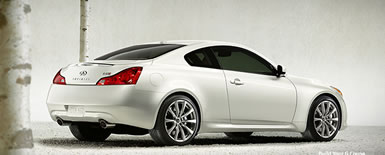 Infiniti G37 Coupe Review: Last week I drove the G37 Sedan, a wonderful four-door luxury car from Infiniti that felt almost like a sports car. This week I'm in the G37 Coupe. "Big whoop," you may say. "Why don't you re-print last week's review and just substitute 'two-door' for 'four-door?'"
I could almost do that because the two cars are, indeed, very similar. Unless you take them to the racetrack, there's no perceptible difference in the way they drive. They share the same engine, the same suspension and the exact same playful, tossable personality. So what's different? Two big things.
First, the G37 Sedan I drove last week had a manual transmission, which hardly anybody is going to buy. Only crazy people like me enjoy driving manuals. The G37 Coupe came with Infiniti's new seven-speed automatic transmission, which the vast majority of buyers are going to pick. And they'll be making a good choice.
I'm generally no fan of seven-speed automatics because they really don't need that many gears. They end up shifting far more often than a similar five-speed gearbox, and that can get annoying. I've always thought of them more as sales gimmicks than useful mechanicals.
The seven-speed in the G37 is actually a nice piece of engineering. Yes, it shifts more often than more traditional autos, but you don't notice it because the shifts are so smooth. And when you do concentrate on how it shifts, you'll be satisfied because it's such a precise, quick, authoritative change. It feels exactly like a well-executed manual shift, which I love.
And there's another big difference in the coupe: the way it looks. While it shares the same face as its four-door sibling, the back end is far more attractive. It's not like Infiniti just chopped two doors off the family car.
The rear end is swoopy and sensual, with a sloping roofline that tapers to an elegant point. Compared to the sedan, the coupe looks far more natural and complete. This is the way a G37 should look, as the four-door version seems like it has an extra, unnecessary bulge to fit passengers in back.
There's a downside, though. Like in all two-door cars, it's a lot more difficult for passengers to get in the back seat of a G37 Coupe. Infiniti tries to make it easy with a button that automatically slides the front seats forward to make a bit more space for entry and exit, but it's still a pain. If you frequently carry people in the back seat, you'd be far happier with the sedan.
Other than that, there aren't too many differences. It has the same high-quality interior with soft-touch materials, the same electronic gadgets and the same outstanding handling. It drives exactly like the G37 Sedan but looks like a work of art. And that's a great thing.
What was tested? The 2009 Infiniti G37 Coupe Journey with a base price of $36,650. Options on the test car: The Premium package for $3,200, illuminated kick plates at $330, the sport package for $1,850 and a navigation package for $2,200. Total MSRP price as tested including the $815 destination charge: $45,045.
Why avoid it? It's not easy climbing into the back seat, and some people might find the ride too bumpy.
Why buy it? It drives exceptionally well, looks gorgeous and has plenty of technology. The sleek back end is stunning.
Bottom Line: Infiniti's sleek, sexy G37 Coupe looks better than its four-door sibling, and thankfully it drives with the same playful, tossable personality of the sedan. And the G37 Coupe has the same excellent interior materials and construction, making it a comfortable, high-tech place to spend time on the road.
By Derek Price © AutoWire.Net - San Francisco
Infiniti G37 Coupe Review provided by Tony Leopardo ©AutoWire.Net

Column Name: Sleek shape sets G37 Coupe apart
Topic: The 2009 Infiniti G37 Coupe
Word Count: 684
Photo Caption: The 2009 Infiniti G37 Coupe
Photo Credits: Infiniti G37 Internet Media
Series #: 2009 - 49
Download the Microsoft Word version here: 2009 Infiniti G37
Download the Original Image File here: 2009 Infiniti G37