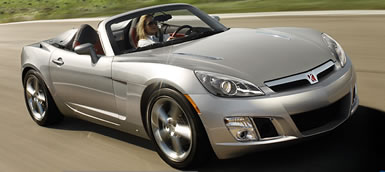 Saturn Sky Review: Itís no secret that Saturn cars wonít be around much longer. This General Motors company started with a great idea: ditch the baggage that comes with other GM brands and build cars to compete head-to-head with the imports.
It worked well at first. But as time went on the brand never developed the same cachet as Honda or Toyota, as Saturnís vehicles became more similar to the other GM brands. In other words, Saturnís cars just werenít all that memorable.
This is the exception. Called the Saturn Sky, this two-seat sports car is a great example of GMís resurgence in recent years. Itís a car that makes you lust for it, one that looks stunning at any angle, and moves with the kind of panache that makes you want to drive it from sunrise to sunset on winding mountain roads. Itís a beautiful car, in every sense of the word.
Itís the kind of car that, just a few years ago, people said GM couldnít build.
But here it sits, a testament to the talented engineers and designers at the oft-criticized General Motors. Itís real, tangible proof that GMís troubles donít come from being incapable of building cars that people want, but from decisions made in the executive suites. After all is said and done who wouldnít want to drive this Saturn convertible?
This is a car loverís car, the kind you want to caress with microfiber mittens and drizzle in expensive wax every weekend, the kind you drive just for the sake of driving. Itís not a practical car, especially since the top takes up almost the entire trunk when itís folded away, but itís comfortable enough for a daily commute and is surprisingly quiet with the top up.
From the driverís seat, few cars are as perfectly tuned as this one. Based on the Pontiac Solstice, the Sky has a rock-solid chassis and firm suspension that work together to transmit crystal-clear messages to the driver. Power is sent to the rear wheels, exactly as it should be in a proper sports car.
And the way it looks? Unbelievable. The Sky has classic proportions with contemporary lines, from its dramatic hood vents to its sleek rear. It looks good with the top up, but when the top is folded away under the bulging hard cover, itís even better. It has timeless good looks that people will likely still find attractive 50 years from now.
It also has just the right amount of power. Its base engine, a 2.4-liter four-cylinder, makes 173 horsepower, which is plenty in such a small, lightweight car. But the Red Line edition, with its 2.0-liter turbocharged engine makes a pavement-ripping 260 horses to add even more fun. Even better, the Red Line has the best gas mileage rating in its class at 28 mpg.
Thatís not to say itís perfect. The Sky suffers from inferior ergonomics when you compare it to cars like the Mazda Miata.
Unlike the Miata, which has a soft top that can be raised and lowered with one hand from inside the cockpit, the Skyís top requires more steps, including getting out of the car. Granted, it looks better than the Mazdaís top, especially stowed away under the hard cover, but ease of use is something to consider.
Its manual transmission likewise doesnít feel as perfect as in the Miata, but its five-speed automatic is superb. Itís one of the few sports cars I might actually prefer with the automatic, based more on the weakness of the stick shift than on the strength of the auto gearbox.
The Saturn Sky has classic sports-car proportions and dramatic hood vents for a sexy, sharp look. Its soft top folds away under a hard cover to preserve its gorgeous shape. The Skyís cabin, like the whole car, is focused on the driver. Itís the kind of car you wear rather than ride inside.
What was tested? The 2009 Saturn Sky Red Line Convertible with a base price of $31,630. Options on the test car: Auto transmission at $995, 18-inch wheels for $545, leather seats at $475, audio upgrade for $395 and a rear spoiler for $350. The total MSRP price as tested including the $620 destination charge is $35,010.
Why avoid it? Some ergonomics could be improved, and its manual transmission doesnít feel quite as perfect as the Mazda Miata.
Why buy it? It looks and drives like a world-class sports car. Handling is outstanding, and its body has timeless good looks.
Bottom Line: That said, the Sky is an amazing car overall. From its sexy looks to its true sports-car performance, it shows that GM can build cars that make people drool. Itís reason enough to want Saturn to stay alive.
By Derek Price © AutoWire.Net - San Francisco
Saturn Sky Review provided by Tony Leopardo © AutoWire.Net

Column Name: The Saturn Sky is a real keeper
Topic: The 2009 Saturn Sky Red Line
Word Count: 863
Photo Caption: The 2009 Saturn Sky Convertible
Photo Credits: Saturn Sky Internet Media
Series #: 2009 -50
Download the Microsoft Word version here: 2009 Saturn Sky
Download the Original Image File here: 2009 Saturn Sky