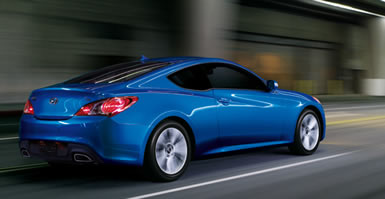 Hyundai Genesis Coupe Review: About 10 years ago there were only two reasons you'd ever mention the word "Hyundai." One is that you knew nothing about cars and were actually thinking about buying one of these disposable junkers. The other was that you were telling a joke.
Things can change and that's certainly been the case with this Korean company. Over the past decade, Hyundai has made tremendous leaps in quality while designing low-cost cars that can match, and in some cases beat, their American and Japanese competitors.
The numbers don't lie. If you look at the J.D. Power and Associates quality survey results that were released last week Hyundai finished fourth overall, ahead of Honda, Toyota and Mercedes-Benz. In fact, the only three brands to beat it sell far more expensive cars. Think Lexus, Porsche and Cadillac.
What does that mean? If you're looking for the best quality per dollar, Hyundai blows everything else off the road.
As part of its steady march toward the top of the automotive world,
Hyundai has not only built its cars with improved quality. It's also made them far more appealing in terms of style, luxury and performance.
The new Hyundai, epitomized by its range-topping Genesis models, come in two models: the luxurious sedan and the sporty coupe. While the sedan has drawn a lot of attention for comparing favorably with pricier cars from BMW, Lexus and Mercedes-Benz, it's the coupe that we're interested in today.
For starters it looks stunning. This should come as no surprise considering the old Hyundai Tiburon's looks were compared with a Ferrari, but the new Genesis takes it a step further. It's not a truly original design, as it looks like an Infiniti G37 clone, but it's executed beautifully, almost like it came from an exclusive Italian design studio.
And this is an aggressive car, you can tell that just by looking at it. It has angry eyebrows, flexed muscles, and sexy, swept-back lines. It's a flashy car, especially when it comes in the bright "arrest me" red of my tester, but it's still not wild enough to be antisocial.
From the driver's seat the Genesis feels like a true sports coupe, which is a rare treat. So many mid-size coupes, like the two-door versions of the Accord, Camry and the Altima for example, don't place nearly enough emphasis on performance driving. They're just family cars that are missing a couple of doors.
The Genesis though feels very different from a normal sedan. It has rear-wheel drive, giving you the ability to easily steer it with the throttle through fast corners, and a firm suspension that sucks it in to the pavement with vacuum-like force.
Its engines are likewise tuned for sporty performance. The Genesis base engine, a 210-horsepower turbocharged 2.0-liter four-cylinder, offers thrilling ready-to-use power. It's a willing engine, one that revs freely and seems to enjoy being run through the gears at full throttle. You can also get it with a 3.8-liter V6 that makes 306 horsepower for plenty of tire-burning fun.
On the downside the Genesis Sedan's delicious 4.6-liter V8 isn't available. Having 375 horses on tap sure would be nice, even if the added weight made it more of a grand tourer than a sports coupe. Maybe if enough people say "pretty please" Hyundai might make a V8 available in the future.
While its styling and performance are on par with any expensive luxury coupe, its interior materials aren't quite up to the same level. They're very close though, lacking only a tiny bit of luster to match the rich opulence of a Lexus or the high-tech precision of an Infiniti.
Fortunately there's one area the Genesis Coupe doesn't match its rivals, and that's on the price tag. It starts at just $22,000, making it an outright steal compared to the $30,000+ luxury coupes it competes with. The Infiniti G37 Coupe, the car I kept thinking it resembled during my test drive, has a base price that's over $11,250 more than the Hyundai.
That alone explains the meteoric rise we've seen from this once-derided Korean car company. The jokes are over. This car company is for real.
What was tested? The 2009 Hyundai Genesis Coupe, a 2.0T Track model with a base price of $26,750. Options on the test car: Carpeted floor mats for $95, an iPod cable for $30. Total MSRP price as tested including the $750 destination charge is $27,625.
Why avoid it? You can't get it with a huge dose of V8 power like in the Genesis Sedan, and its interior materials don't have quite the luster of the rest of this near-perfect vehicle.
Why buy it? It looks and drives exactly like an expensive sports coupe, only it's not expensive. It starts at just $22,000, a downright steal in todayís automotive marketplace.
The Bottom Line: The Hyundai Genesis Coupe has rear-wheel drive and a choice of powerful, performance-tuned engines. It's a true sports coupe for driving purists, which is rare in today's market, that's pumped full of two-door versions of family sedans. The Genesis Coupe looks and drives like an expensive luxury vehicle and it starts at just $22,000. Thatís a remarkable feat for this once-criticized carmaker.
By Derek Price © AutoWire.Net - San Francisco
Bottom Line Review provided by Tony Leopardo © AutoWire.Net

Column Name: Genesis proof of Hyundai improvement
Topic: The 2009 Hyundai Genesis Coupe
Word Count: 935
Photo Caption: The 2009 Hyundai Genesis Coupe
Photo Credits: Hyundai Genesis Coupe Internet Media
Series #: 2009 - 58
Download the Microsoft Word version here: 2009 Hyundai Genesis
Download the Original Image File here: 2009 Hyundai Genesis