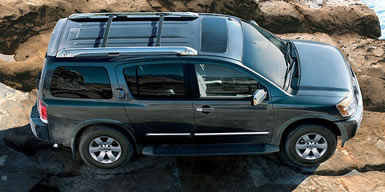 Nissan Armada Titanium Edition Review: After starting as a rough-and-tumble SUV to compete with the full-size American models, Nissan's huge Armada has taken a new direction. It hasn't gotten smaller and more nimble like the crossover vehicles that are cropping up. It's stayed big, heavy and brawny, with four-wheel drive and V8 power. It's just gotten more refined.
The high-end versions of the Armada have moved upmarket into the luxury SUV class, replacing the original hard plastics with soft-touch materials in the cabin that feel like they were tailored in Paris. It has more gadgets too, like an available high-tech navigation system and keyless ignition. And now those high-end Armadas are more affordable.
For 2010, Nissan adds two new versions of its big SUV that offer more luxury for less money. One, called the Titanium Edition, starts at $42,140 and includes leather seats, keyless ignition, a rear-view camera, Bluetooth phone connection, Bose stereo and a power rear seat that folds flat with the touch of a button.
"Titanium" may sound like a name designed to squeeze more money from buyers, but it's actually a pretty good bargain. It costs $2,500 less than you'd pay putting the same equipment on an ordinary Armada SE or LE last year.
The 2010 Armanda Platinum Edition is a similar luxury deal. It's priced at $49,390 and includes all the Titanium Edition equipment, plus heated front seats and steering wheel, a power liftgate in back, DVD player, navigation system and a Music Box system that uses a hard drive to store your music. That's $1,100 less than you would have paid for the same equipment last year.
Other than the new savings, other changes are minimal. It has some new side moldings and chrome strips outside, plus contrasting stitching on the upscale models upholstery to give it a high-class look. New choices for wood trim look nicer too.
It has the same powerful engine as before, a 5.6-liter Endurance V8 rated for 317 horsepower. Considering it's such a big, heavy SUV, it has surprisingly good acceleration, with plenty of low-end grunt to get it started. All that power, of course, comes at the expense of gas mileage. It's rated for 12 mpg in town and 18 on the highway.
Inside, as before, it's all about space. There's plenty of it, both for storage and for comfortable seating. Big, deep buckets up front feel like living room recliners, and a wide second-row seat is perfectly comfortable for three adults. Even the third-row seat is roomy.
And really, that's what the Armada has always been about. It's still a huge, traditional SUV, only more refined and, for the newest luxury models, more affordable.
What was tested? The 2010 Nissan Armada Titanium Edition 4x4 model with a base price of $44,940. Options on the test vehicle: none. Total MSRP price as tested: $44,940.
Why avoid it? Since it's a big, heavy SUV with a big V8 engine, it guzzles gas. It's rated for 12 mpg in town and 18 on the highway.
Why buy it? The new luxury versions are good bargains, moving closer to big luxury SUVs like the Cadillac Escalade and Lincoln Navigator at a cheaper price. It's got plenty of space inside, too.
The Bottom Line: The Nissan Armada gets a slightly different look for 2010, with new side moldings and chrome strips. But the big news is in two new luxury models, which are cheaper than an Armada with the same equipment last year. Inside, the new Platinum and Titanium Edition Armadas come with contrasting stitching and new choices for wood trim in the cabin, giving the big SUV a high-class, upscale look.
By Derek Price © AutoWire.Net - San Francisco
Bottom Line Review provided by Tony Leopardo © AutoWire.Net

Column Name: Nissan lowers luxury prices
Topic: The 2010 Nissan Armada Titanium Edition
Word Count: 676
Photo Caption: The 2010 Nissan Armada Titanium Edition
Photo Credits: Nissan Armada Internet Media
Series #: 2009 - 62
Download the Microsoft Word version here: 2010 Nissan Armada
Download the Original Image File here: 2010 Nissan Armada