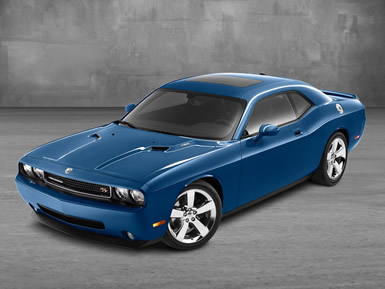 Dodge Challenger Review: With the Ford Mustang still going strong and the Chevy Camaro back on the road, it's inevitable that Chrysler's pony car entry would return as well. Looking incredibly similar to the historical car of four decades ago, but significantly larger and completely up-to-date, the Dodge Challenger is back.
"Our all-new 2009 Dodge Challenger is a modern-day muscle machine representing the best from the past and present," said Mike Accavitti, director of the Dodge Brand and SRT Global Marketing, Chrysler LLC. "Nearly 40 years following the debut of the original, we are bringing Dodge Challenger back and loading it with essential hardware, styling and technology desired by today's buyer."
Based on the tried-and-true platform from the successful Chrysler 300 and stable mate Dodge Charger, the new Challenger is a substantial ride. Despite being considered a compact by the EPA, it's a solid cruiser, and a fine one at that. I was surprised at its poise as it rolled down city streets and shot down the freeway as a daily driver.
Like a good pony car, this two-door coupe comes with a choice of mild or wild engines, including two brawny HEMI powerplants. My SE tester had the base 3.5-liter V6, which puts out 250 horsepower and an equal 250 lb.-ft. of torque, and despite hauling 3,819 pounds, it is pretty quick off the line. This rear-wheel-drive car comes only with an automatic four-speed in V6 configuration.
Next step up is the R/T model, which boasts a 5.7-liter HEMI V8 (now we're talking!) with a big jump to 372 horsepower and 400 lb.-ft. of torque through a five-speed automatic or a six-speed manual transmission. This is the first application of self-service clutch shifting in a modern HEMI engine. It can run zero to sixty in under six seconds.
The mightiest Challenger in town is the hulking SRT8, with its exclusive 6.1-liter HEMI V8 cranking out a sizzling 425 horsepower and 420 lb.-ft. of torque through your choice of automatic or 6 speed manual. It does the zero-to-sixty in under FIVE seconds. Whew.
The SE with the V6 earns a reasonable 17 City, 25 Highway EPA Fuel Economy Estimate, with EPA Green Vehicle scores of 7 for Air Pollution and 5 for Greenhouse Gas. The HEMIs do less well, with the SRT8 with automatic getting 13 City, 19 Highway and a decent 6 for Air Pollution but only a 2 in the Greenhouse Gas score. Friends of the Earth members are unlikely to be friendly to this version of the car.
To get some perspective, I visited a 1970 Challenger at Kassabian Motors in Dublin, California. In historically appropriate Plum Crazy purple, the old Challenger reminded me of just how far cars have progressed in four decades. The old car sat low, much like a period Mustang or Camaro would have, and was significantly smaller all around than the '09 model.
Inside, the dash seemed delicate and slim. Of course, it had much less behind it than today's airbag and computer equipped vehicles. However, Chrysler's design wizards have conjured up a surprisingly big dose of the old design in the new car, from the four-gauge instrument panel to the trapezoidal door panels and black headliner.
Outside, the character line along the sides of the new car is dead-on with the original, so much so that it's a shock how differently sized and proportioned the two cars are. The 2009 wears the same face, a recessed simple grille with 1960's style quad sealed beam headlights, and a Challenger badge to the side. The tail is one long taillight from end to end, again like the original. Dual rectangular exhaust outlets complete the picture.
If teenage boys were buying cars, the Challenger would be a hit. My son's pals loved it, even in its mildest SE form in subtle Dark Titanium Metallic clearcoat paint. I had teenagers hanging out of cars shooting images on their cell phones.
The Challenger felt smaller than its nearly two tons with its front short- and long-arm suspension and five-link independent rear suspension system from the Charger, and it was completely dialed-in and ready to roll.
Prices start at just $22,545, including shipping for the SE and go up from there. My SE tester came to $27,690 after adding the Customer Preferred Package 25G, which includes a batch of goodies ranging from 18-inch alloy wheels to satellite radio, four-wheel disc brakes with traction control, leather-wrapped steering wheel and shift knob, and more.
The Sound Group matches a 276-watt amplifier with six Boston Acoustics speakers. The leather Interior Group provides beautiful heated leather chairs, which were remarkably better bolstered than their 1970's counterparts.
Built in Brampton, Ontario, Canada, this very (North) American car delivers the goods buyers of traditional sporty cars want. Let's just hope it helps in rising Chrysler's pentastar again.
By Steve Schaefer © AutoWire.Net - San Francisco
The Bottom Line: The 2009 Dodge Challenger is a retro car with the street creed to compete head to head with the Camaro and the Mustang. With three engines, three transmissions and three models to chose from there is a Challenger for everyone. From the fast and furious SRT8, to the quick R/T, to the nimble SE, Challenger has what it takes to turn heads and smoke the tires, both traits of a true pony car. Price, Perception and Power make it the first Mopar on everyone's wish list. Buy one now, as these cars are on the governments automotive endanger species list, and will not be here for long.
Bottom Line Review provided by Tony Leopardo © AutoWire.Net
"Tony the Car Guy" is an automotive writer, editor and publisher in the San Francisco Bay Area. If you have a question or comment for Tony send it to TonyLeo@pacbell.net or visit www.autowire.net

Column Name: The Dodge Challenger is back
Topic: The 2009 Dodge Challenger
Word Count: 1010
Photo Caption: The 2009 Dodge Challenger
Photo Credits: Dodge Challenger Internet Media
Series #: 2009 - 63
Download the Microsoft Word version here: 2009 Dodge Challenger
Download the Original Image File here: 2009 Dodge Challenger