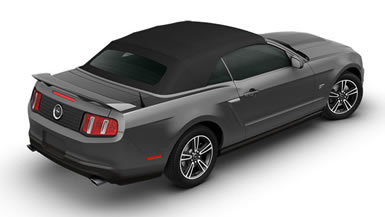 Ford Mustang Convertible Review: Nine million owners and 45 years after its auspicious debut at the New York World's Fair in April of 1964, the Mustang is still America's favorite muscle car. The 2010 model, restyled and upgraded, is true to the legend, and continues to offer "a steed for every need."
Available as a coupe or convertible, the new car takes inspiration from the classic 1970 model, which was already the third generation of the enormously popular car. You can see it in the one-piece headlamp unit and the reworked side scoops that have been on nearly every Mustang in one form or another since day one.
Retaining only the roof of the '09, the new car emits a pulsing energy and flaunts a tautness of form. The hood features a powerdome bulge that conveys the look of power, regardless of which engine lives below it.
My convertible tester came in glistening Sunset Gold Metallic. You couldn't get away with a shade like that on, say, a Toyota Camry, but it works here.
Besides the muscular new shape, Ford gives us sequential taillamps, a real throwback to the '60s. I didn't get to enjoy them from the driver's seat, though.
The new Mustang features another of Ford's amazing new interiors. The seamless soft-touch TPO (Thermoplastic Olefin) surfaces look and feel rich and the different panels all meet evenly. My tester had plenty of metal and metallic surfaces all over the dash, console and leather-wrapped steering wheel.
The steering wheel combines metallic and leather sections and has a varying thickness around the rim. This looks great, but feels odd in turns when you're grabbing different handfuls of wheel.
It's quiet inside, thanks to some careful soundproofing. You can still enjoy the sporty engine sounds when you accelerate, but in cruise mode it's whisper quiet. And of course, squeaks and rattles are history.
"That's the difference between good enough and exceptional," says Gary Morales, Interior Design manager. "We wouldn't accept anything less than leadership design and world-class craftsmanship."
You can get a "regular" Mustang or the GT model, either of them in two-door coupe or convertible model, and standard or premium trim level. My convertible was the regular car, but today, regular means a 210-horsepower V6 with 240 lb.-ft of torque driving a 3,450-lb. rear-wheel-drive car. Not too bad in today's auto world.
The GT gives you the latest update of Ford's now legendary 4.6-liter V8. This one provides 315 horsepower and 325 lb.-ft. of torque. Both cars come with a standard five-speed manual transmission or you can order the optional five-speed automatic for an extra $995. Both engines are tuned to sound macho and manly out on the road. My V6 did a great job of pulling me along. As with the interior, Ford engineers have sorted out and fine-tuned the suspension and other mechanicals.
Surely aficionados of classic Mustangs will savor the GT, which has many parts and settings based on Mustang racing programs and the popular
Mustang Bullitt edition.
For a sports car, the Mustang does reasonably well in fuel economy and emissions ratings. The V6 earns EPA fuel economy numbers of 16 City, 24 Highway. I averaged 19.6 mpg. The agency's Green Vehicle Guide gives the V6 a 7 (out of 10) for Air Pollution and a 4 on the Greenhouse Gas score (automatic) or 5 (manual). Those latter numbers are not surprising for an engine with four liters of displacement.
Ford's SYNC system gives you voice control over your entertainment system. I liked the iPod plug-in capability, but wasn't so keen on the insistent female voice that interrupted my music with, "Want to run a vehicle health report? Press OK." I found the button on the steering wheel and pushed it. I heard and saw nothing further until a couple of days later when she asked me again. This time, I ignored her, the Mustang seemed healthy enough to me.
The old-fashioned convertible top is nicely lined for a finished look and a quiet ride. Just undo the two windshield latches and press the button and down it goes in about 15 seconds. The latches are easy to use when you reattach the top on the way up, too. There's nothing better than a pleasant cruise along a minimally trafficked back road with the top stowed down.
Prices start at $21,845, including shipping, for the two-door coupe with the V6 and manual transmission. The V8-powered GT Coupe starts $7,000 higher. My Premium level V6 Convertible had a base price of $28,995, and with automatic transmission and destination charges, came to a total MSRP price of $31,235. By Steve Schaefer © AutoWire.Net - San Francisco
The Bottom Line: The Mustang is still America's favorite muscle car, plus any Mustang Convertible is a kick to drive, and that's the model I would buy. But if you want to go lower in price, the used car market is loaded with good Mustangs. I think that short of buying a classic 1960's Mustang, the 2010 Mustang Convertible, is the one to buy and drive today.
Bottom Line Review provided by: Tony Leopardo © AutoWire.Net
"Tony the Car Guy" is an automotive writer, editor and publisher in the San Francisco Bay Area. If you have a question or comment for Tony send it to TonyLeo@pacbell.net or visit AutoWire.Net at www.autowire.net
And remember: " You Are what you Drive "

Column Name: Mustang is still America's favorite muscle car
Topic: The 2010 Ford Mustang Convertible
Word Count: 951
Photo Caption: The 2010 Ford Mustang Convertible
Photo Credits: Ford Mustang Internet Media
Series #: 2010 - 04
Download the Microsoft Word version here: 2010 Mustang Convertible
Download the Original Image File here: 2010 Mustang Convertible