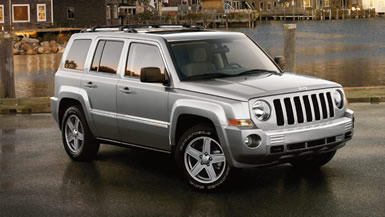 Jeep Patriot Review: Depending on your point of view, this is either one of the best Jeeps ever produced, or one of the worst. If you're a Jeep purist who thinks it's impossible to improve on the Wrangler, that off-road beast that feels like it could drive right over your house, then you probably think the Patriot is watering down your perfect brand. It's soft-spoken and polite when everyone knows Jeeps are supposed to be fueled by adrenaline and human blood.
But if you're a normal person you'll love the Patriot. It's designed more for the urban jungle than the Rubicon Trail, although it still comes with all-wheel drive that can help with camping trips, bad weather and minor off-road excursions. It also comes with the legendary Jeep look, so you're getting the best parts of the Jeep brand, without all the drawbacks.
One of the biggest differences between the Patriot and the more traditional, old school Jeeps is in its basic construction. The Patriot is built like a car, using unibody construction, so it feels better on the road and gets better gas mileage. It's a surprisingly light vehicle, despite the military styling, so it can get up to 29 miles per gallon on the highway.
On the flip side, because it's not built with a truck-like, body-on-frame design, it's really not meant for people who want to go driving up mountains every weekend. Some people would say it's not a "real" Jeep as a result. It's just a Dodge Caliber in camouflage. Still, the Patriot is available with three drive configurations to meet your needs.
One is front wheel drive, which basically turns your Jeep into a boxy commuter car. Another is called Freedom Drive I, which is a full-time, all-wheel-drive system with a lockable mode for tough terrain.
The final configuration, and the most Jeep-like of all, is called the Freedom Drive II Off-Road Package, which adds a 19:1 low ratio to the Freedom Drive I system, giving it the extra ability to drive through worse terrain. It sits an inch higher than other Patriots, and has been tested to meet Jeep's standards for traction, maneuverability, ground clearance and the ability to cross water.
Is it as good on the trail as a Wrangler? No, but with the Freedom Drive II 4x4 option it's still good enough to earn the Jeep "Trail Rated" stamp of approval.
For everyday driving, which is really what the Patriot is designed for, it's not a bad way to get around. It doesn't have the size or refinement of some of its crossover competitors, but it does have that great Jeep look. With a vertical face and sharp corners, its all-American styling provides a sharp contrast to all the other look-a-like car-based SUVs on sale today. It's definitely not trying to be a Lexus RX, and that's just fine.
Inside, you'll find a lot of thoughtful features, like a rechargeable LED cargo lamp that you can pull out and use as a flashlight. It has an optional front passenger seat that will fold into a flat table-like surface for writing, along with a good navigation system than can store 30 gigabytes worth of music and pictures. And, when you're in park, it can play DVD movies too.
All in all, the Patriot is the best everyday Jeep to date. It may not have the Wrangler's off-road credibility, but it does keep the best parts of the Jeep experience without having to suffer with the bouncy, noisy ride of a traditional off-road specialist.
What was tested? The 2010 Jeep Patriot 4x4 Limited model with a base price of $24,550. Options on the test Jeep: The Continuously variable transmission for $1,050, the Media Center with navigation for $1,285 and the Sun and Sound Group for $1,295. Total MSRP price as tested including the $630 destination charge is $27,760.
Why avoid it? You can get more refinement and space from some of its competitors. There are a lot of great crossovers out there if you don't need the off-road capability.
Why buy it? It has the best parts of the Jeep brand without a lot of the drawbacks. It looks handsome, drives well and comes with just enough off-road capability to earn the Jeep name.
By Derek Price © AutoWire.Net - San Francisco
The Bottom Line: The Patriot may look like a traditional Jeep, but it's actually built very differently. It's designed as a car-based crossover vehicle and it's available with an off-road package that helps it earn the Jeep badge.
Some smart features, like a rechargeable cargo lamp that you can pull out and use as a flashlight, make the Patriot a good choice for people who like to go off the main trail just a bit and still campout.
Bottom Line Review provided by: Tony Leopardo © AutoWire.Net
"Tony the Car Guy" is an automotive writer, editor and publisher in the San Francisco Bay Area. If you have a question or comment for Tony send it to TonyLeo@pacbell.net or visit AutoWire.Net at www.autowire.net
And remember: " You Are what you Drive "

Column Name: Finally, a Jeep for the real world
Topic: The 2010 Jeep Patriot 4x4 Limited
Word Count: 905
Photo Caption: The 2010 Jeep Patriot 4x4 Limited
Photo Credits: Jeep Patriot Internet Media
Series #: 2010 - 17
Download the Microsoft Word version here: 2010 Jeep Patroit
Download the Original Image File here: 2010 Jeep Patroit