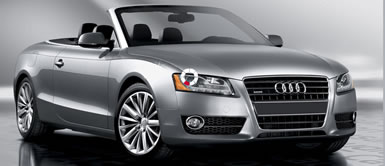 Audi A5 Cabriolet Review: There's nothing quite like dropping a convertible top and cruising around on a sunny day, or a warm summer evening, with the muted hum of the engine in your ears and the sights and smells of the world at close range. The new A5 Cabriolet takes over for the A4 as the compact four-passenger convertible for the Audi franchise.
One weekday I took two colleagues with me on a jaunt to a beachside burger joint for lunch. My 6-foot-2 buddy, Doug, fit in back surprisingly well and the muted wind noise made conversation possible. It was nearly 70 degrees out, but if it had been cooler, in the front seats we could have used the neck-level heater vents.
The A5 features a traditional cloth top, and Audi claims that its three-layer Acoustic Roof Technology keeps the sound levels down close to that of a coupe. During freeway commuting I don't remember hearing trucks rumbling beside me as I often do when testing lesser cars and I was surprised to see reading lamps mounted in the headliner.
The top drops in a mere 15 seconds, and not only weighs less than a folding hardtop, but allows for a decent 10.2 cubic feet of trunk space. As the top folds, a metal cover behind it raises first, so when the top is stashed, it essentially disappears, so no boot required. You can drop the top at up to 30 miles per hour and for safety's sake, active rollover protection swings into action automatically if needed.
The A5 Cabriolet comes with front-wheel drive (FrontTrak) or with Audi's legendary Quattro all-wheel-drive system. My Deep Sea Blue Pearl Effect test car had the latter. It normally sends 60 percent of the torque to the rear wheels and 40 percent to the fronts, but transfers traction virtually instantaneously when any tire slippage occurs.
Audis are luxury vehicles, so every model is pretty well loaded. Choose from three levels, Premium, Premium Plus and Prestige. My tester was the Prestige model, which for $8,300 added 14 fine features. These ranged from a wheel and tire upgrade to a glorious Bang & Olufsen 505-watt audio system, to driver seat and mirror memory storage, to a full-feature navigation system. Audi is playing with lighting designs, so the LED taillights and running lights up front give a unique string-of-beads appearance.
My tester came with Audi's turbocharged 2.0-liter engine, good for 211 horsepower running through a six-speed Tiptronic automatic transmission. In this two-ton convertible it gives plenty of energy while consuming a reasonable gallon of premium fuel for every 20 miles in town and 26 on the highway. My tester averaged 21.5 mpg over 1,922 easy miles, including previous journalists' possibly lead footed driving. The EPA's Green Vehicle numbers are a laudable 7 for Air Pollution and 6 for Greenhouse Gas. That latter number moves up to a 7 with the FrontTrak model.
My tester featured the Audi Drive Select System for $2,950. Thanks to electronic control of practically everything in the car but the glove box door, it allows you to alter the throttle, transmission shift points, steering feel and shock settings to suit your taste. You can choose between Comfort, Dynamic, and Automatic modes. I didn't play with it much, but it means that with the family I can cruise pleasantly but when I'm alone on a back road I can "tighten it up" to my heart's content (no reference to Archie Bell and the Drells intended).
My car featured the Driver Assist package for $900, which included Audi Side Assist, which warns you visually when another vehicle is occupying the blind spot on either side. Also, the 19-inch Sport Package for $1,450 moved the already upgraded 18-inch wheels to 19-inchers that resembled food processor blades, brought front "sport seats" with lumbar support, a sport suspension and shift paddles for the automatic.
Oh, and let's not forget the Comfort package for another $2,400. It further upgraded the seats with ventilation and heating, covering them in "Cinnamon Brown" Milano leather. And lastly, there were Dark Walnut wood inlays on the dash and doors for an additional $400.
All these occasionally overlapping extras managed to push the price of my car from a base price of $44,100 to a total MSRP price of $61,800, including the $825 destination charge. That felt a little overwhelming, but the long list of features gave a detailed accounting of all the benefits you will receive for the extra $17,000.
Audis are always a joy to drive and live with, but for Sixty Grand one might be tempted to take a look at the Audi S5 Cabriolet, which starting at $58,250, comes with many standard goodies, including the 4.2-liter V8 engine. By Steve Schaefer © AutoWire.Net - San Francisco
The Audi A5 Cabriolet Review is provided by: Tony Leopardo © AutoWire.Net. "Tony the Car Guy" is an automotive writer, editor and publisher in the San Francisco Bay Area. If you have a question or comment for Tony send it to TonyLeo@pacbell.net or visit AutoWire.Net at www.autowire.net - And remember: " You Are What You Drive "

Column Name: Audis are always a joy to drive and live with
Topic: The 2010 Audi A5 Cabriolet
Word Count: 911
Photo Caption: The 2010 Audi A5 Cabriolet
Photo Credits: Audi A5 Internet Media
Series #: 2010 - 19
Download the Microsoft Word version here: 2010 Audi A5 Cabriolet
Download the Original Image File here: 2010 Audi A5 Cabriolet