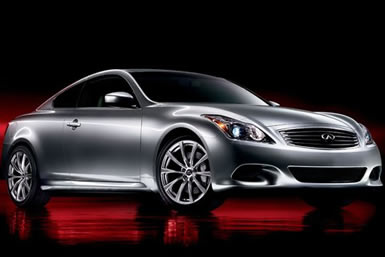 Infiniti G37 Review: The G37 offers powerful performance cloaked in an elegant design, that's probably why it's Infiniti's best seller. For 2010, they didn't mess with success, giving it some welcome revisions but leaving the essential recipe intact.
Infiniti has been around for 20 years now, competing with its archrival Lexus. While Toyota's Lexus division built a large customer base by at first mimicking Mercedes-Benz, Nissan's Infiniti brand has often gone its own way, while still aiming to attract aspirational shoppers.
This G37 (a name that sounds like a miracle ingredient or a planet in another solar system) features a powerful 328-horsepower V6 and a beautiful and well-appointed cabin as part of the entry price into this segment.
It used to be that Corvettes and muscle cars were the high horsepower possessors, but nowadays a potent sedan for anyone with some cash to spend is a given. The 3,613-pound G37's 3.7-liter engine uses variable valve timing and electronically controlled variable valve lift to produce prodigious power along with improved fuel efficiency and surprisingly good emissions scores.
Fuel economy numbers are 19 City, 27 Highway, and I averaged 22.1 mpg in a week of happy motoring. The EPA Green Vehicle Guide numbers are 7 for Air Pollution and 6 for Greenhouse Gas, giving it SmartWay status as one of the cleaner cars on the road.
As a nod to German sports sedan intenders, Infiniti offers a speed manual transmission in the G37 6MT model. The rest of the four models, including the regular G37, G37 Journey (like my Liquid Platinum tester) and the all-wheel-drive G37x, get a seven-speed automatic with paddle shifters on the steering wheel. I'd love to sample the manual, but, sadly, its fuel economy is 2 mpg lower and with a 5 for Greenhouse Gas score, it drops out of SmartWay designation. Pity.
Visual changes for 2010 include new headlights and grille, as well as a revised lower front fascia. The top and bottom of the chrome grille extend past the opening, offering perhaps a look at a design that the brand will use to distinguish itself in the future. BMW with its twin kidneys, and Mercedes-Benz with its formal radiator, are such icons that everyone else is scrambling for something memorable. I wish them luck.
High Intensity Discharge (HID) bi-functional Xenon headlights are now standard and the rear view is revised with updates below the bumper and a couple of sporty looking exhaust tips. The 17-inch alloy wheels use a stunning "triple-fork" design that reminded me of antlers.
In the updated interior you get opulent leather chairs with six levels of heat, from which you can look at the sparking brushed metal and chrome accented dash and console. The new metallic trim uses a "Shodo" Japanese design that is derived from calligraphy. See, Infiniti is still doing its own thing. If you want maple instead you can order it, and it will have a high gloss this year. A brand signature oval analog clock occupies a place of honor in mid-console.
Infiniti likes to offer high tech goodies. Order the Premium Package and you can shorten your commute with the "Infiniti Studio on Wheels by Bose" audio system. That brings three-way front door speakers with hulking 10-inch woofers and a subwoofer thumping away in the rear parcel shelf. Hip-hop would probably sound great in this car, although I don't believe the young are part of Infiniti's target market for this vehicle. The mix of classic rock and classical I favor sounded exquisite.
The Premium Package also provides the 2 GB Music Box, where you can store your favorite tunes, to go along with it, and the pleasures of a power glass moonroof, driver's seat memory, power tilt-telescope steering wheel and a rear sonar system.
My test car had the optional Navigation system, which features an especially natural and friendly sounding female voice. The Nav system's screen is updated for 2010 with higher resolution and includes, along with XM NavTraffic Real-Time Traffic Information, NavWeather. It kept interrupting my XM radio listening with warnings of gale force winds within 15 miles, but when I looked out the window, not a leaf was stirring. I think it was catching the weather out in the ocean!
My G37 Journey had a base price of $34,450, pretty normal for cars in this segment. With options and destination, the final sticker was $39,575. The base car starts at $34,115, including shipping. The 6MT model is at the top at $37,865.
In the world of $40,000 luxury sedans, it's partly about content, partly about execution, and partly about image. The G37 has parts 1 and 2 down; it's the third that is still a work in progress. The six-speed manual puts it in the game against the BMW 3 Series, and that's where the battle will continue to be. By Steve Schaefer © AutoWire.Net - San Francisco
The Bottom Line: The 2010 Infiniti G37 is a driver's car with a touch of luxury that makes it a stand out among the competition. While Lexus and BMW have their own followers, the G37 appeals to anyone who likes to drive. It handles, rides, sounds and performs like a $50,000 sports sedan for $10 Grand less. You get the best of the best at an entry-level luxury price.
Bottom Line Review provided by: Tony Leopardo © AutoWire.Net
The 2010 Infiniti G37 Review provided by:
Tony Leopardo © AutoWire.Net. "Tony the Car Guy" is an automotive writer, editor and publisher in the San Francisco Bay Area. If you have a question or comment for Tony send it to TonyLeo@pacbell.net or visit AutoWire.Net at www.autowire.net - And remember: " You Are What You Drive "

Column Name: You get the best of the best at an entry-level luxury price
Topic: The 2010 Infiniti G37
Word Count: 1007
Photo Caption: The 2010 Infiniti G37
Photo Credits: Infiniti G37 Internet Media
Series #: 2010 - 28
Download the Microsoft Word version here: 2010 Infiniti G37

Download the Original Image File here: 2010 Infiniti G37