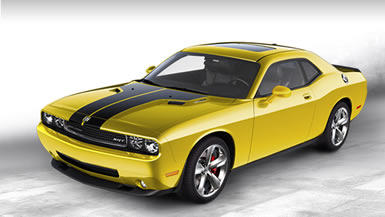 Dodge Challenger SRT8 Review: Sitting in the driver's seat of this car, it doesn't feel like I'm in a real vehicle. It's more like a cartoon car, a clown car, an outlandish and overly exaggerated caricature of the genuine article.
That's because this car, the Dodge Challenger SRT8, is such an over-the-top vehicle that it couldn't possibly be real.
Just look at it. Like all Challengers, it's an unabashed throwback to the 1960s with its low roof, ridiculous fenders and a hood that stretches to Miami. Unlike most modern cars with their Japanese-inspired amorphous blob styling, the Challenger says "I'm American and proud of it."
This isn't a car that arrives meekly. It's like driving Mark McGwire's biceps around town, all snorting and snarling and looking comically masculine.
It's so exaggerated, in fact, that I couldn't help but laugh, partially because it's such a silly car, but also because I love it. It's a wonderful toy, a Hot Wheels car for grown-ups.
Interestingly, while it gets a lot of attention for looking different from all the other cars on the road, it's actually one of the least original cars ever built. It's a recycled car from the '60s with all the same proportions and styling, only with a slightly cleaner, more modern execution.
That also means lots of people, especially people who don't know much about cars, who will confuse it for the new Chevy Camaro. They're both pulled from the same retro recycling bin.
The neck-straining styling on the Challenger is only part of its over-the-top personality, though. The other comes from those four letters at the end: SRT8.
Those letters indicate this Challenger is a special high-performance version that is so loud and rumbly, so quick and scary, that it really ought to be committed to a mental institution. It's that crazy.
The recipe is actually quite simple: Take a huge, 6.1-liter Hemi V8, a dump truck engine, I like to call it, and firm up the suspension to make use of all that extra power.
The result is absolutely wild. The dump truck engine makes 425 horsepower, and it's not just from grain-fed, meek, farm-plow horses. Based on the sound, I figure they're horses that have been fed nothing but Red Bull and chili peppers.
It's no surprise then that an engine this big would rumble like the voice of God, but it is surprising to see just how well this car handles. It generates so much grip in the corners that it's disconcerting because you never expect a car this big and heavy to be able to go so frighteningly fast around a bend. Physics shouldn't allow that.
The Challenger has a monster engine, bold styling and good grip, but it's far from perfect. For one thing, the steering is biblically awful. It feels like the steering wheel is loosely connected to the front tires by bits of worn-out rope and rubber bands.
It also doesn't have the refinement of a modern car on the inside, especially when you compare it to the Camaro. While the Camaro has subtle lighting accents and Honda-like construction, the Challenger feels more like it's assembled from pieces of old Ram trucks and bulldozers that have been covered up by brittle plastic.
As a whole, though, it's been a long time since I've driven something with this much appeal. Despite its imperfections, and perhaps because of them, I enjoy driving a Challenger more than a Camaro. It has more personality, more character, more roughness. It's just so lovable, and so exciting, that it's easy to look past its flaws.
What was tested? The 2010 Dodge Challenger SRT8 with a base price of $41,230. Options on the test car: Bright Yellow paint for $225, the customer preferred package for $275, a Kicker stereo upgrade for $695, power sunroof for $950, the navigation system for $590, upgraded 3-season tires for $100, plus the gas guzzler tax of $1,700. The MSRP price as tested including the $725 destination charge is: $46,490.
Why avoid it? It has sloppy steering and an unrefined interior.
Why buy it? It's a thrilling, bold, attention-getting car that is reminiscent of America's automotive heyday in the 1960s.
By Derek Price © AutoWire.Net - San Francisco
The Bottom Line The Dodge Challenger evokes the spirit of all the 1960s American muscle cars. It's big, long and low-slung, with amazing acceleration in the Hemi SRT8 version. Inside, the Challenger has a nice retro theme to the gauges and controls, and it screams, "Look at Me" in a very big way. Bottom Line Review provided by: Tony Leopardo © AutoWire.Net

"Tony the Car Guy" is an automotive writer, editor and publisher in the San Francisco Bay Area. If you have a question or comment for Tony send it to TonyLeo@pacbell.net or visit AutoWire.Net at www.autowire.net
And remember: " You Are what you Drive "
Column Name: Big, powerful Challenger SRT8 turns heads
Topic: The 2010 Dodge Challenger SRT8
Word Count: 862
Photo Caption: The 2010 Dodge Challenger SRT8
Photo Credits: Dodge Challenger Internet Media
Series #: 2010 - 35
Download the Microsoft Word version here: 2010 Dodge Challenger

Download the Original Image File here: 2010 Dodge Challenger