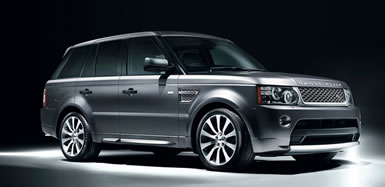 Range Rover Review: Every time I drive a Land Rover I'm left with the same impression: This is what it's like to drive a real SUV. The Land Rover engineers managed to cram a 5.0-liter, 510 horsepower supercharged V8 engine under the hood of the Range Rover Sport, and the outcome is mind-blowing speed in a vehicle that just doesn't look like it should go that fast.
There's something genuine about driving a Land Rover, especially the big, hulking Range Rover that you don't find in other vehicles. Maybe it's because they're so phenomenally heavy that they feel military grade. Maybe it's because everything on them is built so solid, from the door pulls to the knobs on the dash, that they seem like they'll survive a direct nuclear blast.
Or maybe it's how these off-road vehicles are so unwaveringly, undeniably British. Whatever the case, I expected to come away with the same Royal Marines feeling when I drove the Range Rover Sport this week. But this particular vehicle came with something I'd never experienced in a Land Rover before: a supercharger.
It's the same engine Jaguar puts in its new XFR, so you know it's refined and immensely powerful. It makes 510 horsepower with the kind of grace and smoothness under acceleration that makes it feel unflappable as it rockets away from stoplights, or merges effortlessly onto high-speed freeways.
The end result is the kind of vehicle that just doesn't seem possible: highly capable off-road, and fast as stink on pavement. In fact, this kind of performance is so rare that it's hard to find anything to compare it to. The closest vehicle would probably be the Porsche Cayenne Turbo, but even that feels like it belongs on a racetrack. This supercharged Land Rover feels like it belongs in the Serengeti.
Now, if you're not a Land Rover cognoscenti, you might be surprised to learn the Range Rover Sport is a completely different vehicle from the Range Rover. The Sport is smaller, more nimble and styled more aggressively.
The Sport definitely doesn't lack in luxury, though. In fact, short of buying a Rolls Royce, you aren't likely to find a cabin this nice anywhere. Nearly all the surfaces are covered in soft leather with perfect stitching, from the dash to the door trim to the armrests. Nearly everything else is covered in real wood, which had a gorgeous matte finish in our test vehicle. It's the kind of interior you can't stop touching because everything feels so nice.
Another plus in the cabin is that Land Rover has finally managed to get rid of the overwhelming number of buttons that have plagued its older models. Now most functions can be operated through on-screen menus, while only the most important off-road options, like suspension settings and traction control programs for different surface conditions, are available with genuine, old-fashioned buttons.
All of those settings only hint at the range of capabilities this SUV has. It can take you virtually anywhere on the planet, but at the same time it's modern, comfortable and luxurious enough to provide stylish transportation to the symphony. Just press a button, and it transforms from mountain climber to highway cruiser.
There are two downsides, though, and you can probably already guess what they are. The cost and the gas mileage.
Pricing starts at $60,495 for the Range Rover Sport, which comes in a luxurious starting package called the HSE. If you want the supercharged version, it costs $74,195. Gas mileage is rated at 13 mpg in the city and 18 on the highway with the base V8, and 1 mpg less if you opt for the supercharger.
Still, if you want to drive a legendary vehicle that can take you anywhere you want to go in style and supreme comfort, it's hard to beat a Land Rover at any price.
What was tested? The 2010 Range Rover Sport Supercharged with a base price of $73,345. Options on the test car are a rear differential lock for $600, HD digital radio for $350, the extended leather package for $1,000, the rear seat entertainment package for $2,500 and the 20-inch alloy wheels for another $1,000. The total MSRP price as tested including the $850 destination charge came to $79,545. And that's before adding for your state sales tax and license plate fees. Figure more like $80 Grand out the door.
Why avoid it? Its immense weight makes it get poor gas mileage, and its starting price is over $60,000.
Why buy it? It has all the quality and luxury of a Range Rover in a sportier, more fun-to-drive package. The supercharged engine is mind-blowing.
By Derek Price © AutoWire.Net - San Francisco
The Bottom Line: The 2010 Range Rover Sport Supercharged Luxury SUV is among the world's fastest with 510 horsepower on tap. While its body has the classic Land Rover shape, the latest Range Rover Sport has been totally re-engineered. Now with a luxurious leather interior, a real wood filled cabin and a stunning matte finish it completes the total upscale overall package.
Bottom Line Review provided by: Tony Leopardo © AutoWire.Net
"Tony the Car Guy" is an automotive writer, editor and publisher in the San Francisco Bay Area. If you have a question or comment for Tony send it to TonyLeo@pacbell.net or visit AutoWire.Net at www.autowire.net
And remember: " You Are what you Drive "

Column Name: Supercharged Range Rover Sport will shock you
Topic: The 2010 Range Rover Sport
Word Count: 951
Photo Caption: The 2010 Range Rover Sport
Photo Credits: Range Rover Internet Media
Series #: 2010 - 44
Download the Microsoft Word version here: 2010 Range Rover Sport

Download the Original Image File here: 2010 Range Rover Sport