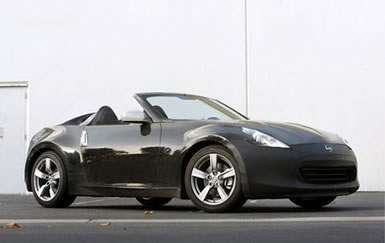 Nissan 370Z Roadster Review: Some cars you just know are meant for enjoyment. You don't worry about fuel economy, luggage capacity, ease of entry and exit or even price. The 370Z Roadster is one of those cars.
I received my cloth-topped two-door sports coupe during the first week of the rainy season, so I had few opportunities to lower the lid. However, I noticed a few things with it up. First of all, the cloth-lined top fits snugly, leak-free and shuts out nearly as much sound as a hard top.
While up, its "Bordeaux" color coordinated beautifully with the "Wine" interior of my Platinum Graphite tester. When it came to dropping the roof, I simply pushed a button on the console and sat there for 20 seconds while the sleek metal tonneau lifted up and swallowed the cloth top, leaving a fine, clean surface behind me. It required no other effort.
You'd think that driving a two-seater would be a claustrophobic experience, but somehow with the sweeping dash, flowing console and easy to reach and view instrumentation, it never felt that way. With the top folded, of course, a whole world of sights and scents is yours. The freshly rained-upon yards in my neighborhood emitted a sweet grass and soil aroma as I passed by.
The Z celebrated its 40th anniversary in 2010. The original 240Z revolutionized two-seat motoring with its high quality, brisk performance and low price tag. By the mid 1990's the car had morphed into a heavy cruiser, and was briefly retired. The 21st-century Zs have been scaled back and are now a delight to drive.
My tester featured Nissan's 3.7-liter V6, with a generous 332 horsepower and 270 lb.-ft. of torque. That represents a boost from the previous 306-horsepower 3.5 liter engine. You can order either a manual six-speed or a sequential seven-speed automatic to go with it. My car had the automatic, which you can shift with the lever or with long bladelike paddles that project from the sides of the steering column.
I seldom shifted on my own, but when I did, the gear changes were satisfying, despite the absence of a clutch. It was a first to see a "7" indicated in the gauge ahead. The 7-speed's wide gear ratios deliver improved fuel economy, and with Adaptive Shift Control, the transmission adjusts to your driving style.
EPA ratings are 18 mpg City and 25 Highway, averaging 21. I bettered that, with 21.8 mpg. That's very good for a sports car, and is a little better than the previous model. Green numbers of 7 for Air Pollution and 5 for Greenhouse Gas are just one point away from a "SmartWay" designation.
The Roadster comes in two models, the higher of which wears the "Touring" designation. Although both models are well equipped, the Touring gets a six-CD Bose® audio system with eight speakers (includes dual subwoofer) and MP3, XM™ Satellite Radio, Bluetooth® Hands-free Phone System, HomeLink™ Universal Transceiver and aluminum-trimmed pedals.
You also get the nice leather-and-mesh heating and cooling seats in the Touring model. These help keep you comfortable even if you drop the top in cooler temperatures. The glass windblocker between the fixed headrest bars not only reduces wind turbulence, but features a beautifully rendered "Z" that's always visible in the rearview mirror.
It wouldn't be a Z without a great set of gauges and controls. The tachometer is mounted at the center of the gauge cluster to guide your manual shifting, and the traditional three subsidiary gauges sit atop the dash, an oil temperature meter, voltmeter and clock. The former two's needles, along with those of the speedometer and tachometer, sweep dramatically from end to end when you start the car.
Now getting in and out of the 370Z is easier, aided by wide doors, but it's still a long way down. Once you're sitting there it's a comfortable environment. Trunk space, thanks to a cloth rather than a hard top, is sufficient for groceries or suitcases. The car comes without a spare tire, but offers a repair kit. A real spare costs $490.
The Z's styling is both evocative of the original and completely of today. The vertical external door handles match the top cutline elegantly. The new for 2010 Roadster, along with the new 2009 coupe, show more bulging muscularity than their sharper-edged predecessors, but still keep a relatively simple profile.
Pricing starts at just over $38,000 for the standard Roadster with manual transmission, including destination charges. The Touring, with automatic, begins at $42,910. My car, with the optional navigation system, came to $44,705 on the MSRP sticker.
So, the new 370Z Roadster is a relatively affordable and usable choice for the open road, assuming you're not planning on carrying ladders or bringing more than one companion on your adventures.
By Steve Schaefer © AutoWire.Net - San Francisco
The Bottom Line: The 2010 Nissan 370Z Roadster is Nissan's answer to a new sports car with an old pedigree. Nice, fast, slick and sporty. This 370Z nails down all the markers and gets the job done with a 332 horsepower engine, a new 7- speed tranny plus a fully automatic, power folding, cloth-lined convertible top. With an under $45 Large window sticker you get all you need for less than $50 Grand out the door. Real sports cars don't come any cheaper than this, and this is a real sports car. Drive one, Buy one, Today©.
Bottom Line Review provided by: Tony Leopardo © AutoWire.Net
The 2010 Nissan 370Z Roadster Review provided by:
Tony Leopardo © AutoWire.Net
"Tony the Car Guy" is an automotive writer, editor and publisher in the San Francisco Bay Area. If you have a question or comment for Tony send it to TonyLeo@pacbell.net or visit AutoWire.Net at www.autowire.net - And remember: " You Are What You Drive© "

Column Name: The Z's styling is evocative of the original
Topic: The 2010 Nissan 370Z Roadster
Word Count: 1,025
Photo Caption: The 2010 Nissan 370Z Roadster
Photo Credits: Nissan 370Z Internet Media
Series #: 2010 - 51
Download the Microsoft Word version here: 2010 Nissan 370Z Roadster

Download the Original Image File here: 2010 Nissan 370Z Roadster