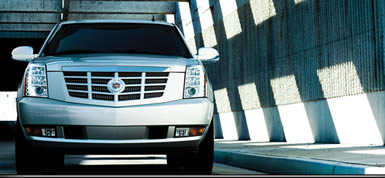 2011 Cadillac Escalade Platinum Review: If you just signed your first recording contract with Def Jam, Cadillac has built an SUV just for you.
It's called the Escalade ESV Platinum Edition, and it's meant for people who look at an ordinary Escalade and say, "It's not big enough. It's not comfortable enough. It's not flashy enough. Give me something bigger and better."
As crazy as it may seem, Cadillac has taken the giant Escalade and stretched it to a Suburban-sized ESV version. And then they took that Escalade ESV and turned it into the insane, bling-filled Platinum Edition by adding every frivolous luxury feature they could conjure up.
It doesn't just have heated and cooled seats; it also has heated and cooled cup holders. It doesn't just have a DVD player; it has an entertainment system with four video screens and six sets of wireless headphones so that you, Kanye, Jay-Z, Lil Wayne, Rihanna and Ludacris can all work on your album together.
Cadillac figured as long as they're making an Escalade for rappers, they might as well throw in 22-inch chrome wheels, jewel-like LED headlights, real leather on top of the instrument panel and doors, and genuine ash and burl walnut trim. Master P would be proud.
As you'd expect, all this luxury doesn't come cheap. My test car rang up at over $88,000 large and was rated for 13 miles per gallon in the city, not a problem for superstars, but awfully pricey and inefficient for us mortals.
You could probably suffice with the ordinary Escalade at $63,160, or an Escalade ESV for $65,765, if you haven't signed that record deal yet, but then you would have to live without Tehama leather and motorized steps that descend, alien-spaceship style, when you open the doors. Poor thing.
All Escalades are great road-trip cars. They're some of the biggest, most comfortable vehicles on the road, and the Platinum Edition just takes the luxury up a notch. Everything about it feels premium, from the clock on the dash, to the stitching on the leather trim. But how does it drive?
To find out, I took it on a trip to the Dallas Symphony Orchestra, which seems like a fitting place for huge Cadillac's, and had no trouble maneuvering it through downtown traffic and squeezing it into parking garages, even if it felt like the roof was going to scrape on the beams above us. For something the size of a small house, it does maneuver well.
It also accelerates nicely with a 6.2-liter V8 engine that makes 403 horsepower. The best part, though, is the ride. This Cadillac is so smooth and so quiet, with the exception of the deep rumble from its engine, that it makes you want to fall asleep. You just want to take a deep breath and relax as it wafts you from place to place on a marshmallow carpet ride.
On the downside, it's missing a couple of features that ought to be standard on any vehicle at this price. One is a telescoping steering wheel. It has a power tilt function, but it can't move backward and forward to give you that perfect fit.
The other is a "magic key," which is what I call the transmitter that can stay in your pocket and let you start the car with the push of a button. I drove a $25,000 Nissan that had it last week, so why can't Cadillac put it in an $88,000 Escalade? T-Pain won't be happy about this.
Overall, the Escalade is a great vehicle for people who want complete, total, over-the-top opulence. It's expensive and guzzles gas, but that's part of the charm of a vehicle designed for MTV.
What was tested? The 2011 Cadillac Escalade ESV AWD Platinum Edition with a base price of $87,345. Options on the test vehicle: none. Total MSRP price as tested, including the $950 destination charge, came to $88,295.
Why avoid it? It's an expensive gas guzzler.
Why buy it? You just signed your first record deal and need the world's biggest, flashiest luxury SUV, and it makes you feel like you're driving a mansion. By Derek Price © AutoWire.Net - San Francisco
The 2011 Cadillac Escalade Platinum Edition Bottom Line Review: provided by: Tony Leopardo © AutoWire.Net
The Bottom Line: Cadillac's big, flashy and thirsty giant 2011 Escalade ESV is the size of a Suburban but comes packed with luxury features. The Platinum version takes it up a notch with more leather, real wood and motorized side steps. Inside you'll find over-the-top luxury plus heated and cooled cup holders, four video screens and six sets of wireless headphones to help compose your next R&B chart topper. "Drive one, Buy one, Today ©"
Bottom Line Review provided by: Tony Leopardo © AutoWire.Net
"Tony the Car Guy" is an automotive writer, editor and publisher in the San Francisco Bay Area. If you have a question or comment for Tony send it to TonyLeo@pacbell.net or visit AutoWire.Net at www.autowire.net - And remember: " You Are What You Drive © "

Column Name: Cadillac Escalade - a monument to over-the-top luxury
Topic: The 2011 Cadillac Escalade ESV AWD Platinum Edition
Word Count: 906
Photo Caption: The 2011 Cadillac Escalade ESV AWD Platinum Edition
Photo Credits: Cadillac Escalade Internet Media
Series #: 2011- 10
Download the Microsoft Word version here: 2011 Cadillac Escalade
Download the Original Image File here: 2011 Cadillac Escalade